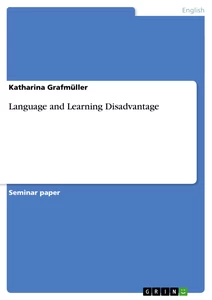 Language and Learning Disadvantage
Term Paper 2006 11 Pages
Excerpt
Table of Contents
1 Introduction
2 Term definitions
2.1 Items to measure language competence
2.1.1 Items for the native language
2.1.2 Items for the second language
2.2 Items that influence learning success
2.2.1 Items with influence on performance in school and the attitude towards it
2.2.2 Items with influence on the acquirement of language competences
3. Disadvantages of learners with a migration background
3.1 Discrimination of learners with migration background
3.2 Second language development
3.2.1 Preschool second language development
3.2.2 Second language competences in school
3.2.3 Reasons for second language acquirement problems
3.3 Ways of assistance in second language acquirement
3.3.1 Assistance in second language acquirement in preschool institutions
3.3.2 Assistance in second language acquirement in school
3.4 Inclusion of the first language
4 Conclusion
5 Bibliography
1 Introduction
Learners with a migration background are defined as children who, or whose ancestors, have immigrated to Germany in the last decades. Nowadays it is quite difficult to identify those learners. Not all of them have a different citizenship and some even indicate German as their first language. Nevertheless they sometimes have immense difficulties with the German language and therefore also in school.( Knapp 2006, 1)
With this peace of work I will explain the items to measure language competence and some others, than migration background, that have influence on learning success.
Furthermore I will expose the graduation chances of learners with migration background, describe their second language development and the options to assist those learners.
2 Term definitions
With this paragraph I want to describe and explain the items that can be used to measure language competence and the items that can influence the learning success.
2.1 Items to measure language competence
Language competence must be split up in two sections: One is the competence in the native language, the other section includes the competences in a second (or third) language. To describe a measure in those two sections different items are used.
2.1.1 Items for the native language
The items that can be appraised easiest are orthography and punctuation because there are clearly defined rules for it. (Klieme 2006, 1)
Another item is to survey the reading competence: How complex can the language in vocabulary and sentence structure be for the reader to understand it? ( Klieme 2006, 1)
Items that are related to that feature are the complexity of the vocabulary and the awareness of grammatical and stylistic phenomenon. (Klieme 2006, 1)
The last of those items is writing competence: In how far is the learner able to choose situation adequate words (e.g. in a formal letter) and how complex is his sentence structure?
These items are more difficult to judge, as there are only guidelines for it. (Klieme 2006,1)
2.1.2 Items for the second language
Auditory and reading competence mean in how far the learner is able to communicate in a foreign language by listening and reading. Speaking ability refers to the learners abilities to produce language him- or herself in an oral way. For the English language there are certain grades for each of these items, that defines how far one's competence is from that of a native speaker. (Klieme 2006, 1)
Items for advanced language competences are creative writing and the grammatical and socio-pragmatic language awareness. (Klieme 2006, 1)
Another competence that language teaching tries to reach is intercultural competence, i.e. the knowledge the learner has about the culture, the traditions and the history etc of his second language's home country. The competences in this section are often used as another item for language competence. (Klieme 2006, 1)
2.2 Items that influence learning success
The items that influence learning success can of course be intelligence or different giftedness for certain subjects, but I want to illustrate those, which refer to the learner's social background.
2.2.1 Items with influence on performance in school and the attitude towards it
These are summarized under the term socio-economic status of the learner's family. The particular items are the parental vocational position and its esteem in society, the relative wealth of the family. Those items influence the learner's attitude towards school and learning, and also their goals, as they show him or her their possibilities. (PISA 2000, 161-167)
2.2.2 Items with influence on the acquirement of language competences
The items that influence language competences can also be split in two sections. One consists of the family's cultural resources, such as literature or objects of art and the cultural commodities and activities, such as theatre or opera visits etc. Other items of the cultural resources are the parental interest in their children's performance in school or even the parental graduation. Another aspect is the extent and manner of interaction and communication at home. (PISA 2000, 169-179)
The parental language competence and the fact whether there is a migration background or not are considered as particularly language conductive conditions. (PISA 2000, 179-183)
With my piece of work I want to concentrate on the way a migration background can influence school performance.
3. Disadvantages of learners with a migration background
With the following paragraphs I will discuss the discrimination of learners with a migration background with the example of Germany. I will start with some facts about the dissemination of children with migration background in the different schools. Then I will describe the details of language second development and finally illustrate the ways of assistance to alleviate second language acquirement.
3.1 Discrimination of learners with migration background
Many of the children with migration background do not speak enough German to participate the lessons in Primar School successfully. Most of those learners visit secondary school, only a very small percentage of them make it to secondary modern school or even grammar school.
About 20% of the learners with migration background leave school without any graduation; only 10% achieve the 'Abitur'. (Knapp 2006, P. 1)
3.2 Second language development
Language development can be measured preschool and during school, but there are much less statistics about the preschool language competences.
3.2.1 Preschool second language development
There is little cognition about first language competences of children with migration background before school. One can assume that they usually handle their first language accordant to their age. (Knapp 2006, 2)
Their competences in their second language are much lower: Between 70% and 90% are substandard or even in risky spheres. They have gaps in morphology, syntax or pragmatics and their word pool is quite small. In general nursery school is conducive to language acquirement, but some children with migrant background know too little German to participate in the communication, actively or passively. (Knapp 2006, 2)
There have been discussions whether bilingualism has a positive or negative influence on language acquirement. Today it is known that success or failure of learning depend on the social circumstances that children grow up in. (Knapp 2006, 2)
3.2.2 Second language competences in school
The language competences of children with migration background at the point of school entry can be distinguished into three groups:
The second language competences of the first group are the same as their competences in their first language or at least good enough to secure their school success.
The second group has hidden language difficulties and are able to articulate themselves quite good orally. These difficulties often stay undetected until the written workload grows.
The third group's language competences are so low that these children are nearly unable to follow the lessons. They cannot participate in the communication in class which leads to disinterest and difficulties with discipline in many cases. Their chances to overcome their language problems without special assistance are very small; in most cases these problems even enlarge during their school career. (Knapp 2006, 3)
Apart from word pool insufficiencies, these learners have gaps in the section of morphology and syntax, which hampers their perception of word relations, and are unable to understand or produce complex sentences. Therefore their comprehension of complex conversations in class and of school media is also limited. (Knapp 2006, 3)
3.2.3 Reasons for second language acquirement problems
There are different theories to explain those problems with second language acquirement:
One is the threshold hypothesis which assumes that a certain level must be reached in the first language before a second language can have positive influence on the cognitive development of a learner. (Knapp 2006, 4)
Another is the developmental-interdependence-hypothesis that suggests a correlation between the competence level in the learner's first language at the moment of the first contact with the second language and the competence level he or she can reach in the second language.
[...]
Details
Pages

11

Year

2006

ISBN (eBook)

9783640275281

File size

350 KB

Language

English

Catalog Number

v122352

Institution / College

University of Osnabrück

Grade

2,0

Tags