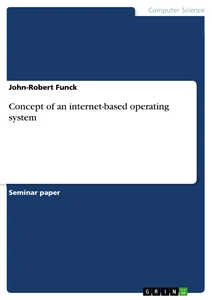 Concept of an internet-based operating system
Term Paper (Advanced seminar) 2006 10 Pages
Excerpt
Table of content
1 Introduction
2 Internet-based Operating System
2.1 Hardware requirements
2.1.1 Hardware on the client side
2.1.2 Hardware on the server side
2.2 Software requirements
2.2.1 Software on the client side
2.2.2 Software on the server side
2.3 Advantages and disadvantages of an Internet-based OS
2.3.1 Advantages
2.3.2 Disadvantages
2.4 Future prospects
2.4.1 General prospects
2.4.2 Google OS
2.4.3 Ajax OS
3 Conclusion
1 Introduction
Nowadays data processing is usually done on computers. On these computers it is necessary to have an operating system (OS) installed which manages the relationship between application software and hardware managing tasks. This kind of system has worked well so far.
However, there are various problems with a built-in operating system. It requires powerful and expensive hardware to operate smoothly. Additionally complex operation knowledge is necessary and often there are compatibility issues among programs. Moreover there is a waste of time due to maintenance and so forth.
My solution to the problems mentioned above is an internet-based operating system. In this paper I will describe a way to improve data processing while getting rid of the built-in operating system and its shortcomings. At first I will explain the underlying structure of my solution and in the next part I will suggest how this structure can be realized. Afterwards I will discuss the advantages and disadvantages of my solution and finally I will give a brief overview of current developments of internet-based operating systems.
2 Internet-based Operating System
Operating systems are more than just a piece of program code. They are written with specific hardware and software in mind so one has to consider these things while developing it.
An internet-based operating system should be based on the client-server principle [1]. Each instance of the client can send requests to the server where the operating system resides. Requests will be sent over the internet to the remote server and will be processed as requested. In the following paragraphs I will explain in detail which hardware and which software is required on the client and on the server side.
2.1 Hardware requirements
Generally the hardware required does not differ very much from today's hardware. In fact everything can be done on available hardware.
2.1.1 Hardware on the client side
Thin clients are widely used today therefore they can be used for the hardware basis on the client side. The very thin client should consist of a monitor with integrated interfaces for all the periphery such as a scanner, the keyboard or a printer. Additionally high speed wired and wireless network should be built-in to connect to the internet everywhere and to upload and receive data. With this solution a powerful CPU and other expensive hardware becomes redundant because the monitor just submits data and receives a video signal. On top of that, with the lack of these components the chance of a system crash will decrease significantly.
The development of the client is a fairly easy task because similar hardware is already available, a bit more complicated will be the development of the server hardware.
1.2.1.2 Hardware on the server side
Due to the expected traffic and workload the requirements for the server are very high. To compensate this workload a super computer build as a cluster is required. Clustering can provide significant performance benefits versus price (almost every super computer today is build as a cluster [2]).
Another main advantage of the cluster is the modular installation where hardware can be easily extended. It is impossible to give concrete numbers about processing power, storage volume or RAM (Randown Access Memory) yet because it depends on the number of connected clients and their workload demanded. To store all the user data a huge storage volume is needed, therefore it must be made easy to extend it as well. Besides the huge storage volume, lots of Random Access Memory is required to handle the big amount of data processing.
[...]
Details
Pages

10

Year

2006

ISBN (eBook)

9783638045773

ISBN (Book)

9783656835561

File size

493 KB

Language

English

Catalog Number

v91149

Institution / College

University of Applied Sciences Südwestfalen in Iserlohn

Grade

1,0

Tags