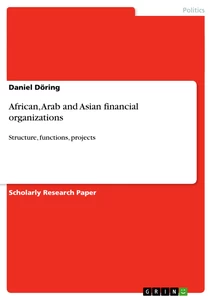 African, Arab and Asian financial organizations
Structure, functions, projects
Research Paper (undergraduate) 2007 24 Pages
Excerpt
Contents
Executive Summary
1. African Financial Organizations – Economic regionalism and the creation of a single monetary union in the ECOWAS
1.1 The organizational framework of West Africa: ECOWAS, AEC and AU
1.2 Important financial organizations in West Africa
1.2.1 The West African Monetary Agency (WAMA)
1.2.2 The West African Monetary Institution (WAMI)
1.3 The creation of a single West African Monetary Union
1.3.1 The ECOWAS Monetary Cooperation Programme (EMCP)
1.3.2 The West African Economic and Monetary Union (WAEMU)
1.3.3 The West African Monetary Zone (WAMZ)
1.3.4 The future of the two monetary unions and their merger into a single one
1.3.4.1 The quick fix approach
1.3.4.2 The realistic gradualism approach
2. Arabic Financial Organizations
2.1 The Arab Bank for Economic Development in Africa (ABEDA)
2.1.1 Organizational structure
2.1.2 Main goals
2.1.3 Capital stock
2.1.4 ABEDA´s lending policy
2.1.5 The current spending plan
2.1.6 Some examples of ABEDA´s investment projects in 2007
2.2 The Arab Monetary Fund (AMF)
2.2.1 Introduction to the AMF
2.2.2 Organizational structure of the AMF
2.2.3 AMF cooperation with Arab, regional and international organizations
2.2.4 AMF lending
3. Asian Financial Organizations – The Asian Development Bank (ADB)
3.1 Structure of the ADB
3.2 Projects of the ADB
3.3 ADB Annual Report 2006
3.4 ADB Fund Raising
3.5 ADB and India (Case)
3.6 ADB and South Asia
3.7 Regional Integration
3.8 Harmonization
Literature
Executive Summary
African Financial Organizations
Africa is the second largest continent of the world. At the same time one could say that it is the least developed of all continents. Poor infrastructure and a difficult geographical situation in large parts of the continent (vast deserts, impenetrable primeval forests) complicate intra-African trade. Furthermore, Africa´s cultural and ethnical diversity leads to language barriers and conflicts of interests, often resulting in civil wars. These are only some factors making the establishment of Africa-wide organizations really difficult. Therefore, we decided to concentrate on only one African sub-region, which is West Africa. In the following we will thus introduce some important West African financial organizations and afterwards present their most important cooperation project: the creation a West African Monetary Union similar to the Eurozone by the end of 2009.
Arab Financial Organizations
The Arab region includes 23 North African and Middle Eastern member states. Its population is roughly 325 million people. Most of its member states dispose of developed economies, whereas their main sources of income are derived from oil, gas and other raw material exports. Arab financial organizations mainly engage in two fields of action: the financial aid for Arab member states themselves on the one hand and development aid for non-Arabic African countries on the other hand. Therefore, we´d like to present one organization for each field of action: First, the Arab Bank for Economic Development in Africa gives financial aid to less developed African areas which might be of economic interest regarding cooperation projects in the future. Second, the Arab Monetary Fund focuses on the development of Arab nations for example by correcting their balances of payments if necessary.
Asian Financial Organizations:
Asia is the largest and most populated continent in the world. After North America and Europe, the Asian GDP is the 3rd largest, its most accelerating economies being China, India and Japan. However, other Asian countries such as the Philippines, Pakistan or Vietnam for example recently also show very high economical growth rates. To further enforce steady growth within the Asian region, intra-Asian cooperation is very important, whereas financial organizations like the Asian Development Bank are playing a key role. In 2006, the ADB spent 7.5 billion US dollar on cooperation-oriented projects. Since 1990, an average of 5 billion US dollar has been spent annually. Furthermore, the organization consists of 67 member states. Therefore, we think the ADB is the most important organization in this area and like to present it in more detail.
1. African Financial Organizations:
Economic regionalism and the creation of a single monetary union in the ECOWAS
There are many negative aspects such as civil wars, intracommunal violence, political instability, fragile economies, poverty and underdevelopment, weak and collapsing states and environmental problems that don't really cast a positive light on the West African sub-region. Unfortunately, this negative point of view disregards the fact that there are significant recent developments taking place, especially in the fields of economy, politics and security[1]. With a higher level of economic regional co-operation, common aims in the fields of economics, development, politics, democratisation and security – issues that are inseparable from each other in a developing region such as West Africa – are tried to be reached. Economic regionalism is supposed to lead to wealth, industrialisation and trade expansion. Before introducing two of the region´s most important financial organizations, we´d like to give a short introduction on the organizational framework of West Africa, which is rather convulted and complicated. Afterwards, we´d like to talk about the currently most significant financial project in West Africa: the ECOWAS Monetary Cooperation Programme, which shall lead to the establishment of a single West African monetary union.
1.1 The organizational framework of West Africa: ECOWAS, the AEC and the AU
The Economic Community of West African States, short "ECOWAS", was founded in 1975 as a first step towards the enforcement of regional intergovernmental co-operation. ECOWAS today consists of 15 member states, namely Benin, Burkina Faso, Cape Verde, Côte d'Ivoire, the Gambia, Ghana, Guinea, Guinea Bissau, Liberia, Mali, Niger, Nigeria, Senegal, Sierra Leone and Togo. Its main institutions are the ECOWAS Secretariat and the Fund for Co-operation, Compensation and Development. The latter was transformed into the ECOWAS Bank for Investment and Development in 2001.
ECOWAS forms part of the African Economic Community, short "AEC", which in turn is a sub-organization of the African Union. The African Union (AU) is a supranational union consisting of 53 African states (all except of Morocco). It unites the AEC and the Organization of African Unity (OAU) and wants to strenghten and secure Africa´s democracy, economy, and peaceful co-operation. In Africa, the gaps between single nations (or tribes) because of their cultural, ethnical, or social differences are one of the main hurdles the organization has to clear. Therefore, Africa currently is divided into multiple so called "RECs" (Regional Economic Communities). ECOWAS is one of these RECs, and at the same time one of the pillars of the AEC. Originally, ECOWAS was established in order to reach common market objectives such as self-sufficiency for its member states. But the organization´s main objective always has been economic integration in the region:
"Its (ECOWAS´) mission is to promote economic integration in all fields of economic activity, particularly industry, transport, telecommunications, energy, agriculture, natural resources, commerce, monetary and financial questions, social and cultural matters…"[2]
Therefore, the organization soon had to expand into political, security, and foreign policy areas, without which a further development of regional integration would not have been possible. In 1990 for example, ECOWAS nations signed a non-aggression protocol; and a protocol on mutual defence assistance was signed in 1981[3].
1.2 Important Financial Organizations in West Africa
1.2.1 The West African Monetary Agency (WAMA)
Established in 1996 with the signing of the Articles of Agreement by the Central Banks of West Africa, the West African Monetary Agency is the succesor of the former West African Clearing House (WACH). WAMA is a fully-fledged autonomous specialised institution of ECOWAS, consisting of the eight central banks of West Africa, which are the BCEAO (Banque Centrale des Etats de l´Afrique de l´Ouest), Bank of Cape Verde, Central Bank of the Gambia, Bank of Ghana, Central Bank of Liberia, Central Bank of Nigeria and Bank of Sierra Leone. These banks serve all of the 15 ECOWAS member states. WAMA is financed by annual contributions from those member central banks (40 % equal contributions; 60 % contributions on the basis of the ratio used by ECOWAS in fixing each member state´s contribution to the ECOWAS budget).[4]
WAMA does have the following tasks: As intra-regional trade in the West African region always has been constrained by currency inconvertibility[5], the enforcement of the ECOWAS Monetary Cooperation Programme has been one of the main reasons for the establishment of the WAMA. Tasks related to this topic such as the promotion of the use of national currencies for regional trade, the general liberalization of trade and exchange and the amelioration of monetary cooperation among member states in order to establish a stable basis to start from, therefore are of primary importance to the agency.[6]
[...]
---
[1] Cf. Francis, D.J.: The Politics of Economic Regionalism – Sierra Leone in ECOWAS; p. 1
[2] Cf. ECOWAS Homepage - http://www.comm.ecowas.int/sec/index.php?id=about_a&lang=en ( 15.11.07)
[3] Cf. ECOWAS Homepage - http://www.sec.ecowas.int/sitecedeao/english/peace.htm# (15.11.07)
[4] Cf. WAMA Homepage - www.wama-amao.org (15.11.07)
[5] Cf. Ojo, M.: Regional currency areas and use of foreign currencies: the experience of West Africa; BIS Papers No 17, p. 140
[6] Cf. WAMA Homepage - http://www.wama-amao.org/page.php?file=objective (16.11.07)