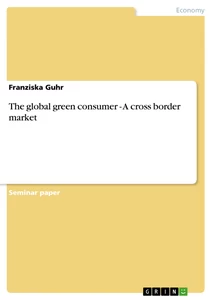 The global green consumer - A cross border market
Term Paper 2007 20 Pages
Excerpt
Table of contents
1 Cross border market segmentation
2 The global green consumer
2.1 Definition
2.1.1 The Body Shop
2.1.2 The product policy of The Body Shop
2.2 Reasons for the emergence of global green consumers
2.3 Problems in researching
2.4 Green marketing
2.5 Opportunities for the international marketer – now and in the future
2.6 Limitations of marketing such an international cross cultural segment
3 Conclusion
Reference list
Appendices
1 Cross border market segmentation
A segment in a market is this part of the consumers, which the company wants to achieve. It has to be identifiable, economically reachable, more homogeneous than the whole market and profitable. Cross border segmentation describes the identifying of homogeneous target groups not only in one country, but in a global way. The company looks for potentially consumers with similar needs across certain country markets. This is problematic, because the wants of the people can differ from country to country because of different cultural and social backgrounds (Ghauri & Cateora, 2006, p. 204).
Cross border segmentation is based on several variables:
- Geographical aspects, i.e. products for a special landscape
- Economical aspects, i.e. premium products
- Demographical aspects, i.e. products for young people
- Ethnic segmentation, i.e. special Asian supermarkets
- Benefits sought aspects, i.e. green consumers
- Lifestyle aspects, i.e. achieving trendsetters
The marketer has also to be aware of variables like languages, education levels or religious and cultural differences which are not so important in a domestic research. Different national identities have to be minded (Rugimbana & Nwankwo, 2003, p. 81).
2 The global green consumer
2.1 Definition
An example for a cross border benefits sought target group is the global green consumer. A green consumer is a person of our target group who thinks of environmental or social issues constantly while making purchasing or non-purchasing decisions (Peattie, 1992, p. 118). According to Peattie (1992, p. 91) this includes environmental or ethical issues on:
- the product itself and it's packaging
- waste, pollution and wastage of energy during the production of it
- the environmental policy and reputation of a company and its suppliers.
"The typical green consumer is a [30 – 49 years old] woman who is educated, affluent, and politically liberal." (Ottman, 1994, p. 27)
A global green consumer is a consumer who is marketed worldwide by a company.
According to Rex & Baumann (2007) the market can be divided in different segments rest upon the 'greenness' of the consumer, i.e. by the typology of Ogilvy and Mather:
Abbildung in dieser Leseprobe nicht enthalten
Reaching the different types can require different marketing actions.
The green consumer appears mostly in high developed countries like the USA, Canada or Europe, not often in developing countries (Wagner, 2003, p. 1).
Green products have to be long-living and consisting of non poisonous material and packaging and shall be easy repairable. The green product must deal also with ethical issues, i.e. no testing on animals (Blair, 1992, p. 171).
A green product must be green in every part of its life-cycle (Ottman, 1994, p. 103):
Abbildung in dieser Leseprobe nicht enthalten
Green products must be able to replace non green products in the stores, so they must be also useful, affordable products with high quality (Ottman, 1994, p. 103).
Selling a product as a green one depends on the product itself. Absolute green products, which can be green in nearly all the elements of the picture above, are i.e. healthcare products. Relative green products may retain some not green elements. According to Peattie (1992, p. 174) a product like Petrol cannot be really green because of its ingredients.
The packaging of green products is another important issue. Beside reduction of wrapping a green packaging should allow the re-use or the recycling without leaving much disposal. Green packaging materials are i.e. glass, aluminium or paper (Chick, 1992, p. 186 ff).
2.1.1 The Body Shop
One of the most known global green companies is The Body Shop, which sells natural cosmetics (Ottman, 1994, p. 67). According to The Body Shop (2007a) the company stands for certain environmental and ethical values, which shall address the global green consumer:
- Protection of the planet by using only natural ingredients
- No animal testing
- Support of fair trade
- Defending human rights.
According to The Body Shop (2004b, p. 4) the company is trading in 52 markets in America, Europe and Asia with 2007 stores:
Abbildung in dieser Leseprobe nicht enthalten
2.1.2 The product policy of The Body Shop
According to The Body Shop (2004b, p. 7) the company tries to avoid:
- pollution
- waste of packaging material and energy
- greenhouse gases because of the global warming and the ozon depletion
- gas
- chemicals in the products
The ingredients of the cosmetics are organic, not from protected plants and without chemical additives unless they are needed to protect the product of bacteria and mould. The company uses only sustainable ingredients i.e. palm oil or wood (appendix 1). There are no ingredients used which are tested on animals (The Body Shop, 2004b, p. 9). The product labels contain all ingredients of the product.
During the production the company tries to reduce waste of sources, i.e. water (appendix 2). The suppliers around the world have to follow the values of the company. Also employees are forced to reduce, reuse and recycle (The Body Shop, 2004b, p. 4-6).
The wrapping of the products of The Body Shop is of reusable and recyclable plastic bottles (PET), tubs and tubes with a minimal use of packaging. The carrier bags of the company are made of 15% recycled plastic and can be reused (The Body Shop, 2004b, p. 7).
Beside the product features the company itself wants to be green. According to The Body Shop (2004b, p. 10) it:
- builds company houses only in town centres
- uses renewable resources of electricity
- avoids wastage of gas
- reduces business travel (appendix 3) and air- and road freight (appendix 4)
So The Body Shop tries to create green products in nearly all its elements.
[...]
Details
Pages

20

Year

2007

ISBN (eBook)

9783638016063

ISBN (Book)

9783638918473

File size

603 KB

Language

English

Catalog Number

v85777

Institution / College

Northumbria University

Grade

74,0

Tags