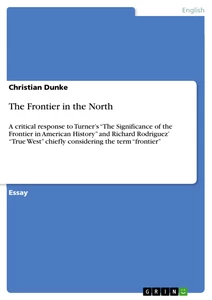 Excerpt
The Frontier in the North
To be honest, Frederick Jackson Turner's text was not very entertaining to read because of its style. Written as a report it gives us detailed information chiefly about the westward movement of the settlers who faced different problems, but also the significance of this movement. So, Turner's text is strongly historical. To be exact, it is a historical report describing the situation. Not a "gripping read" if somebody is not excessively interested in history.
Richard Rodriguez' text is the complete opposite. Written like an anecdote, it gives us detailed a description of his personal experience. His essay is written in a very personal and narrative tone.
Not very interesting, if you are not interested in what Rodriguez has to say, as this narrative is taken simply from the point of view of a single person.
It was only discussion about the texts which made them really interesting:
In this seminar, my interest for the American national feeling was roused, just because I got to know the origins of today's American nationalism which is debated so much in recent times.
What I found central in those texts was the term "frontier" or the delimitation from savagery or something minor.
Suddenly I found these texts so interesting, particularly their comparison with each other, because they were so opposite, beginning with their styles, the background or the origins of their authors,
their treatment of their "frontier lines" (note the plural: frontier line s, if there really is a frontier in the north), just to name a few of their differences.
These reasons made it necessary and so interesting for me just to debate "The Frontier in the North".
In my 5 page critical essay I will initially give a brief definition or rather explanation of the term " frontier" and also show its delimitation from the commoner term "border" or the other entries in the dictionary having vaguely the same meaning.
But I anticipate, there is no better alternative expression for it.
In the "Langenscheidt Englisch-Deutsch Wörterbuch" all the entries corresponding to the term
"frontier" have something to do with "Grenze".
[...]