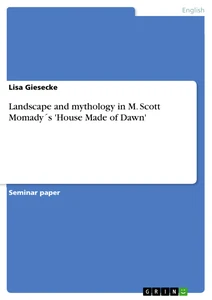 Landscape and mythology in M. Scott Momady´s 'House Made of Dawn'
Term Paper 2006 15 Pages
Excerpt
Table of Contents
Introduction
1.1 N. Scott Momaday – Biography
1.2 House Made of Dawn – Summary
Exploring the Novel
2.1 House Made of Dawn – Structure
2.1.1 Numbers
2.1.2 Elements of Oral tradition
Landscape and Mythology
3.1 Landscape
3.2 Snake and Eagle Motif
3.3 The Dawn Runner
Conclusion
Bibliography
Introduction
In 1969 the rather unknown Native American author N. Scott Momaday won the Pulitzer Price for fiction with his first novel House Made of Dawn. Until that time Native American fiction was quite unpopular; but Momaday's' novel certainly evoked the interest of the western audience. He was able to explore many important issues and conflicts the Native American community had to face in the twentieth century and – what was even more important – developed a narrative strategy to convey these issues to a bigger and, above all, multicultural audience.
As Momaday covers so many themes in his novel, I decided to focus on the role of the landscape with its mythology and its powers. As it shows, the landscape plays an important role in this novel as well as in Native American beliefs.
1.1 N. Scott Momaday – Biography
Born on February, 27th 1934 as a member of the Kiowa Clan in Oklahoma, Momaday spent most of his childhood at the Navajo reservation in Arizona and at the Pueblo of Jemez, New Mexico. The Pueblo of Jemez would later become the model for the village Walatowa in House Made of Dawn. His mother, Natachee Scott Momaday, a teacher and author of children's books, is a far descendent of the Cherokee, while his father, the painter Al Momaday, belongs to the Kiowa. During N. Scott Momaday's childhood and youth both his parents worked as teachers on Indian reservations. He experienced the Kiowa tradition of his father's family as well as the Navajo, Apache and Pueblo Indian cultures.
N. Scott Momaday went to the University of New Mexico and graduated in 1958. He published his first poem Earth and I Gave You Turquoise in the New Mexico Quarterly. Afterwards he taught one year on the Apache reservation at Jicarilla and won a poetry fellowship to the creative writing program at Stanford University. In 1963 N. Scott Momaday earned a Ph.D. in English literature and accepted a teaching post at the University of California, Santa Barbara. In 1969 his first novel House Made of Dawn was published in book form and awarded with the Pulitzer Prize for fiction.
Afterwards he teaches at Berkeley as a Professor of English and Comparative Literature. In the same year his collection of Kiowa tales The Way to Rainy Mountain was published; as well as he was initiated into the ancient fraternal organization of the Kiowa's, the Gourd Dance Society.
N. Scott Momaday moved on to Stanford University in 1973, where he stayed until 1982. During that time he published a memoir[1], two volumes of poems[2], and started drawing and painting seriously. His artistic work has even been exhibited in the USA and many of his newer books are illustrated by himself. In 1982 N. Scott Momaday settled in Tucson and started teaching at the University of Arizona. He also gave lectures at other colleges, i.e. Princeton and Columbia.
1.2 House Made of Dawn – Summary
Momadays' House Made of Dawn consists of four main parts, which are headed by a prologue. The prologues theme is Abel, the protagonist, running along a curved road. It is dawn; in a timeless setting of landscape.
In the first part, titled The Longhair, Abel returns from his service in World War II. The day of his arrival in his hometown Walatowa is July, 20th 1945. His grandfather Francisco is there to welcome Abel and take him home; but Abel leaves the bus drunk and doesn't recognize his grandfather. After he is sober again, he recalls six episodes from his childhood and youth, dealing with his mothers' and brothers' death, his vision of two eagles flying with a rattlesnake and the resulting hunt with the Eagle Watchers Society, and eventually him leaving Walatowa to join the army. On August, 1st, after an annual ritual, Abel murders a Native American man, an albino. He is sentenced to seven years of prison; afterwards he is sent to Los Angeles for resocializing.
The second part of the novel begins in 1952, and Abel is in Los Angeles. While he is lying on the beach, injured due to beating by a policeman, his life unrolls like a movie before his eyes. Flashbacks illuminate childhood memories, war experiences and his life after the murder. Next to these passages do two sermons of a Native American preacher at the Holiness Pan-Indian Rescue Mission fill most of the chapter. This part is titled The priest of the Sun.
In the third part (The Night Chanter), which is dated February, 20th 1952, a friend of Abel, Ben Benally, tells the reader about Abel's desperation, lethargy, resignation and his inability to make himself at home in Los Angeles. It is the day of Abel's return to the Pueblo.
The fourth and last part, The Dawn Runner, begins with Francisco being close to death. Several flashbacks illuminate his past and his traditional way of life within the community. He dies at dawn at February, 28th 1952. Abel performs the funeral rites; and afterwards he joins the traditional race. With doing so, he accepts his heritage and replaces his grandfather within the Native community. The novel ends as it starts: with the picture of Abel running.
[...]
---
[1] The Names
[2] Angle of Geese and Other Poems, The Gourd Dancer