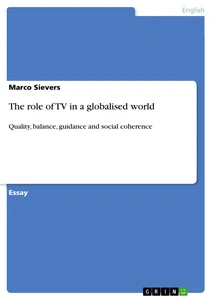 Excerpt
The Role of TV in a Globalised World – Quality, Balance, Guidance and Social Coherence
Since the invention of television its role in society has been subject of continuous and controversial debates revolving about tasks, duties and responsibilities. The classical controversies focussed on the relationship between the state as a TV provider and its citizens, trying to weigh public interests up against individual liberties. Most of the time, they were limited to a national level and included elements of class struggle (cf. Corner 2001, 261, 263 et seq.)
Manifold changes in the TV landscape altered the face of programming and had effects on the role of TV. They turned the political struggle for television into a battle for market shares with an increasing international orientation. The liberalisation of television in association with the development of new broadcasting technologies led to a multitude of competing TV stations and to a diversity of available programmes. Private broadcasters' dependence on funding by adverts caused a commercialisation of TV and shifted the focus of programming to ratings, which have become an all-dominant factor. The constant search for new ways of attracting viewers' attention favours sensational topics and resulted in a variety of new programme formats (cf. Corner 2001, 266 and Wedell & Luckham 2002, 119). Globalisation has aggravated competition by flooding national markets with international products, and by supranational media conglomerates trying to peruse their interests in short-term profit-raising. Finally, adding to the tense atmosphere, the internet challenges TV's role as a mass medium with its global scope and its nearly unlimited supply of entertainment, information and interactivity.
Therefore, a modern definition of the role of television has to comprise a re-evaluation of classic issues, a consideration of technological change and globalisation, and an international perspective. Even if TV seems to lose ground as the leading mass medium, it is still of great significance as a "central ingredient of everyday life" and as an "indispensable factor in the organisation of polity, society and culture" (Corner, 2001, 261). On the backdrop of growing commercialisation and superficiality a recollection of tasks and duties is necessary. Executives have to be reminded that broadcasting is not solely a business, but also an enterprise connected to responsibilities and to accountability. Existing excrescences have to be curtailed by a focus on quality, balance and guidance. Additionally, TV's significance for the establishment and maintenance of social coherence should be recognized and emphasized.
The first task of television is to provide quality, which particularly refers to programmes that aim at information, like news and reports.
Television coverage of political and social issues is a decisive factor for the formation of political opinion in democratic states. Due to this news and reports have to be precise, truthful and reliable. Coverage has to be neutral, abstaining from open propaganda or subtle indoctrination. Even if propaganda is rather associated with the Third Reich or with Stalinism, contemporary examples still show the unbowed political influence of TV coverage. The heated TV debate about Saddam Hussein's alleged possession of weapons of mass destruction influenced public opinion in the USA to support the military campaign against Iraq. Reports on politicians, especially with a focus on their private life, always have a great impact on the outcomes of elections, or can even ruin careers if they cover ostensible scandals.
In addition, news programmes have to present relevant information on important topics. In times of globalization this implies to cover all significant international events and to explain their impact on national affairs, even if national and regional news have a more immediate relevance for the audience. Thus, broadcasting stations should abandon American news formats, which almost neglect international affairs by their exaggerated focus on national and regional events. Relevance and importance also imply that news should reduce the amount of gossip, sensation and veiled product promotion. A negative example for this tendency are the superficial and lurid news of the German broadcasting station RTL2, which mainly focus on celebrity gossip and consumer trends, and often contain surreptitious advertising. Significantly, the broadcaster itself subsumes its news under 'infotainment' (cf. RTL2 homepage).
Due to the fact that TV coverage has an enormous effect on public's perception of reality and normality (cf. Wedell &Luckham 2002, 130), news and reports should represent reality in an appropriate way, embedded in the right context. In order to avoid distorting and misleading effects incidents should be neither blown up, nor played down. Imprecise and undifferentiated coverage may lead to the making of social groups as scapegoats, create racist attitudes, provoke hostility or result in violence. For instance, Michael Moore's motion picture 'Bowling for Columbine' exemplifies the causality between the TV representation of crime and violence, American fears, possession of firearms and resulting actual violence (Bowling for Columbine, 2002). Evidence from Britain also shows a correlation between TV coverage, burgeoning fears and private arming (cf. Wedell & Luckham, 2002). As a counter-measure news and reports should shed light on the social backgrounds and comment on the actual frequency of crime and violence in comparison to the total population.
[...]
Details
Pages

9

Year

2006

ISBN (eBook)

9783638828406

ISBN (Book)

9783638831451

File size

383 KB

Language

English

Catalog Number

v77469

Institution / College

Liverpool John Moores University

Grade

1

Tags