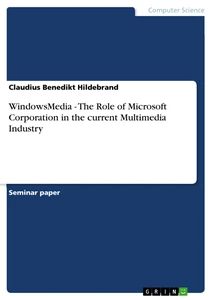 WindowsMedia - The Role of Microsoft Corporation in the current Multimedia Industry
Seminar Paper 2002 24 Pages
Excerpt
Table of Contents
Abbreviations
1 Introduction
1.1 What is Multimedia?
1.2 Microsoft, the leading Multimedia Company?
1.3 Procedure and Analysis Objectives
2 Key features of the Multimedia Industry
2.1 Microsoft's main business activities
2.2 Microsoft's competitors
2.3 Microsoft's effort in the Multimedia Industry
3 Current software applications used in the Multimedia Industry
3.1 Windows Media Series
3.1.1 Windows Media Encoder
3.1.2 Windows Media Services
3.1.3 Windows Media Player
3.1.4 Windows Media Rights Manager
3.1.5 Windows Media SDK
3.2 Comparison - Windows Media Player vs. RealOne
3.3 Windows Media Series 9 - Corona
4 Current technologies used
4.1 Supported Software/Hardware Platforms
4.2 Portable Devices
4.3 Windows Media 8 Codec vs RealMedia 8 Codec
4.4 Open vs. proprietary standards
5 Conclusion
Abbreviations
Abbildung in dieser Leseprobe nicht enthalten
1 Introduction
1.1 What is Multimedia?
Multimedia is one of the buzzwords recently used especially in the new economy. In order to unveil the abstract term "Multimedia", one could come to the conclusion that multimedia "refers to the integration of various forms of information such as text, graphics, sound and images". (Abernethy & Allen, 1999, p. 9)
But in fact, multimedia is more than just combining several types of media. Information technology offers the possibility of adding interactivity between the user and the media. A TV channel is not regarded as a multimedia application because of the lack of interactivity although different types of media are used simultaneously. Nevertheless, clicking through a digital encyclopaedia having sound and images in it, is seen as stand-alone multimedia. The next step in the multimedia development stage distributed multimedia. Multimedia elements are no longer stored locally on a CD-ROM as we have seen in the stand-alone multimedia example. They are remotely stored on servers being connected via a network and therefore can be accessed from anywhere in the world. (Agnew & Kellerman, 1996)
1.2 Microsoft, the leading Multimedia Company?
Microsoft Corporation is one of the global players in the software development market. As more than 85% of all client PC operating systems being sold are Microsoft products (Miles, 2000) it is worth to discover the efforts Microsoft made in the multimedia sector. Within any recent Microsoft operating system, there is an application included to enable people to playing multimedia files. Everything began in fall 1991 with the release of Media Player for Windows 3.0 shortly after the first PC soundcard was available. The development continued and by time, more and more features have been added until October 2001, Windows Media Player for Windows XP was released. (Microsoft Corporation, 2002a)
In September 2002, the next version of the Windows Media Series 9, codenamed Corona, will be launched including several new features which will be presented later on in this assignment. (Microsoft Corporation, 2002b)
1.3 Procedure and Analysis Objectives
This report will evaluate the role of Microsoft Corporation in the current multimedia industry. In order to get an impression about Microsoft's business, there is an overview of Microsoft's products and services at first. Next, it will be Microsoft's strongest competitors in the operating system market as most consumers of multimedia services have a Windows operating system which included a player for multimedia content. This player called Windows Media Player is being discussed and compared to the RealNetworks' RealOne player which is regarded as one of Microsoft's strongest competitors in the multimedia business. Consecutively, there is an investigation of electronic devices currently supporting the technology provided by Microsoft including different audio- and video codecs. Finally, there is a conclusion showing the results of the research and giving some recommendations when deciding which multimedia environment to choose: Microsoft or RealNetworks.
2 Key features of the Multimedia Industry
2.1 Microsoft's main business activities
Microsoft Corporation was founded in 1975 by William H. (called Bill) Gates and Paul Allen. In 1981 they started programming operating Systems for IBM PCs because IBM thought programming operating systems would not make any profit. The first version of Windows with graphical desktop and mouse support was released in 1985. (Microsoft Corporation, 2002d)
The development continued and the formerly garage based company turned into a global stock-listed enterprise employing around 50.000 people worldwide and having had a revenue of more than 28 billion US$ in the fiscal year ending June 30th, 2002. (Microsoft Corporation, 2002c)
The products and services offered by Microsoft do not only include operating systems, but range from obvious ones like selling software development tools, server environments, office applications and multimedia services in the internet up to holiday offers (Expedia) and financial services (MoneyCentral). Microsoft themselves divides its business activities currently on their website into seven categories:
- Windows
Client operating systems, e.g. Windows2000, WindowsME, WindowsXP and technologies e.g. Windows Media, Internet Explorer, DirectX
- Office
Productivity tools, e.g. MS Word, MS Excel, MS Powerpoint
- Servers
Server software for multiple purposes, e.g. databases, portal systems, mail management
- Developer Tools
Software development tools for programming applications in the Windows environment, e.g. Visual Studio
- Games and X-Box
Games for Windows operating systems, game console X-Box and gaming hardware, e.g. Sidewinder Gamepad
- MSN Services
Portal for several internet based services incl. emailing, stock quotes, internet access, gaming and music
- Business Solutions
All-in-one software solutions for small and medium sized businesses
2.2 Microsoft's competitors
Microsoft as a diversified company doing its business in many different industries, is faced a couple of competitors. The focus in this assignment will be held on the competitors being primarily active in the multimedia area. Concerning the Windows client operating system, Microsoft is leading with a market share of almost 90%. Competing operating systems like Linux or MacOS lead to shadowy existence on desktop computers. (Miles, 2000) The very high level of distribution and market share is Microsoft's unique point. It enables their products to become de-facto standards. This could not the achieved by products of other software vendors as their market share is much smaller. This issue is discussed controversy in the media whether Microsoft abused its market power to distort competition or not.
Nevertheless, in regard to the server market, Microsoft is namely market leader with 41% market share in 2000, but Linux with a constantly growing market share of currently 27% is regarded as the strongest competitor (Shankland, 2001). This is very important as the server system environment for providing multimedia content can differ from the client's software environment. In regard to the multimedia player applications which are explained in great detail in the third chapter, there is a three-event competition between Windows Media Player provided free of charge by Microsoft bundled with the operating system, RealOne Player built by RealNetworks and revived QuickTime by Apple which are both beard to charge. (Olsen, 2002) The market share of Windows Media Player and RealOne are close to each other, whereas QuickTime is behind. An in-dept investigation of the respective market shares and a comparison of the features among Windows Media Player and RealOne as its strongest competitor are available in chapter 3.2 of this assignment.
2.3 Microsoft's effort in the Multimedia Industry
Half a year after the development of soundcards for PCs in 1991, Microsoft offered so-called 'Multimedia Extensions' for their in these days current Windows 3.0 operating system to enable users listening to audio files and music CDs. A slightly enhanced version of the 'Media Player' was standard in Windows 3.1 which was launched April 1992.
End of 1994, Windows95 was set public with a more powerful version of the 'Media Player' making use of the newly implemented 32-Bit functionality. Furthermore, using different codecs and filters for video and audio streams was possible.
WindowsME and Windows2000 operating systems have been equipped with newer versions of the 'Windows Media Player', too. The most important new features have been the integration of support for networks in order so allow streaming multimedia content and the addition of tools to manage and create audio/video content.
The up-to-date version of Windows Media Player was shipped together with the release of WindowsXP in October 2001. It offers support for watching DVD videos and burning audio files directly on a CD. (Microsoft Corporation, 2002a) In this release, Microsoft has included its own codecs for audio and video content. This lead to severe trouble, as open standards have been faded into the background and competitors like RealNetworks brought Microsoft to court. (Wilcox, 2002)
In September 2002, Microsoft will announce Windows Media Series 9, a new package of software applications used to create, distribute and enjoy multimedia content. (Microsoft Corporation, 2002b)
Having seen this timeline, Microsoft has played an important role in the multimedia industry. Currently, the Windows Digital Media department is headed by David Britton, who will continue Microsoft's efforts of building a package of applications covering the entire value chain. Windows Media 9 Series, which is being explained in chapter 3.3, will be the cutting edge software package offered by Microsoft for multimedia development. The question of whether to follow open standards or to rely on proprietary standards can be seen in different ways and has to be discussed later on in this assignment.
3 Current software applications used in the Multimedia Industry
3.1 Windows Media Series
Windows Media Series is a package of tools to provide users with the capabilities to capture, convert, distribute and play multimedia content.
3.1.1 Windows Media Encoder
Windows Media Encoder is used to capture and convert multimedia content from several sources. There are three major usages:
a) Capture from existing video files
If a multimedia file has been created by another application, it can be opened and converted into a format which can be streamed over a network.
b) Capture from desktop
Especially in an educational context, capturing from the full screen or just certain windows can be helpful to show how to perform certain steps on a computer. In e-learning environments, computing courses are often held this way.
c) Capture from web cam or TV-card
Live video being digitalized by a web cam or TV-card can be saved and converted using Windows Media Encoder. The content delivery process takes place either from a saved file or by capturing content in real-time.
Windows Media Encoder has the capability to broadcast content to 50 clients simultaneously over a network. For higher volumes of connections and higher performance in streaming media, Windows Media Services combined with a Windows2000 Server environment is required. (Microsoft Corporation, 2002h)
3.1.2 Windows Media Services
Windows Media Services offers the possibility to broadcast a large number of multimedia streams over a network. In contrast to a web-server, Windows Media Services measure bandwidth usage during the streaming process and send data in a continuous flow, whereas web-servers are optimized for delivering large amounts of data in huge bursts. During the development process, the focus was being held on scalability, reliability, high quality of delivered content and financial issues. That's why Windows Media Services has been completely integrated into Microsoft's current Windows2000 Server environment without the need for purchasing additional licenses.
An independent test by ZD Labs (2000) verified the performance and scalability of Windows Media Services. In a first test, 22kbps narrowband video stream had been served simultaneously to more than 9000 clients without dropping streams. A second test serving 100kbps broadband video streams proofed smooth playback on more than 2400 concurrent clients and an accuracy of 99,9999999% of delivered packets in a 14-day test with an endless loop of the above mentioned 100kbps video stream; a very impressive performance!
3.1.3 Windows Media Player
Microsoft offers several versions of its current Windows Media Player. The most recent one for MS Windows operating system is called Windows Media Player for WindowsXP. Unfortunately, this version (Windows Media Player 8.0) is only available for users having WindowsXP as their operating system. Other users have to take the older 7.1 release which lacks several features. Besides players running in a Windows operating system environment, there are distributions of the Windows Media Player for MacOS, Sun Solaris, several handheld-PCs and portable music devices.
In the area of audio and video there are many new features being available for users of the Windows Media Player for XP:
Audio: Audio-CDs can now be ripped directly onto the hard disk without the use of any third-party product. The audio files being created are using the Windows Media Audio 8 codec which offers nearby CD-quality but needs only half as much storage as the popular MP3 format.
ID3v2, a very common standard for adding song titles, artist and album information to MP3 audio files is now fully supported. Audio-CDs can now be burnt directly from files being on the user's hard disk without using third party products. The writing-speed is not limited to single speed but can use the full speed which is available by the CD-writer.
Windows XP themes are supported and new visual styles coming up when playing music have been added.
Video: DVD videos are now fully supported and can be watched without using any third party player software. In full screen mode, the control buttons are easier to access now than in previous versions. Navigating though the DVD has been made easier by showing chapter titles and not only play-list numbers. Additional DVD information and chapter titles are now stored for later offline reading.
Digital video content can be transferred to handheld PC devices as easy as transferring audio content.
In addition to the new features in the audio and video sector, there are three more ground-breaking features to mention:
Intelligent Media Management keeps track of the users' audio/video files. Even if files are moved to another directory, play lists need not be rebuilt. Player Management allows creating customized versions of the Windows Media Player and skins which can enhance productivity within companies by providing targeted features.
Auto play functionality has been enhanced so when inserting an Audio-CD or a DVD, a prompt appears asking whether to start playback or offering other possibilities. Even when connecting a digital camcorder to the PC, auto play functionality starts and asks the user what he wants to do with the device attached. (Microsoft Corporation, 2002i) Offering a large number of features and being available free of charge with any purchase of the MS WindowsXP operating system it seems to be a very difficult market for competitors. In addition, the spread of Microsoft's Windows Media Player is pretty high because it is bundled with the operating system whereas competitors have to convince potential customers that their product is superior in order to have them download and install it.
3.1.4 Windows Media Rights Manager
Especially multimedia content providers in the internet will love the DRM features provided by Windows Media Services. They offer the possibility to secure copyright demands in digital media. Digital media files are equipped with a unique license key that is bound to one specific computer. In case of copyright infringements, officials can easily discover the person who breached the copyright. Furthermore, different licensing models and high spread of the playback application combined with revocation of out-of-date players make DRM an indispensable tool for every distributed multimedia provider.
[...]
Details
Pages

24

Year

2002

ISBN (eBook)

9783638139380

ISBN (Book)

9783638639378

File size

517 KB

Language

English

Catalog Number

v6346

Institution / College

UNITEC New Zealand – Faculty of Business - Department of Information Systems and Computing

Grade

88% (A)

Tags