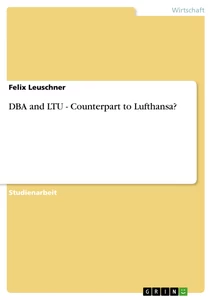 DBA and LTU - Counterpart to Lufthansa?
Seminararbeit 2006 7 Seiten
Leseprobe
"Lufthansa positioned itself aggressively against us. On all routes where DBA is flying, Lufthansa makes use of dumping prices to be able to compete. Now it is time for us to attack Lufthansa on those markets, where it has been ripping off customers for years. We have the unique chance to become the first low-cost carrier serving a world-wide network by 2007."
- Hans-Rudolf Wöhrl
Majority shareholder of DBA and LTU
Introduction
On February 17th, 2006, Hans-Rudolf Wöhrl announced that his investment holding INTRO had acquired an equity stake of 60% in LTU, a German charter airline, for an undisclosed amount. INTRO also holds 59.9% in Deutsche BA (DBA), a German low-cost carrier.
Analysis of present situation
DBA was founded in 1992 as a German subsidiary of British Airways. It was launched to enhance competition upon Lufthansa, actively targeting business travellers within Germany. In 1999 DBA comprised of 20 Boeing 737-300 aircrafts representing one of the world's most modern fleets with an average age of only 1.5 years. It was repeatedly ranked by the German Capital magazine as the airline with the best price / performance ratio, reaching a 99% on-time average. In 2002 the company changed its business model towards being a low-fare airline, while maintaining the present quality level. Up to that point in time, DBA has not had one profitable year in history. One needs to keep in mind though that British Airways had founded the company to pressurize Lufthansa's margins within Germany, and not necessarily to earn money. Nevertheless, British Airways decided to divest the business in 2003, as losses continued to exceed acceptable amounts.
On July 1st, 2003, Hans-Rudolf Wöhrl's investment holding INTRO acquired the airline for the symbolic amount of €1, while further being granted €70mm in cash from British Airways to buy itself off its loss making subsidiary. Wöhrl had been a member of DBA's advisory board from 1994 up to 2001 and therefore is an expert of both the company and the aviation industry. By the end of 2004 DBA successfully accomplished the turnaround, after only 1.5 years under new ownership, and made its first profits in history. In April 2004 Wöhrl resigned as DBA's CEO and became head of the airline's advisory board. DBA's two top managers Martin Gauss and Peter Wojahn jointly operated the firm since then, who at the time both acquired a 10% stake in DBA.
In March 2005 DBA acquired Germania Express, a competing German low-cost carrier, which added 12 airplanes and 15 new routes to the company. On February 13th, 2006, ATON investment holding bought a 25.1% stake in DBA. ATON is controlled by Lutz Helmig, who recently sold 94% of the Helios Hospital Group, which he had founded, for €1.5bn. Helmig simultaneously became a member of DBA's advisory board. The acquisition price of ATON'S stake in DBA was not disclosed. However, it is to assume that DBA's equity ratio could be increased significantly and that it provided Wöhrl personally with acquisition capital.
On February 17th, 2006, Wöhrl announced that his investment holding INTRO had acquired an equity stake of 60% in LTU. LTU is Germany's fourth biggest holiday airline, after Air Berlin, Condor and Hapagfly. Up to the recent change in ownership, LTU was controlled by Handelsgruppe REWE (still holding the remaining 40%), the Kanzlei Metzeler - van Betteray (49.9%) and a financial investor belonging to Sal. Oppenheim (10.1%). The lawyers office Metzeler - van Betteray administered the stake that formerly belonged to SwissAir, the bankrupt Swiss aviation group, on a trust basis. This had profoundly limited LTU's capacity to act. The new ownership structure consisting of only INTRO and REWE will therefore increase LTU's ability to react to the company's inherent strategic and operating issues as well as to modified market constraints.
Wöhrl's rationale behind this deal is to combine both carriers' offerings to build the world's first global low-cost network. LTU comprises of a 24 aircraft all-Airbus fleet, with an average age of 3.5 years, offering 6,051 economy and 540 business class seats. With its 11 long-haul A330's LTU aims to attack Lufthansa on its routes to North America and Asia. In order to achieve high levels of capacity utilization, DBA plans to provide additional passenger traffic to LTU's Düsseldorf hub from all of Germany. DBA will continue to focus on connections of up to 90 minutes, while LTU will target long-haul routes. This concept is planned to be implemented by mid 2007, while both brands are supposed to persist in the future.
DBA's management made clear though that there will be no cross subsidies between the two airlines. Both companies will need to be profitable on their own. As DBA, LTU has been going through financial difficulties in the past years, on the verge of bankruptcy in 2003 and 2004. In 2003 the airline was saved by a €100mm debt guarantee provided by the state of North-Rhine- Westphalia, virtually in the very last minute. In 2004 LTU's major shareholder REWE acted as guarantor for a €200mm debt granted by Deutsche Bank, which replaced the state guarantee of 2003. In 2005 the airline achieved an increase in revenue by 8% to €930mm (2x that of DBA), but continued to make losses. LTU aims to break even in 2006, though without cost savings, the company is projected to generate losses ranging between €40mm - €60mm in the present year.
One of LTU's most severe issues is its low productivity. The airline comprises of 2,700 employees, but with 6mm passengers per year carries as many passengers as Air Berlin, which gets by with only half of LTU's staff. Addressing this issue and the limited financial resources, Wöhrl plans to achieve cost savings of approximately €50mm in 2006. €15mm are supposed to stem from savings in labour costs, another €15mm from synergies (through combined fuel purchasing and pooling of insurances), LTU's turnover is supposed to increase by €15mm - €25mm through improved marketing. Wöhrl especially stressed the importance of turning around the airline this year. In his opinion LTU will be profitable in 2006, or is not remediable at all.
At present, no airline is applying the low-cost business model on a global scale. Emirates is often cited as doing so, but the Dubai based airline simply profits so profoundly from its surrounding conditions, that it is able to offer high-end services at extremely low prices. Even low-fare giants like Ryanair and Easyjet thus far confine themselves to European transportation. They do this for a simple reason: On long-haul the low-cost concept is not considered lucrative. Wöhrl wants to prove the opposite, he believes that LTU is able to offer first-class tickets to New York for half the price Lufthansa does. He wants to attract more business travellers than before, putting pressure on Lufthansa not only within Germany through DBA, but also on international routes through LTU.
Scenarios for the German market
DBA / LTU's goals are very ambitious. One needs to keep in mind that both airlines are very limited in terms of financial resources, while at the same time they are under tremendous competitive pressure. While Lufthansa as the established and heeled incumbent is able to succeed in this environment and even enhance it further, through cross subsidies between its long- and short-haul network, the DBA / LTU alliance will only have a few month to reach profitability, with bankruptcy being on the verge. With Lufthansa endorsing pressure at the upper end of the market, Air Berlin, Germany's most successful low-cost carrier comprising of 55 aircrafts, adds competition towards the lower end. Air Berlin, already highly profitable, will go public within the next twelve months, and therefore gain even more financial strength and endurance.
LTU's main challenge will therefore be to reach greater productivity, which seems difficult without costly redundancies the company cannot afford. The airline further has to cope with the decline of the traditional charter business. Economic slowdown, weak domestic demand and completely changed holiday customs have altered LTU's business model, which the company has been reluctant to address. Today both tourists and businessmen make use of low-cost carriers to plan their trips modularly, package tours seem outdated. DBA's margins are also under intense pressure. Lufthansa increasingly competes on DBA routes, offering similar prices in combination with better service. Further, DBA is pressured by other low-fare airlines, of which most of are able to make superior use of economies of scale and are financially better equipped.
A combination of two struggling airlines therefore seems barely to be a threat to established carriers, premium or low-cost. Synergy potential is limited, so far only the companies websites have been integrated. In addition it seems questionable whether the low-fare business model is at all suitable for long-haul transportation, market research shows the opposite. The absence of low-cost pioneers like Ryanair and Easyjet suggests that since there is no competition, there is no market. Customers seem not to be willing to accept low service levels and second-rate airports when travelling intercontinental, which holds especially true for business trips. In addition there are also operating issues the alliance needs to address: Offering long-haul from LTU's hub in Düsseldorf would mean that DBA would need to bring in passengers from all of Germany to Düsseldorf. But if there will be no cross subsidisation, prices might not be low-cost in the end and thus no unique selling proposition offered compared to Lufthansa. Cost performance ratios could in fact be inferior to existing offers.
Hence, a realistic scenario for the German market would be to have two business models which will prevail. Over the next years, low-cost airlines may increase their modest market share, but structural limitations and competitive challenges cloud their longer-term growth prospects. Many of the continent's main markets are becoming saturated, and competition is heating up among low-cost rivals, charter carriers and traditional airlines. There will be a number of European low- cast carriers active in Germany, disposing of sufficient scale, next to the established premium full-service airlines. Among the European low-fare companies will be German airlines as well, Air Berlin will definitely be one, potentially DBA. Lufthansa will continue to be the prime long- haul carrier, but also have a strong presence in the intra-German market. Lufthansa will continue subsidizing domestic traffic towards its hubs Frankfurt and Munich, but also support lower frequency routes for network and marketing reasons. The DBA / LTU alliance will have no effect because of restricted financial scope and unsolved operational difficulties. DBA on its own has good chances to survive as an independent regional low-cost carrier, serving a number of short-haul routes. LTU will not be able to survive for long as a long-haul low-fare airline, and either adjust its business model again and remain a "living dead", or go bankrupt. The alliance of both companies will have no future, as strategically and operationally it offers no clear benefits. Hans-Rudolf Wöhrl announced in early March 2006 to leave the aviation industry and sell his stakes in both DBA and LTU by the end of 2007. This certainly pulls the rug from under his vision of creating the world's first global low-cost alliance completely.
Comparable situations in other markets
In the hotel industry a comparable market situation can be found. Starting in the mid 1990's, budget hotel chains have increasingly gained momentum and squeezed players out of the market which were stuck between luxury and low-cost. Chains like formule1 hotel group, a subsidiary of Accor Hotels, have largely gained market share to the expense of traditional hotels, offering highly competitive prices while reducing service. Following the low-fare airline phenomenon, budget hotel chains in Europe and the US focused on quality in vital areas, e.g. the quality of beds or cleaning, while reducing service personal and extra services. They were thus able to dramatically decrease costs and lower room charges as a result. This led to a trend of either differentiation towards luxury and high service intensity, or to low-cost orientation in the other extreme. Hence, the development of the hotel market represents a realistic future scenario for the airline industry.
How should Lufthansa position itself?
Lufthansa has been responding to competitive pressure stemming from German and other European low-cost carriers already in recent years. One step was to offer very competitive prices on routes within Germany. This severely hurts these carriers, like DBA, as they quickly lose traffic and only dispose of limited financial reserves. As a result, many low-fare airlines had to file for insolvency in the past (e.g. buzz, Berlin Jet, Volare or Go). Even though many new entrants quickly fail, they nevertheless cost the incumbent airlines a lot of money.
For Lufthansa to react to the DBA / LTU alliance, the two airlines first need to act themselves. Thus far Lufthansa has started 56 new routes from Düsseldorf, LTU's major hub, since January 2006. LTU has not changed its schedule since the recent change in ownership. Lufthansa should therefore closely follow the development of DBA / LTU, and hold an adequate response strategy ready if LTU decides to implement its long-haul low-cost plans. Even if DBA / LTU will be able to overcome their immense operational and financial difficulties and manage to offer a threatening long-haul package, it seems very questionable whether the low-cost model on intercontinental flights will indeed meet demand. If so, responding just like on the German market will be best. If DBA / LTU will be penalized from the start and it will be made clear that Lufthansa will not allow any profits, the alliance will quickly shift its business model. Any direct attacks on Lufthansa routs should be punished hard. Lufthansa, as the incumbent airline, should follow the same strategy it applies on short-haul. This will cost money, but solve the problem quickly and be a clear sign to future market entrants.
[...]
Details
Seiten

7

Jahr

2006

ISBN (eBook)

9783638504157

Dateigröße

400 KB

Sprache

Deutsch

Katalognummer

v55483

Institution / Hochschule

Otto Beisheim School of Management Vallendar – Herbert Quandt Endowed Chair for International Management

Note

1,0

Schlagworte