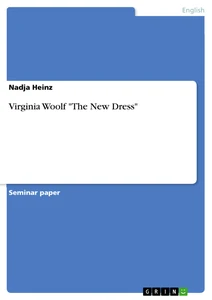 Virginia Woolf "The New Dress"
Term Paper (Advanced seminar) 2003 18 Pages
Excerpt
Outline
1. Introduction
2. The Author
3. Characteristics of "The New Dress"
4. Plot Structure
5. Setting
6. Character Analysis
7. Language
8. Conclusion
Bibliography
Primary Source
Woolf , Virginia . The New Dress. Ed. Hans-Christian Oeser, Fremdsprachentexte. Modern English Short Stories II. From Coppard to Greene. Stuttgart: Philip Reclam jun. GmbH & Co., 1998. 48-62.
Secondary Sources
Bulut, Alev. "Translating Virginia Woolf´s Stories into Turkish" . Virginia Woolf and Her Work: Proceedings of the Fifth METU British Novelists Seminar. < www.members.tripod.com/~warlight/WOOLF.html> am 16.5.03.
< www.bartleby.com/65/st/streamco.html. > am 16.5.03.
Hill , Rosemary . Frock Consciousness: does it matter what the heroine is wearing? < www.books.guardian.co.uk/lrb/articles/0,6109,121742,00.html, 1.> am 16.5.03.
1. Introduction
Virginia Woolf wrote the short story "The New Dress" in 1924. It was made in preparation of her novel "Mrs. Dalloway". The same Mrs. Dalloway is the one giving the party in "The New Dress".
It is a story about the feelings of a woman towards herself and her reaction to the behaviours of others when they meet her. The protagonist is Mable Waring, a woman at the age of 40, who is invited to a party at a friend´s house. Because of this occasion Mable´s dressmaker makes her a new dress, which Mabel has found in an old fashion book of her mother. She likes that yellow dress very much until she arrives at the party where she can see and feel how the other guests look at her. She starts to feel uncomfortable and searches for confirmation wherever she can. But Mabel does not get the confirmation she is looking for. During her stay at the party she has several flashbacks which remind her of the moments at the dressmaker Miss Milan and of her past. These moments make her happy but also aware of the situation she is in at the party which makes her sad again. At these occasions she always compares herself to a fly trying to get over the edge of a saucer. At the end of the story she thinks about changing her life and leaves the party with this new feeling.
It is a bit difficult to understand all aspects of this short story completely. The reader has to read the story more than one time to really comprehend the strong feelings which are going on in the protagonists psyche. The stream-of-consciousness technique which Virginia Woolf is famous for, makes the story more interesting and shows the reader the inside of Mabel. She also uses quite a few images which should be understood by the reader. The new dress and thus women's consciousness of fashion have to be considered. The protagonist Mabel is not a very strong character and does not have much self-confidence, that is why she can be easily influenced by others. She uses flashbacks to escape the reality but these happy feelings are only temporary. At the end nothing has really changed for Mabel and she will always stay the way she is.
2. The Author
Virginia Woolf was one of the leading serious British writers of the 1900 to 1945 period. She was born in London on 25th January 1882 as Virginia Stephens. Her father Leslie Stephens was an author and critic. Her family situation was not easy, her mother died early and some of her brothers and sisters died as well. She lived together with one of her brothers for some time and was teaching adult-education classes in English literature and history at Marley College. In 1912 she married Leonard Woolf, a friend of one of her brothers. Together they founded Hogarth Press in 1917. Virginia Woolf wrote her first novel in 1913. During her lifetime she completed eight novels and several short stories. She was very busy between 1917 and 1927 when she has written 25 stories. Virginia Woolf helped set the trend for the modern psychological novel and she furthered the stream-of-consciousness technique. She constructed her short stories chiefly on mental processes and impressions, frequently triggered by the scene in a flashing instant, with a strong emphasis on understanding another person even without spoken communication. She used her short fiction, like "The New Dress", as an experimentation of narrative techniques that she later used in her fiction, like in her novel "Mrs. Dalloway". Next to appreciation of everyday joys and agonies she was also very keen on the details of human experience.[1]
Fashion is an important topic in "The New Dress" and it was also important for Virginia Woolf herself. It can be said that she had an ambivalent complex relationship with fashion but she liked to put herself in this matter in someone else's hands. Among others Mary Hutchinson, Vita Sackville-West and Dorothy Todd. Todd was the editor of British Vogue between 1922 and 1926. During her editorship, both fashion and the literary avant-garde were staple features in this up-market women's magazine. She was also helping Virginia Woolf to dress. This is shown in one of Woolf´s diary entries for May 6 1926 when she went dress-buying with Dorothy Todd:
I tremble and shiver all over at the appalling magnitude of the task I have undertaken to go to a dressmaker recommended by Todd, even, she suggested, but here my blood ran cold, with Todd. Perhaps this excites me more feverishly than the Strike.
Her letters and diary reveal a delicate horror of shopping, a humorously problematic relationship with pins and her underclothes, and an ongoing relationship with the art of dressing. But she was also alive to the excitement of frocks and the social or cultural implications of fashion and the performance of femininity as the following example from her diary shows:
I had no hat. Bought one… at a shop in Oxford Street: green felt: the wrong coloured ribbon: all a flop like a pancake in mid air. Even I thought I looked odd. But I wanted to see what happens among real women if one of them looks like a pancake in mid air. In came the dashing vermeil-tinctured red-stopper-bottle looking Mrs. Edwin Montague. She started. She positively deplored me. Then hid me a smile. Looked again. Thought Ah what a tragedy! Liked me even as she pitied. Overheard my flirting. Was puzzled. Finally conquered. You see, women can't hold out against this kind of flagrant disavowal of all womanliness. They open their arms as to a flayed bird in a blast: whereas, the Mary's of this world, with every feather in place. Are pecked, stoned, often die, every feather stained with blood – at the bottom of the cage.[2]
These example shows already that for Virginia Woolf dressing-up was associated with self-consciousness and fluid states of being. Her attitude towards fashion is deeply reflected in "The New Dress" because there Mabel´s problems start with the new dress she is wearing at the party.
All through her life Virginia Woolf had psychological problems and she suffered from several mental breakdowns, her first one was at the age of 13 after her mother died. Virginia died in Lewes, Sussex in March 28th 1941 by committing suicide.
[...]
---
[1] Alev Bulut, "Translating Virginia Woolf´s Stories into Turkish" , Virginia Woolf and Her Work: Proceedings of the Fifth METU British Novelists Seminar, www.members.tripod.com/~warlight/WOOLF.html, 1.
[2] Diary III, p.472.