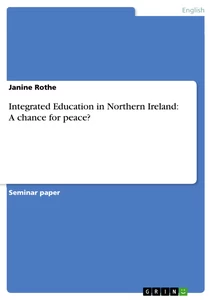 Excerpt
Content
0. Introduction
I. Northern Ireland
I.1. History of Education
I.2. Education System
II. Northern Ireland Council for Integrated Education
II.1. History
II.2. Transformation
II.3. Aims and Principles
II.4. Integrated Education explained by NICIE
II.5. NICIE's response to A Shared Future
III. Studies on Integrated Education
IV. Summary and conclusion
V. Bibliography
VI. Appendix
0. Introduction
The year 2006 marks the 25th anniversary of the integrated education movement in Northern Ireland. To show how this movement has grown and developed since the establishment of the first integrated school, Lagan College in 1981, is the goal of this paper.
Unfortunately, there is no literature, in form of books, available on integrated education. Therefore, this paper is based on the website of one organization, which has its main focus on integrated education, the Northern Ireland Council for Integrated Education, shortly known as NICIE. Whenever I will talk about this council, I will refer to it with its abbreviation.
NICIE has a website[1] which offers a general, as well as a detailed, overview of the integrated education movement. The website includes articles about the history and organization of NICIE, answers questions that parents, journalists and scholars might ask and also provides its visitors with recent documents, such as reports, surveys and polls. NICIE supplies people that are interested in the work of this group, with information about integrated schools and daily school life of students in Northern Ireland.
But before I will go more into detail about NICIE, I will shortly summarize the outline of this paper.
The first part of this paper will give a short overview on the historical development of education, in general, in Northern Ireland. Furthermore, the structure and the current situation of the Northern Ireland school system are shortly summed up.
In the second part, I will provide information about NICIE. This includes their history, work, organization, as well as their aims as a group, that wants to offer support and to encourage the peace process in Northern Ireland. Furthermore, NICIE's own definition of integrated education, as well as responses and recommendations to official bodies.
Three studies will be presented in the third part of this paper. Two studies, which were set up and published by Claire McGlynn and a opinion poll, which was employed by NICIE.
Northern Ireland, since its partition from Southern Ireland, had always been confronted with religious tension. The result has been conflict and for many years one was faced with the challenges of solving the problem of secular segregation. Children, who grow up in a society or community, where prejudice and intolerance are part of every day life, can never develop into mature and liberal human beings. By bringing Protestant and Catholic children together in one school, in order to learn with each other and from each other, will eventually lead Northern Ireland to peace and reconciliation.
I. Northern Ireland
I.1. History of Education
With the division of Ireland in 1920, Northern Ireland became part of the United Kingdom. Just one year later the Ministry of Education and the Lynn Committee on Education were established. During the years of 1923 and 1930 two Education Acts were passed. In 1964 Terence O'Neill became the first Prime Minister of Northern Ireland. Just three years later the University of Ulster was established. Another Education Act was passed in 1968. In 1970 the Church of Ireland expressed a great support for experiments in integrated education. Even a survey by Richard Rose showed that the public was indeed in support of this idea, although several people like Cardinal Conway[2] were defending Catholic schools. In the following year the Protestant Church started showing support for integrated education. Another year later the Burges Committee started looking for possibilities of integrated education. Therefore, John Malone of Queen's was looking into more detail in his Schools Curriculum Project. In 1974 Basil McIvor[3] publishes a statement on Shared Education and in the same year All Children Together (ACT) was established by parents. The Centre for the Study of Conflict was founded at the NUU[4] and Schools Apart was published. Lord Dunleath[5] added an amendment to the 1972 Education and Library Board Order which allowed "Controlled Integrated Schools". Just nine years later, in 1981, the first integrated school, Lagan College, opened its doors to the public. In 1987 the Northern Ireland Council for Integrated Education (NICIE) was founded. One year later announcements for an education reform were made and a another year later the Education Reform Order 1989 was set up.[6]
I.2. Education System in Northern Ireland
The school system in Northern Ireland has an extremely complex structure. There are ten official bodies and several voluntary bodies, which are involved in the administration and management of Northern Ireland schools.
Education in Northern Ireland is compulsory for children between the ages of four and sixteen and is separated on the basis of ability, gender and religion. Education is divided into three types of schools: pre-school, primary and secondary education. The secondary schools are further divided into: Controlled Schools are owned by the government and are preferred by Protestants. Catholic Maintained Schools which are owned by the Catholic Church which are mainly visited by Catholics. Furthermore, there are Other Maintained Schools which are controlled by Protestants. Another type of school are Voluntary Grammar Schools which are owned and controlled by different bodies and which are visited by either Catholics or Protestants. The last type are Grant Maintained Integrated Schools which educate both Catholics and Protestants.[7]
All schools obey to the Northern Ireland Curriculum which is based on the National Curriculum which is also used in England and Wales.
Although religious integration is increasing the Northern Ireland school system is highly segregated. 95 percent of all students go either to a Catholic Maintained or a Controlled School. The remaining five percent go to Integrated Schools.[8]
II. The Northern Ireland Council for Integrated Education
II.1. History
The beginning of the integrated education movement can be found in the 1970s, when a group of parents started working under the name of All Children Together (ACT). There dream was to have Protestants and Catholics educated together.
The Northern Ireland Council for Integrated Education was founded in 1987 in order to support the development of integrated education and to support parents in opening integrated schools. Just two years later ten integrated schools had been established across Northern Ireland and a growing interest in integrated schools was noticeable. Because NICIE developed and financed itself it was also supported by the government.
In 1989, Brian Mawhinney, the Education Minister, "established more effective ways to set up and fund initiatives for new integrated schools". Additionally, the government granted already existing schools that wanted to transform to an integrated school provisions.
The Education Reform Order 1989 offered capital funding and made it possible for parents and the Boards of Governors [9] to fully concentrate on setting up schools, because they were until then financing integrated education all by themselves.
A Statement of Principles was set up in 1991 which defined the "ethos and practice of integrated education". In detail this means, that the "religious balance in pupil enrollments and teaching staff" was specified. Schools that wish to be transformed to an integrated school have to agree on these principles in order to gain support and aid from NICIE.[10]
[...]
---
[1] http://www.nicie.org
[2] William John Cardinal Conway (1913-1977), Irish Cardinal-priest in Rome, Roman Catholic Archbishop of Armagh and Primate of All Ireland. He was head of the
Catholic Church in Ireland during the Second Vatican Council.
[3] William Basil McIvor (1928-2005) Ulster Unionist and pioneer of integrated
education because he saw the need of coeducation for Protestants and Catholics.
In 1981 he became the first chairman of Lagan College.
[4] New University of Ulster, founded in 1984 by Queen Elizabeth II.
[5] 4th Lord Dunleath (1933-1993) was, since 1957, an active member of
the House of Lords and a voice of the Alliance Party. In 1977 he successfully
sponsored the legislation to provide for integrated education.
[6] http://cain.ulst.ac.uk/issues/educ/eductime.htm
[7] http://www.bbc.co.uk/dna/actionnetwork/A1181819
[8] http://www.en.wikipedia.org/wiki/Education_in_Northern_Ireland
[9] Parent representatives who make policy decicions, e.g. if education meets the legal requirements, academic matters and school discipline, as well as an annual report of school achievements
[10] http://www.nicie.org/aboutus/default.asp?id=26
Details
Pages

21

Year

2006

ISBN (eBook)

9783638484770

ISBN (Book)

9783638776837

File size

580 KB

Language

English

Catalog Number

v52890

Institution / College

University of Potsdam

Grade

1,3

Tags