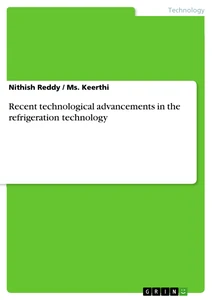 Recent technological advancements in the refrigeration technology
Research Paper (undergraduate) 2020 29 Pages
Excerpt
Table of contents
CHAPTER-1
1.1 Effective expansion technology
1.2 Pinch technology
1.3 Bubble absorption refrigeration technology
1.4 Active off-grid refrigeration technology
1.5 Biomethane liquefaction technology
1.6 TES-backed up vapour compression refrigeration system
1.7 Nanotechnology for refrigeration
CHAPTER -2
2.1 A Combined power and refrigeration cycle
2.2 Organic absorption refrigeration processes
2.3 Biodegradable Refrigeration lubricant
2.5 Direct expansion geothermal refrigeration system
2.6 Hybrid dual-temperature absorption refrigeration system
2.7 Ejector sub cooled refrigeration system
CHAPTER -3
3.1 Cascade absorption refrigeration (CAR)
3.2 Ejector expansion refrigeration
3.3 Heat driven absorption refrigeration technology
3.4 Hybrid solar-assisted power refrigeration system
3.5 Hybrid refrigeration system for industrial waste recovery
3.6 Diffusion-absorption refrigeration technologies
3.7 Heat-driven ejector refrigeration systems
3.8 Fishing vessel refrigeration systems
3.9 Phase change Materials for Food Refrigeration Applications
CHAPTER4
4.1 Absorption chillers
4.2 Solar sorption refrigeration technologies:
4.3 Solar-powered closed sorption refrigeration systems
4.4 Solar-driven ejector refrigeration technologies:
4.5 Magnetocaloric refrigeration effect:
4.6 Cascade Vapour Refrigeration Systems
CHAPTER-5
5.1 An Integrated Kalina and absorption refrigeration
5.2 A Multi-effect desalination unit equipped with a cryogenic refrigeration
5.3 A Two Stage Compression-Absorption Refrigeration System
5.4 Simulation Toolbox (DSST)
5.5 An alternative food transport refrigeration systems
5.6 Solar-driven hybrid absorption-thermochemical refrigeration system
CHAPTER-6
References
CHAPTER-1
1.1 Effective expansion technology
improves expansion power and energy efficiency of vapour compression refrigeration systems. Murthy et al.1 conducted an extensive review on the use of variety of expander mechanisms such as reciprocating piston, rolling piston, rotary vane, scroll, screw and turbine and their performance is reported. They observed that the trans-critical CO2 has reported COP of 30% whereas non - CO2 systems have registered their COP as 10%.The maximum expander efficiency was 83% obtained by the use of scroll expander in the CO2 refrigeration cycle. Further it is understood that recuperation of the energy of the expanders is an encouraging practice of refrigeration systems. Research on the topics such as irreversibility, heat transfer ,expansion process, internal leakage etc. is still open.
1.2 Pinch technology
plays important role in liquefaction cycle for cryogenic processes. Lei et al.2 showed that the cascade expanders can influence the temperature characteristics of hot and cold streams for transfer of heat in cryogenic systems. Depending on the pinch technology a novel intercooled series of expanders has been developed. Pinch technology make provisions to analyse different ways of plans for large scale cryogenic systems. Heat exchanger and expander in this expansion refrigeration system are joined in series. Heat transfer efficiency found higher for ISE cryogenic systems , use of pinch technology when compared to common traditional methods could save energy of about 30% to 50%.
1.3 Bubble absorption refrigeration technology
was studied and the methods for improving the performance was evaluated by Wu et al.3. In this, bubble refrigeration systems and bubble absorbers were used. Bubble behaviour properties were observed and explained graphically. The present refrigerant absorption pairs in bubble absorption refrigeration were explained, in this there were fifty fluids included. This study is helpful for the research people in the fields of absorption refrigeration technology. Performance enhancement can be achieved in three different types of methods such as mechanical-physical method, chemical method and adscititious contactless forces method. Ultrasonic field and magnetic field are explored in adscititious contactless forces method. Impact mechanism and dependability is discussed in order to show the effect of improvement. Current and potential fluids have been examined carefully.
1.4 Active off-grid refrigeration technology
for food preservation is the most neglected in India due to insufficient access to the different forms of energy. Aste et al. 4 carried out great study on the review of literature and scientific technologies in this case. The main aim is to achieve preservation of different kinds of foods and the next to be concentrated on technical, economic and social point of view. In areas without power grid food preservation is done through active/passive refrigeration that is achieved with the use of electricity. In commercial cases off- grid active refrigeration technology is stimulated. Innovative refrigeration systems have been implemented for describing relevant experiences.
1.5 Biomethane liquefaction technology
is an alternative refrigeration technology which is gaining importance in recent days. Capra et al. 5 showed the comparison of economical and technical analysis of alternative refrigeration technology for the development of liquified biomethane, biofuel which is also termed as liquified bio LNG. These have been developed in order to design biogas plants in which they are installed at the downstream of biogas upgrading step so that the biomethane is obtained in liquid state at a temperature of -152 0C AND 2 bar pressure. Five types of technologies have been considered in this, starting with liquid nitrogen vaporization (benchmark); reverse Rankine cycle with mixed refrigerant; reverse Brayton cycle; Claude cycle; reverse Stirling cycle. Use of mixed refrigerants has been the better choice taken in the Rankine cycle. The primary energy consumption has been confined between14% and 20%.
1.6 TES-backed up vapour compression refrigeration system
was modeled and analyzed by Rodriguez et al. 6. They explained the power control and optimization of a thermal energy storage(TES) system in connection with a vapour compression refrigeration facility depending upon phase change materials(PCM).A unique plan of PCM dependent TES tank and its linkage with the present refrigeration system is designed. In this the combined dynamic model is examined by taking a look at the various time frames that coincide at the interconnected system. Different kinds of operating techniques have been explained depending upon deliberate use of TES tank as a low temperature energy buffer to separate cooling urge and production, considering that the stable feature and power limits. The cooling power loops were analyzed in detail in this work and the power monitoring control was solved.
1.7 Nanotechnology for refrigeration
was introduced keeping in mind the energy usage and environmental concerns, this technology enhances the thermal performance of the refrigeration system. This can be done either by changing the properties of the working fluids or by using different systems. Now a days nanofluids have got much focus due to their outstanding thermophysical properties that can be pre owned comfortably in refrigeration and air conditioning systems. Many future studies are requirement for further enhancement of their properties. Low boiling point nanofluids need to be synthesized. These days industries are showing much interest towards natural refrigerants keeping in mind about the pollution they cause. Nanofluids surface tension and dielectric properties needs further study. Different kinds of water dependent brines are used as secondary refrigerant but there is no study conducted on this water based nanofluids7.
CHAPTER -2
2.1 A Combined power and refrigeration cycle
depends upon ocean thermal energy conversion system eg; Kalina cycle. In this kind of cycle the solar energy is used to increase the heat source temperature. Chilled volume is parallelly obtained by the ejector refrigeration cycle that mainly concentrates on the exhaust heat that can be collected from turbine in Kalina cycle. In Kalina cycle and ERC the working fluids that are selected are Ammonia-water and isobutane. In order to calculate the performance ,a newly proposed cycle is kept in connection with the commercial ASPEN PLUS. The primary energy ratio is more for the proposed cycle when compared with the Kalina cycle i.e.,29.2% since having lesser power output.T he exergy efficiency and the primary energy has a highest value of about 41.88% and 8.3%8.
2.2 Organic absorption refrigeration processes
was thoroughly reviewed Papadopoulos et al. 9.Here use of natural organic mixtures as working fluids in absorption system for generation of cooling are vital since they allow development of fresher and renewable energy sources. The system can be improved by arranging the past works that have been done in organic fluids in a proper way that have more importance than the conventional inorganic fluids. The new enhancements have divided the working fluids in single effect cycles and double effect. The proper reports have been submitted relating to the operating conditions tested, the basis on which the working fluid has been selected. Thermodynamics of the working fluids that suits the ABR process are also been tested. The major practical works are done relating to the single effect systems that mainly exposes to the advancing compound process alterations. Thermodynamic interrogations majorly unite experiments with parameter approximation for model enhancement9.
2.3 Biodegradable Refrigeration lubricant
are been researched for enhancing the performance of the compression system which in turn improves the Coefficient of performance. In case of refrigeration oil the important thing to be considered is the affinity of piston ring tribo pair of the hermetically covered compressor10. The base oil that used in the preparation of refrigeration oil has obtained from petroleum products. The scarcity of petroleum reserves and increased prices prices of crude oil has made to look for eco friendly energy resources to synthesize refrigeration oil. The existing exploration intends to formulate a rapeseed oil based trimethylolpropane triester as biodegradable refrigeration oil with efficient thermo oxidative stability and cold flow nature. Differential Thermal Analyses (DTA) and Thermo gravimetric Analyses are done to examine the work of thermo-oxidative stability of refrigeration oil10.
2.4 Transcritical R744 refrigeration systems are the remarkable technological improvements observed in the market of modern European refrigeration systems. The working of state -of -the art pure refrigeration plants has been vastly examined for a medium range food retail situated in European climate conditions. The outcomes disclosed that when collated to R404A expansion unit ,the energy efficiency accomplished with the R744 refrigerating systems has increase in exit temperature. Additionally in view of the solutions obtained the progressed commercial CO2 gives energy savings from 3% to 37.1% all over Europe when compared to R404A.Finally it has been clearly understood that transcritical R744 ejector assisted parallel systems have been the highest well organized and ecological friendly technologies for European retail food industry11.
2.5 Direct expansion geothermal refrigeration system
using CO2 transcritical cycle is one of the energy efficient refrigeration systems. In this type of geothermal refrigeration system ,the refrigerant is being kept under the ground so that it exchanges heat with the soil. Gao, et al. 12 studied the performance of the system through mathematical models. Static Distribution Parameter Method and the Lumped Parameter Method are used in order to describe different processes of thermodynamics. The simulation of this geothermal refrigeration is done by using these mathematical models . By using these simulation models. the maximum COP recorded is 0.966 and the optimum side pressure recorded is 14.6MPa.
2.6 Hybrid dual-temperature absorption refrigeration system
was investigated by Mohammadi et al. 13. The implementations of multi evaporator and lower temperature refrigeration systems are growing very fast with main focus on new features that are economic and environment friendly. In this two compressors are employed between evaporators and absorbers in order to increase the absorber pressure to the maximum. A hybrid dual evaporator and absorber system is used for refrigerating and freezing implementations are calculated from thermodynamic, environmental and economic point of view. The comprehensive work shows that by employing a compressor between the high temperature evaporator and absorber is used in increasing the COP very dominantly. Economic studies shows that the compressor should be fixed properly since the design and cost of the operation may overcome the COP of the system.
2.7 Ejector sub cooled refrigeration system
is initiated with a recently developed cycle of configurations in order to minimise the throttling loss and upgrade compressor pressure. The major benefit of this is that it does not need any vapour-liquid filter. Vapour compression refrigeration cycle and standard expansion are differentiated using exergy and energy techniques and different variables have also studied carefully. The outcomes indicate that the COP, volumetric efficiency, Exergic efficiency increases. The COP at a particular conditions that is obtained as 17.4% and 26.6%.All these parameters have been calculated at low temperatures only. Exergic efficiency has been improved from 17.9% to 22.2%.
CHAPTER -3
3.1 Cascade absorption refrigeration (CAR)
process is used to recover low-grade waste heat. In China, about 50% of the industry's energy is discarded, the largest of which is waste heat .A large amount of waste heat is absorbed through the skin in the industrial process before being used effectively. The macro figures show that the annual waste heat loss in northern China is around 2.6 billion tons.The computation procedure by Cui et al.15 revealed that average annual expenditures is 11% far more than the minimum result, that implies that the thermal efficiency of the scheme is small. The energy, exergy and economic (3E) analysis of the cascade refrigeration system were conducted depending on the computational outcomes15.
3.2 Ejector expansion refrigeration
system with booster compressor was thermodynamically analyzed and optimized by Rostamnejad et al.16. This research recommends, examines and improves a novel ejector-expansion refrigeration cycle (EERC). The current system is modified taking into consideration the exergy efficiency as the main factor as well as at optimal circumstances a correlation is created with that of the conventional EERC and typical vapor compression refrigeration system. Using a particular procedure of constant pressure blending for simulating the ejector a comprehensive and detailed thermodynamic study is carried out on the basis of the first and second laws and the capacity of the device for six necessary refrigerants is investigated. The findings indicate that of all the six refrigerants examined, R1234ze is the best for which new system has exergy efficiency values of 5.7% and 15.5% greater than the standard EERC and conventional vapor compression system.
3.3 Heat driven absorption refrigeration technology
includes refrigeration absorption technology that is thermally operated17. The system evaluation of the absorption refrigerator was achieved using the heat-driven absorption mechanism to recycle the excess heat and quantitative analysis from the industry. Findings shows that when the evaporating temperature is 5 ° C, the maximum COP of the absorption sump is nearly 0.825 below 60 degrees C generator temperature. Using the thermally-driven absorption method to recycle the industry's excess heat and quantitative analysis, device evaluation of the absorption refrigerator was achieved. Annual energy savings fall slightly from £ 21 to £ 19.8 with a rise in the temperature of the installed generator from 53 ° C to 90 ° C.
3.4 Hybrid solar-assisted power refrigeration system
working with supercritical carbon dioxide was optimized with a Tri-objective optimization method by Khanmohammadi et al.18. The objective of this research is to maximize a current power-refrigeration system assisted by a parabolic trough solar collector. The yields of tri-objective computation show that the total amount of exergy destruction declined by 436.7 kW with regard to the basic system. Solar energy provides the system's required thermal energy requirement using a PTSC. For the optimization process, an economic analysis of the proposed method is carried out. The groundbreaking system includes CO2 as a working fluid, a natural medium comprising of three sub-cycles: a cycle of Brayton, a cycle of Rankine, and a cycle of refrigeration of vapor compression. The key benefits by using CO2 as working fluid are; energy-friendly properties such as limited global warming potential and zero-ozone depletion are present in large amounts, and excellent thermodynamic properties.
3.5 Hybrid refrigeration system for industrial waste recovery
The integrated system consists of an Organic Rankine cycle, a vapour compression cycle and a liquid desiccant unit. The unit can realistically convert 200 kW of heat source to 50 kW of selective cooling and 132 kW of latent cooling effect. The critical cooling can be provided by the cooling and VCC unit. Four working fluids were selected to test the efficiency under specific evaporating temperatures of the ORC based hybrid refrigeration system. The method using n-butane as the ORC working fluid would be able to produce maximum amount of latent cooling effect under the same working conditions19.
[...]
Details
Pages

29

Year

2020

ISBN (eBook)

9783346113887

ISBN (Book)

9783346113894

Language

English

Catalog Number

v516556

Grade

Tags