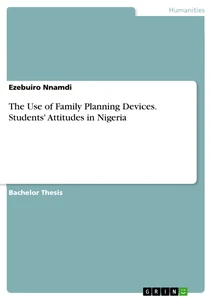 The Use of Family Planning Devices. Students' Attitudes in Nigeria
Bachelor Thesis 2019 76 Pages
Excerpt
TABLE OF CONTENTS
ACKNOWLEDGEMENT
ABSTRACT
TABLE OF CONTENTS
LIST OF TABLES
1. INTRODUCTION
1.1 Background to the Study
1.2 Statement of the Problem
1.3 Purpose of the Study
1.4 Significance of the Study
1.5 Scope of the Study
1.6 Research Questions
2. LITERATURE REVIEW
2.1Conceptual Framework
2.2 Theoretical Framework
2.3 Empirical Review Literature
2.4 Summary of Literature Reviewed
3. METHODOLOGY
3.1 Research Design
3.2 Area of the Study
3.3 Population of the Study
3.4 Sample and Sampling Technique
3.5 Instrument for Data Collection
3.6 Validity of the Instrument
3.7 Reliability of the Instrument
3.8 Mode for Data Collection
3.9 Method of Data Analysis
4. DATA PRESENTATION AND ANALYSIS
4.1 Data Presentation
4.2 Summary of Findings
5. DISCUSSION OF FINDINGS, SUMMARY, CONCLUSION AND RECOMMENDATIONS
5.1 Discussion of Findings
5.2 Implication of the Study
5.3 Summary
5.4 Conclusion
5.5 Recommendations
5.6 Suggestion for Further Studies
REFERENCES
APPENDIX I
APPENDIX II
ACKNOWLEDGEMENT
Bro Mark once said "I am because we are" and that is why a work of this nature would remain inconclusive without acknowledging certain individuals who in various ways had contributed to it completion. The researcher wants to express his profound gratitude to his project supervisor. Prof. S. N Ikwumelu For his effort, without whose contribution to this work would have been a mirage. The researcher also expresses immense gratitude to the Head of the Department Dr. P. E Eluu, and all the lecturers in the department of Arts and Social Sciences, Prof. Prof. Agwu S.N, Dr. D. I Igba, Dr. S. C. Nnamani. Dr. Mrs. M. C Obeka, Dr. Mrs. A. F Okonkwo, Dr. Mrs. N. C Njoku, Dr Mrs. E. C Oketa, Dr. J. S. Ereke, Dr. Mrs. Nwigwe, Pastor R Ngowoke, Mrs. J. N. Eze and other administrative bodies, for imparting me academically throughout my stay in this great Alma mater EBSU ''The Eagles Nest'' may God continue to shower his endless blessings on them.
With warm appreciation, I recognize my loving and caring parents Mr. and Mrs. Ezebuiro who worked tirelessly to give me the best in life and my wonderful twins and siblings; Nneka Ezebuiro, Martins Ezebuiro, Chinedu & Chinonso Ezebuiro, Onyedikachi & onyekachi Ezebuiro and Chimereze Ezebuiro, for their support, care & encouragement throughout my academic years. Also to my pastor; ven. J. C Agbo & wife Mrs. Elizabeth Agbo.
I will not forget offering gratitude to my friends and lodge mate; Talking mic, Austin, Ajala Onyi, Kingley, Igwe Kate and the entire sug senator of 2016/17 session and others not mentioned.
Finally, I say thanks to my course mates, and Mr Douglas Ibe & Bro Mark for their contribution towards my academic success. May God bless you all in Jesus name. Amen
DEDICATION
This research work is dedicated to Almighty God, the eternal Rock of ages, for his spirit of excellence working in me. And to my lovely parent Mr. And Mrs Ezebuiro George for their endless sacrifice towards my academics.
ABSTRACT
The study examined the attitude of Ebonyi State University undergraduates towards use of family planning devices with particular reference to undergraduate students of Social Studies. The research objectives were set to determine the attitude of the undergraduate students towards the use of condom as a device, to determine the attitude of the undergraduate students towards the use of withdrawal method as a device and to ascertain the attitude of the undergraduate students towards the use of oral contraceptive pills. Three research questions were formulated in line with the research objectives. The descriptive survey design was adopted. The population of study consisted of the 180 undergraduate students of Social Studies, Ebonyi State University. The sample size comprised 160 undergraduate students of Social Studies selected using simple random technique. The instrument for data collection was a structured questionnaire. Mean and standard deviation was used for data analysis. The findings showed that undergraduates of Ebonyi State University shows negative attitude towards the use of condoms, the students showed a positive attitude towards the use of withdrawal method and the students showed positive attitude towards the use of oral contraceptive pills. From the findings, it was recommended that Undergraduates should endeavor to abstain from sexual activities, but if they cannot abstain from sex before marriage, they should use contraceptives. Lecturers should periodically give students advice on use of contraceptives and that Parents should give their children sex education.
LIST OF TABLES
Table 1: Mean rating of the respondents on the attitude of Ebonyi State University Social Studies Undergraduates towards the use of condoms as a method of family planning devices
Table 2: Mean rating of the respondents on the attitude of Ebonyi State University undergraduates towards the use of withdrawal method as a family planning device
Table 3: Mean rating of the respondents on the attitude of Ebonyi State University undergraduates towards the use of oral contraceptive pills
CHAPTER ONE
1. INTRODUCTION
1.1 Background to the Study
Adaralegbe (2005) sees Social Studies as a study of man in his environment and the effects of science and technology among others. Esu and Inyang (2014) describe Social Studies as an integrated study of and the outcome of his interaction with the environment. The researcher on his own viewpoint sees Social Studies as the study of man and his environment. Social Studies can be seen as a study of how man influences and is in turn influenced by his physical, social, scientific and technological environment.
Nearly half of all pregnancies in the Nigeria are unintended, the highest of this instance occurs between 18-24 years of age. Four in ten of all unintended pregnancies are terminated by abortion (Guttmacher, 2011). Sexually active adolescents aged 10-24 years of age are at the highest risk for contracting sexually transmitted diseases (STDs) and while young adults aged 15-24 years represent only 25% of the sexually active experienced population, they acquire nearly half of all new STDs (Centers for Disease Control and Prevention, 2011). The high occurrence of unintended pregnancies and STD contraction can be prevented through contraceptive use. With contraceptives becoming increasingly easier to access, costing less, and expanding in variety or options the question remains as to why such incidences of pregnancies and STDs are so high among the young adult age group. The CDC STD Surveillance report stated that STDs are hidden epidemics of enormous health and economic consequence in the Nigeria. They are hidden because many Nigerians are reluctant to address sexual health issues in an open way and because of the biologic and social characteristics of these diseases. STDs are public health problems that lack easy solutions because they are rooted in human behavior and fundamental societal problems. The validity in the clause lies deeply rooted behavioral and societal stigma of discussing sexual activity in the Nigeria has become an overwhelming barrier to education on contraceptive use. Solutions to these societal issues can only begin through knowledge and discussion to explore how the adolescent population's behaviors and attitudes regarding contraceptives are affecting their use.
Family planning issues are important to university aged undergraduates. Education is associated with sexual behaviours, childbearing and contraceptives use and studies show that women are more likely to postpone pregnancy. Therefore, education can be described as a dynamic activity which involves an orderly, deliberate and sustained effort to develop knowledge and skills (Olusakin, 2009). As Awoniyi (2010) puts it, formal education is a process by which the human mind develops through learning at school in stages from pre-primary through primary, secondary to tertiary (university) institution. The present socio-economic situation in Nigeria has made it obvious that the women must be given sound, formal education as their male counterparts are given.
According to Adiele (2000), the education of the girl-child was not a common phenomenon in the traditional Nigerian society before independence. In fact, her birth would not attract so much celebration as that of the male-child, and depending on the number of female children the mother had given birth to before her, the birth of an additional girl-child could cause her mother her marriage. This is still a major problem in some homes even among educated men. According to Omegbe (2011) "education itself is the development of an individual through training, transmission of what is worth while to the point that he is able to fit into his environment and contribute to the best of his ability, to the well being of the society.
Therefore, incessant child-bearing places a woman in a very weak position physically, economically and psychologically, yet barrenness is viewed as a curse in the Nigerian society due to high infantile mortality, the capacity to breed was much valued but advances in the field of medicine have greatly increased the survival rate among both infants and adults. According to Onyeanwu (2001), the incessant child-bearing is therefore, no longer necessary, instead, it poses great danger to the health of the mother and also increased family size that cannot be supported with the family resources, especially now that the Nigerian economy has nose-dived and the resultant effect of unemployment among men in the society. Therefore, to improve the living condition of Nigerian families, the life of the women who are the cornerstone of every household should be improved and the regulation of the size of the nuclear family, through family planning, cannot be overemphasized (Lai, 2000).
There has been a lot of discrimination against the female gender. In fact, people just see them as breeding machines, in spite of the availability of family planning. The dissemination of appropriate and relevant information would lead to the acquisition of knowledge skills and women empowerment. This can help in breaking the intractable poverty cycle which many Nigerian families have come to be associated with due to ignorance of family planning devices and the attitude of many women towards the application of such devices.
According to Anyanwu (2002) there are many methods of family planning. These include the condom; the withdrawal method; the intrauterine contraceptives device, the diaphragm, the spermicidal, the douching methods etc. Among all the methods of preventing unwanted pregnancies by the youths in schools, the condom and the pills are the most commonly needed or are used. Apart from its side effects, the variety of pills is used by women in many societies today. This is because of its relative effectiveness. Also, the 90% of women, especially girls in various schools at the tertiary level, use condoms as preventives methods in pregnancies. This is because; the condom is easy to use and has virtually no side effect after use. Therefore, students both male and female prefer to use them, apart from deriving sexual pleasures they perceived prevention of pregnancy gives them assurance (Uzodike, 2003; Alani, 2002 and Adedoyin, 2004). Ebonyi State University, Social Studies Undergraduates represent one of Nigeria's richest resources for the future; most of them are sexually active and engage in risky sexual behaviour. Social Studies undergraduates co-habit within the academic community with much free will and liberty from parental guidance and influence. While some balance their work with social activities on campus, others concentrate on social life to the detriment of their academic pursuits. Peer pressure to acquire expensive items such as clothing, jewelry, expensive hairstyles, and makeup drive female Social Studies Undergraduates to engage in transactional sex, thus explored the attitude of Ebonyi state university social studies undergraduates towards the use of family planning devices.
1.2 Statement of the Problem
Studies have reported high levels of risky sexual activities and low use of contraception among Ebonyi state university, Social Studies undergraduates. Lack of awareness, lack knowledge, inadequate information and erroneous belief has been adduced as some of the reasons for low contraceptive uptake. Empirical research has focused on the attitude, knowledge and practice of contraception among Ebonyi State University undergraduates, with participants requested to merely indicate the sources through which they obtain information on contraceptive use. There has been little emphasis on study of the frequency of exposure and preferences for sources of information on contraception. In view of the important role of contraception information in promoting contraception adoption and decreasing the number of unintended pregnancies, it is insightful to learn more about the various sources of information used for knowledge of contraception among Ebonyi state university, Social Studies Undergraduates. The present study thus explored the attitude of Ebonyi state university social studies undergraduates towards the use of family planning devices.
1.3 Purpose of the Study
The main purpose of this study is to assess the attitude of Ebonyi State University Social Studies undergraduates towards the use of family planning devices. The specific purposes are
1. To determine the attitude of Ebonyi State University Social Studies Undergraduates towards the use of condoms as a device
2. To determine the attitude of Ebonyi State University Social Studies Undergraduates towards the use of withdrawal method as a device
3. To ascertain the attitude of Ebonyi State University undergraduates towards the use of oral contraceptive pills.
1.4 Significance of the Study
The findings of this study will of immense beneficial to the following individuals: Students, Teachers, School, Parents, Federal Government, and Society.
Students who are in the tertiary institutions, especially at the Ebonyi State University Social Studies undergraduates, would find the result of this study very helpful because the findings and recommendations would be help them identify some of the important contraceptives that are available for use and their effectiveness in preventing pregnancy and contracting of diseases such as HIV/AIDS, syphilis etc. This study would enable students to know the most save and effective contraceptives to take in order to avoid after effects.
This study will enable students to not only identify some available contraceptives, but know their strengths and weaknesses.
The school authorities: the findings of the study will be of great benefit to secondary school and tertiary authorities because it will enlighten them on the need for family planning devices and means of combating unplanned pregnancies.
Teachers may equally benefit from the recommendations and findings of this study because it will enable them to identify some contraceptives students use; their effectiveness or otherwise even their after effects to students' health and vitality. Teachers (Lecturers) would find this study quite revealing as its finding would go a long way in helping the perception of their students towards the use of some contraceptives and their effects on them.
Parent may find this study very useful as its findings and recommendations would help them to identify some important contraceptives needed by their children at school, especially the Ebonyi State University social studies undergraduates. This study will help parents know the most effective contraceptives and their usefulness or otherwise to their children at school. With the findings and recommendations of this study, parents would be able to identify some of the contraceptives that may be useful to them also, in their family planning.
The Federal Ministry of Health may see this study as a great asset, as its findings and recommendations would enable the ministry to be abreast with the challenges facing those who use contraceptives that are not effective especially the fake ones and this knowledge will assist the ministry to tackle the problem of fake and adulterated drugs in Nigeria.
The society may also benefit from this study because the content of this study will help people in the larger society to appreciate the roles contraceptives play in birth and population control. This study will be a reference point to both students, new researchers, old researchers and the general public.
1.5 Scope of the Study
The study examines the attitude of Ebonyi State University, Social Studies Undergraduates towards the use of family planning devices. The content scope is contraceptives and sexual transmitted diseases. The geographical scope is Ebonyi State University, Abakaliki.
1.6 Research Questions
The study provided answers to the following research questions:
1. What is the attitude of EBSU Social Studies Undergraduates towards the use of condoms as a method of family planning devices?
2. What is the attitude of Ebonyi State University, Social Studies Undergraduates towards the use of withdrawal method as a family planning device?
3. What is the attitude of Ebonyi State University undergraduates towards the use of contraceptive pills?
CHAPTER TWO
2. LITERATURE REVIEW
This chapter reviews past studies which are related in one way or the other with the present study. This chapter will be discussed under the following sub headings:
- Conceptual Framework
- Theoretical Framework
- Review of the Related Empirical Studies
- Summary of Literature Reviewed
2.1 Conceptual Framework
Family planning is the voluntary planning and action taken by individuals to prevent, delay or achieve a pregnancy (Adiele, 2000). Family planning services include counseling and education, preconception care, screening and laboratory tests, and family planning methods. Family planning methods include abstinence, natural family planning and all approved methods of contraception including hormonal contraception and contraceptive supplies such as condoms, diaphragms and intrauterine devices. Family planning is the decision-making process by couples, together or individually, on the number of children that they would like to have in their lifetime, and the age interval between children (Ajuzie, 2010). This means that both halves of a couple have equal rights to decide on their future fertility. In planning their future children, partners need to have the right information on when and how to get and use methods of their choice without any form of coercion. Such planning therefore helps mothers and their children enjoy the benefits of birth spacing and having planned pregnancies. The term family planning is sometimes used interchangeably with the term birth control, although there are some differences between the two terms (Erikson, 2003). While birth control is something anybody can use to prevent pregnancy, family planning is seen as something monogamous couples use to temporarily delay pregnancy. In this way, it is seen as a method to plan, rather than prevent, children. This method is seen as the responsible choice for couples who are not ready to have children in the present but may want to in the future. The international prevention of conception through the use of various devices, sexual practices, chemicals, drugs, or surgical procedures. This means that something or some behaviour becomes a contraceptive if its purpose is to prevent a woman from becoming pregnant. There are several types of contraceptives that have been officially labeled as such because they have shown reliability in preventing conception from occurring (Hall, 2008).
People have consciously or unconsciously engaged in family planning throughout history. Abstinence, either lifelong or temporary, and prohibitions, forbidden, intercourse during certain times of the year or during certain festivals effectively curtail the fertility rate (the number of life births for each woman during her life time) (Barns, 2000). Separation of husbands and wives for long period of time by war or business trips also curtails the fertility rate.
Abortion has often been used to limit family size, and descriptions of abomination, or agents that cause abortion, can be found in the herbal and other folklore of women and midwives of most societies. The deliberate abandonment of infants and young children even killing of new born, has not been uncommon in the past or 'even in some areas of the world today (Goodday, 2004). According to Hellen (2005), the early Christian Church outlawed infanticide, it emphasized the stigma of illegitimacy, which meant that out-of-wedlock infants were brought to overcrowded orphanages and monasteries, where the majority of them died of starvation or diseases with a few months (Ross, 2010).
In the modern era, the perception of religious people Christians, Muslims, Hindus, Buddhist, etc has changed with time (Herland, 2011). According to Herland (2011) religious faithful of one religion or the other, sees family planning and the in-take of birth contraceptives as crime against God who desired that humans should increase the world through birth. For example, the Catholic Church frowns at family planning in whatever method. The Catholic doctrine preach against it, enjoin, members to desist from it and sees it act perpetrated against the creation of human beings (Amos, 2005). But this researcher wants to add that not all Catholics imbibe the culture o£ non-contraceptive as measure to stop child birth as preached by the Catholic Church. Due to education and sophistication, couples see the use of contraceptive as a means of curtailing the rate of births in the family despite their religiosity.
According to Renald (2011), Islam and Buddhism abhor any use of contraceptives as a way of family planning. Rather, the two religions believe in the concept of free births which is stipulated in their Holy Books. The Hindus in India also do not embrace family planning. Rather, Hindus religion emphasizes that God is the giver of the children; therefore, no man should stop the birth of children.
But in the modern world today, civilization has changed many things. The media as a veritable source of information have created much awareness in the hearts of the people. The educated, the fairly educated and the illiterates embark on family planning to curtail the number of children being born in the family. With civilization and education, the rate at which people embrace family planning is very high. This is most especially, due to the worsening economic atmosphere in the world, especially in Nigeria today. People have learned to cut their coats according to their sizes (Tung, 2008).
The issue of family planning in the world today, especially in Nigeria is important because it concerns procreation of human beings. The problem of family planning lies on the perception of the people or couples who are members of one religion or the other due to what their religions spell out on accepting or rejecting family planning.
Religious beliefs and values have been great oppositions to family planning programmes. This is because many families who attend certain religious sects do not embrace the in-take of birth contraceptives due to their religious doctrines. Nevertheless, for the sake of education and civilization, many couples embrace the use of contraceptives as a measure to curtail the rate of birth. In some instances, many people due to ethnic orientation or doctrine or even culture, do not see the use of contraceptives as a method of controlling childbirth. For example, the traditional religious people do not even want to know anything concerning that and would want to continue the human race.
The harmful effects of some contraceptives cannot be overemphasized. Many contraceptives are found to have dangerous side effects. They cause diseases such as cancer of the crevice, cancer of the breast and the uterus. Much in-take of certain contraceptives is believed to cause premature menopause and even deformity in children of the couples who decide to have children after embarking on contraceptives or pills.
Importance of Contraceptives and Family Planning
By reducing unintended pregnancies and abortions, and facilitating family planning of births, effective contraception provides both health and social benefits to mothers and their children. According to worldwide estimates, 600,000 women die each year of pregnancy-related causes, and 75,000 die following unsafe abortions (Kaunitz, 2001). At least 200,000 of these maternal deaths are attributable to the failure or lack of contraceptive services (Kaunitz, 2001). In addition to preventing mortality, effective contraception improves maternal health. Data from the well-controlled Intergenerational Panel Study of Mothers and Children, a 31-year longitudinal survey of 1113 mother-child pairs, indicate that unwanted births can lead to non psychotic major depression (postpartum depression), feelings of powerlessness, increased time pressures, and a reduction in overall physical health (Nuel, 2002). Finally, effective contraception improves the social and economic role of women and enables them to participate in society fully. Infants and children also derive benefits from effective contraception. As modern contraceptive methods have become more widely available throughout the world, infant mortality has decreased from approximately 150 deaths per 1000 live births in the 1950s to 80 deaths per 1000 live births in the 1990s. In developing countries, 53% of married women plan family size, and 90% of them use modern birth control methods such as female sterilization, oral contraceptives (OCs), and intrauterine devices (IUDs). According to Population Action International, infant mortality in developing countries could be decreased by one third by increasing the spacing between births to 2-4 years. The health status of infants and children is also improved as the result of effective contraception. In the 31year mother-child survey, unwanted children had more health problems, such as lower birth weight and higher mortality, than those who had been wanted. Mothers who had an unwanted birth also had a poorer quality relationship with all their children, tending to spank them more and spend less leisure time with them. In addition, evidence indicates that children from large families generally receive less education (Ross, 2000). Effective contraception benefits both mothers and children by decreasing morbidity and mortality, improving the social and economic status of women, and improving the relationship of the mother with all her children. Despite the availability of effective, reversible methods of contraception, the United States has rates of unintended pregnancy and abortion more resembling those of a developing country than other industrialized nations. Among US couples, 40% chose male or female sterilization as their method of contraception, whereas in developing nations where access to female sterilization is limited, the IUD is the most popular method. In more developed countries, the OC is the most popular method of birth control, followed by the condom and the IUD (Ross, 2000).
Birth control contraceptives as the name suggests are popularly used to prevent pregnancy and that is the common purpose associated with them. But apart from this, they have many benefits that many people may not be aware of. Apart from preventing pregnancy, these contraceptives help in reducing the risk of ovarian as well as endometrial cancer. They are known to be helpful in improving conditions like pelvic inflammatory disease (PID), premenstrual syndrome, and acne among others. They are also helpful in preventing the onset of osteoporosis. The contraceptives are reportedly helpful in decreasing menstrual cramps, ovarian cysts, ectopic pregnancy, and rheumatoid arthritis (Wave, 2010). In addition, they are also known to help women who have irregular periods, by getting their menstrual cycle to a regular routine. Besides this, the contraceptives lead to less bleeding during periods. Some of the birth control contraceptives are said to have beneficial effects on cholesterol. They are also helpful in reducing breast diseases and breast cysts. A woman using these birth control measures may not have to worry about excessive hair, as some contraceptives help to get rid of excess body hair. In spite of having so many benefits, these birth control measures are not too expansive and they are easily available in the drugstores. They can be carried in your purse at all times (Uzomah, 2004).
Ransome-Kuti (2008) observes that there exists a high incidence of unwanted pregnancies, abortions, abandoned babies and various forms of child abuse which now constitute a national social problem organized family planning and voluntary fertility regulation becomes an effective, preventive and least cost, painless measure to reduce completely such impact at least in the short run.
There exists a high rate of childhood and maternal morbidity especially in rural and sub-urban areas of the entire world. Family planning which encourages nutritional and contraceptive education; correction of possible birth defects becomes a least cost method of controlling and reducing the risks to a tolerable minimum (Morley, 2012).
A thorough knowledge of the practice of family, planning and fertility regulation will make couples (or men and women) to have more relaxed sexual relations because they will be more confident that an unwanted or ill-time pregnancy will not occur.
It must be accepted that family planning or fertility regulation is not adequate population policy. Something must be done beyond family planning.
Family Planning Devices
Family planning has been used worldwide since ancient times. Writings in Egyptian papyri, the Bible and Greek and Roman texts indicate the usage of various herb and root preparations for contraception and abortion (Riddle, 2002). Decisions regarding the timing of pregnancy and control over family size continue to be important issues for all adults (Alpha, 2000).
An average woman in the developing world who wants four children must use effective contraception for sixteen years. The average U.S. woman who wants two children needs to effectively use contraception for twenty years to achieve her desired family size (Guttmacher Institute, 2011).
Worldwide, many contraceptive methods are available. Factors influencing the choice of method include availability, cost, reversibility, ease of use, cultural preferences, privacy, side effects, and medical risks. When evaluating risk, it is important to note that all available birth control methods carry lower risk of death than pregnancy, even in developed countries where maternal death rates are already low.
Patterns of us differ significantly internationally. The oral contraceptive pill accounts for 34 percent of contraceptive use in the Netherlands, but only 2 percent in Japan. The intrauterine device provides contraception for 19 percent of French women, but only 1 percent of U.S. women (Senanayake and Potts, 2005). Conversely, the United States has the highest rate of female sterilization in the developed world (Adams, 2010).
[...]
Details
Pages

76

Year

2019

ISBN (eBook)

9783346057839

ISBN (Book)

9783346057846

Language

English

Catalog Number

v496781

Institution / College

Ebonyi State University – Faculty Of Education

Grade

A

Tags