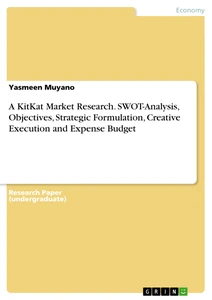 A KitKat Market Research. SWOT-Analysis, Objectives, Strategic Formulation, Creative Execution and Expense Budget
Research Paper (undergraduate) 2019 29 Pages
Excerpt
Table of Contents
I. Executive Summary
II. Market Background
2.1 Standing in the Mind
2.3 Standing in the Market
2.3.1 The Competition
III. SWOT ANALYSIS (KITKAT)
3.1 STRENGTHS
3.2 WEAKNESS
3.3 OPPORTUNITIES
3.4 THREATS
IV. OBJECTIVES
4.1 MARKETING OBJECTIVE
4.1.1 3-Yr Sales Forecast
4.1.2 Market Share Target
4.2 COMMUNICATION OBJECTIVE
4.3 TARGET MARKET
V. STRATEGIC FORMULATION
5.1 SEGMENTATION
5.2 POSITIONING
5.2.1 POINT OF DIFFERENCE (POD)
5.2.2 Point of Parity (POP)
5.3 MARKETING MIX
5.3.1 Product
5.3.2 Price
5.3.3 Promotion
5.3.4 Place
VI. Creative Execution
6.1 Collaterals/Print Ads
6.2 TV Ads/Radio/Sales Promo
VII. Expense Budget
i. References
ii. APPENDIX
I. Executive Summary
Kitkat fame has skyrocketed since its first creation back in 17th century. And through the years, it grows steadily under Nestlé SA. Through the years, Nestlé has gained a lot of sales and saw a rapid organic growth from this confectionary chocolate. Since then, the Kitkat brand has grown compared to its other competitors. The sales grow steadily as provided in the Euromonitor and how other people such as our respondents think that it is one of the number one brands. The researchers analyze this brand on how the sales grows gradually over time. The researchers analyze its strength and weaknesses and how it provides opportunities while trying to avoid the possible threats it might encounter.
The researchers also analyze its marketing objectives such as to be the largest food manufacturer. As predicted by its 3-year sales forecast, it will increase its shares by almost 3.08% or by almost 4.0 shares. Accordingly, it will target different market shares and also possible market segments such as the working class and those students who are in need of an energy outlet. By positioning itself, the brand may analyze how to make its chocolate confectionary brand different compared to other competitors. And by using other types of communications in order to promote the product such as advertising and personal selling in order to build customer relationship. At the same time, the researchers also analyze the 4Ps of marketing in order to understand the brand more clearly.
II. Market Background
A. History
The chocolate brand Kit Kat originated from the late 17th century in London. There is a literary club that met at a pie shop owned by pastry chef Christopher Catling. It was called the Kit Kat Club, which took its name from an abbreviated version of the name of the owner. In August 29 1935, the four-finger wafer was first manufactured in York. After it was manufactured, it was sold in London and the South East of England as Rowntree's Chocolate Crisp. In 1937, George Harris, the marketing director of Rowntree, rebranded the product as Kit Kat Chocolate Crisp. This year was also the beginning of the use of word "Break in" –a Kit Kat Advertising Quote. In 1942, during the Second World War, due to a shortage of ingredients including milk, Rowntree altered the recipe of Kit Kat Chocolate Crisp. The wrapper was changed to blue and the oval logo was removed along with the Chocolate Crisp. The Kit Kat logo was also written in bold. In 1949, Kit Kat returned into its original milk recipe and the glory of its red wrapper. In 1950, there was a global expansion in Australia, New Zealand, South Africa, and Canada. In 1958, Donald Gilles, the executive at advertising agency JWT London, creates the classic advertising line: "Have a break, Have Kit Kat". In 1960's, the two finger multi-pack was born. This new packaging format drives sales in the new supermarkets with increased home stocking by consumers. In 1970, Kit Kat expanded in Europe with manufacturing commencing in Hamburg, Germany. It was boosted by an agreement with Hershey Corporation, to sell the brand under license in USA. There was also an agreement that it will be sell in Japan with confectionary of the company Fujiya. In 1988, the Rowntree company was acquired by Nestlé. The year after, Kit Kat began in a new Nestlé facility in Kasumigaura, Japan. In 1990, manufacturing operations set up in Malaysia, India, and China. The first flavor variant was launched in 1996 in UK.
In 2000, Nestlé bought Fujiya's share in Japan. In 2002, there was a new variant named Kit Kat which expanded to Central Europe and Eastern Europe. In 2005, Kit Kat Pop Choc launched. In 2006, Kit Kat to become one of the first companies in UK, Ireland, and to introduce a Guideline Daily Amounts (GDA) on front of Kit Kat packs. In 2007, Kit Kat singles launched in Canada (later rolled into Malaysia and Western Europe). In 2008, Kit Kat Senses launched in Europe and Canada. And in the year 2010, Kit Kat celebrated its 75 years in the industry.
B. Marketing Strategy
Kit Kat has various marketing strategy. One Marketing Strategy of Kit Kat is having a consistent tagline. An example of this is "Have a break, Have a Kit Kat". The tagline caught the attention of the consumers. Kit Kat's catchy tagline has branded itself as the social snack for all ages. They feature their tagline on their packaging, online, and in print advertisement. The aggressive branding tagline has a consistent message, which becomes ingrained in the consumers' mind. Another marketing strategy Kit Kat did was that they innovated their product with special flavors available in different markets. This made the consumers interested in their product. There are more than 200 different flavors and editions of Kit Kat which most are being produced was in Japan. The hype of the different flavors of Kit Kats were criticized in youtube, which gathered consumers across the world. Popular Youtube artist EmmymadeinJapan has videos of herself, trying out the different Kit Kat flavors. Buzzfeed also posted a two-part video series in youtube titled "Americans Try Exotic Japanese Kit Kats" that gathered 9 million viewers and hundreds of comments from people around the world expressing their cravings to try out the unique flavors. Another Marketing Strategy Kit Kat did was to connect with social media in terms of advertisements. Since social media is the medium of delivering message to people today, they had advertisements in youtube, Facebook, and Twitter. They recognize social media in influencing consumer choice. The global head of Nestlé Kit Kat, Kristen Drybugh, refers to this strategy as moment marketing. Moment marketing is where brand interacts with other brands and consumers online. Examples of these are Oreo Kit kat, Tic Tac Kit Kat, which they collaborate with another famous snack brand. Lastly, because Kit Kat recognize the digital world, they also connected with Google in 2013, with a proposal name of an operating system of android version 4.4 Kit Kat. Which made Kit Kat boom in the 21st century. Basically, the marketing management of Kit Kat adapt and innovate their products in the fast-paced world today.
C. Demographics
C.1 Gender, Age, and Allowance per month.
As shown in table 2.1, of the one hundred respondents from Faculty of Arts and Letters in University of Santo Tomas Manila with an age range of 18 years old to 20 years old, 50% were females, while 50% were males. Table 2.2 shows the respondents' allowance per month, in which 72% of the respondents receives an allowance of Php 5000 to Php 10,000 per month, 16% receives Php 10,001 to Php 15,000 per month, 7% receives 15,000 to 20,000, and 5% receives more than Php 20,000 of allowance per month.
Abbildung in dieser Leseprobe nicht enthalten
Abbildung in dieser Leseprobe nicht enthalten
2.1 Standing in the Mind
Abbildung in dieser Leseprobe nicht enthalten
The gathered data revealed that Kitkat is the second most thought of by the respondents, when asked about the first chocolate brands that comes to their mind.
Abbildung in dieser Leseprobe nicht enthalten
As shown in Table 3.2.2 and Table 3.2.3, the gathered data revealed that all the respondents know kitkat and has learned about it mostly through Acquaintances, friends, or family, Television, Social Media, and in Stores. As compared to other chocolate brands, Kitkat advertisements is the most seen, heard, or read in the past six months, as shown in Table 3.2.4. This is supported by Table 3.2.5 where it is shown that majority of the respondents had confirmed that they have seen, hear, or read Kitkat advertisements in the past six months.
[...]
Details
Pages

29

Year

2019

ISBN (eBook)

9783668947160

ISBN (Book)

9783668947177

Language

English

Catalog Number

v477614

Institution / College

University of Santo Tomas – Faculty of Arts and Letters

Grade

1.00

Tags