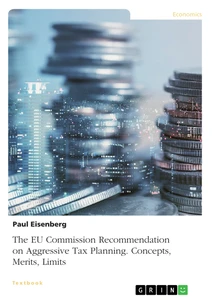 The EU Commission Recommendation on Aggressive Tax Planning. Concepts, Merits, Limits
Textbook 2014 86 Pages
Summary
This work focuses on the Commission Recommendation of 06.12.2012 on aggressive tax planning C(2012) 8806 final. It aims to analyse the concepts and definitions underlying the Recommendation, its legal basis and its impact on the EU, international, academic and professional debate about aggressive tax planning.

The discussion works through a thorough literature review covering primary and secondary EU law, ECJ jurisprudence, political announcements of the OECD and other international organisations. Detailed tables summarise the key issues discovered.

The Recommendation has been neither unanimously adopted, nor rejected by the public. It provides broad definitions already addressed in a more precise manner in other official publications. Its approach against double non-taxation is similar to that of the ECJ and its GAAR proposal has gained ground with regard to the recent OECD announcements. The main criticism arises from the academia: the Recommendation is considered to be too general and to deviate widely from the established methodologies.

The scope of the Recommendation lies on direct taxation of business activity which precludes analysis of indirect taxes as well as statutory wrongs like harmful tax competition or state aid.

The study enriches the academic publicity on the Recommendation that has experienced only modest coverage by the taxation scholarship following its release.
Details
Pages

86

Year

2014

ISBN (eBook)

9783668875920

ISBN (Book)

9783668875937

Language

English

Catalog Number

v457449

Institution / College

University of Linz

Grade

Overall Degree 1,3

Tags