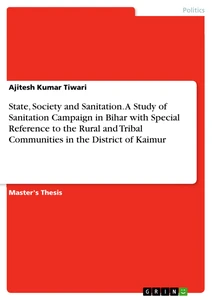 State, Society and Sanitation. A Study of Sanitation Campaign in Bihar with Special Reference to the Rural and Tribal Communities in the District of Kaimur
Master's Thesis 2017 91 Pages
Excerpt
Contents
Acknowledgement
Abbreviations
Tables
Illustrations
Preface
Chapter 1. Introduction
1.1 Background
1.2 Rural Sanitation Policies in India
1.3 Current Scenario of Rural Sanitation
1.4 Statement of Problem
1.5 Scope of the Study
1.6 Research Questions
1.7 Research Objectives
1.8 Limitations of the Study
1.9 Organization of Dissertation
Chapter 2. Review of Literature
Chapter 3. Research Methodology
3.1 About the District of Kaimur
3.2 Demographie and Socio-Economic Structure of the Community
3.3 Methods of Study
3.4 Subject Population
3.5 Sampling Methods
3.6 Methods of Data Collection
Chapter 4. Socio-Economic Background of the Community
4.1 Social Background of the Community
4.2 Economic Background of the Community
4.3 Gender Profile of the Community
4.4 Status of Civic Amenities in the Community
4.5 Household Asset Profile in the Community
4.6 Debt Profile of the Households in the Community
4.7 Conclusion
Chapter 5. Findings and Analysis
5.1 Status of IHHL Construction of Households
5.2 Sources of Labour for IHHL Construction
5.3 Time Span Lapsed After IHHL Construction
5.4 Sources of Funds for IHHL Construction
5.5 Status of IHHL Subsidy Payment to Households
5.6 Status of Willingness to Construct IHHL
5.7 Places of Defecation in the Community
5.8 Status of Maintenance and Cleanliness of IHHL
5.9 Sanitation Awareness Programmes and Stakeholders
5.10 Status of Supply Chain and Manpower Availability for sanitation Programmes
5.11 Social Status and Sanitation
5.12 Economic Status and Sanitation
5.13 Gender and Sanitation
5.14 Debt Burden of Households and Sanitation
5.15 Availability of Construction Material and Sanitation
5.16 Conclusion
Chapter 6. Conclusion and Recommendations Annexure(s)
References and Bibliography
ACKNOWLEDGEMENT
This is the best opportunity for me to express my gratitude, appreciation to everyone who Cooperated and supported me throughout the course of this research study. I am very much thankful to my supervisor Dr. Ashish Kumar Das for undertaking me as a research student and his relentless support, encouragement in the construction of this research study.
I would also like to extend my greatest appreciation to Shri Rajeshwar Prasad Singh, IAS, District Magistrate, Kaimur for allowing me to undertake this study and providing logistical facilities. I am especially grateful to Mr. Santosh Kumar Singh, BDO, Adhaura and Bhagwanpur CD Block for introducing me to the Gram Panchayat members and women Self Help Groups and taking me to the places and facilitating the completion of questionnaire survey. This piece of research study would not have taken shape without the positive support of all the respondents from Jamuninar and Paharia Gram Panchayats who frankly interacted and supported my efforts to understand the phenomenon.
I would also like to thank the faculties of Prime Minister's Rural Development Fellowship scheme, Mumbai for shaping my knowledge in the field of education. It was great help from my mentor in correcting my mistakes in the study. Thank you, Sir! I would also like to extend my thanks to the staff of various departments like DWSC and DRDA for providing me all knowledge in details required for shaping this research Study. I would also like to thank my family members for encouraging me continuously for shaping this research study. On the last note, I would like to thank all my well-wishers who directly or indirectly contributed and supported me getting the shape of this research study.
Ajitesh Kumar Tiwari
Abbreviations
Abbildung in dieser Leseprobe nicht enthalten
TABLES
Abbildung in dieser leseprobe nicht enthalten
ILLUSTRATIONS
Abbildung in dieser leseprobe nicht enthalten
Preface
Safe and sustainable sanitation is a sine qua non for ensuring community health, economic well being and realizing the benefits of demographic dividend. Safe sanitation is vital to prevent faecal-oral diseases widely prevalent amongst communities practicing traditional sanitation methods. Insanitation while being harmful to human health is also against the dignified living conditions. Approximately 2.6 billion people are without access to basic sanitation across the globe. Rural India is faced with even greater challenge of insanitary conditions where millions of masses lack access to basic sanitation facilities and roadside open defecation and urination is commonplace due to widespread poverty, ignorance, and cultural barriers and myriad of other factors.
Inadequate sanitary facilities impede free functioning of the individuals in several other spheres of life and impose undesirable restrictions on the social status, mobility; political influence including economic losses. Sanitation is closely linked to the socio-economic conditions of the masses prevailing in rural India. The widespread poverty, lack of secure income and infrastructural deficiencies pose hindrances in building and accessing sanitation facilities for a large number of people.
Insanitation also augments gender bias and poses difficulties to the womenfolk in a multitude of ways, women in rural India, as in most parts of the world, often suffer from lack of privacy, harassment and need to walk large distances to find a suitable place for defecation in the absence of household latrines. Recognising the imperative of achieving complete sanitation for all these vulnerable communities in a time bound manner the UN Sustainable Development Goals 6 and specifically target 6.2 seeks to achieve access to adequate and equitable sanitation and hygiene for all and end open defecation, paying special attention to the needs of women and girls and those in vulnerable situations by 2030.
Behavioural issues and cultural barriers often undesirably inhibit communities to access safe sanitation. The long held habit of practicing traditional sanitation culminating in to preference for open defecation even as demand and availability of household latrines are high is also noticed amongst communities.
The present study attempts to understand the impact of the ongoing efforts of the government to promote sanitation and willingness of the society to move towards complete satiation. It aims explore the impact of different components of Swachh Bharat Mission in difficult parts of rural areas and amongst the most deprived sections of the population. It explore the relationship between sanitation and social status, economic well being of the household and access to safe sanitation, behavioural practices pertaining to sanitation and the logistical requirements for achieving complete community sanitation. It further explores the role of Panchayti Raj Institutions and women Self Help Groups in promoting sanitation securing well being of the people.
Chapter-1
Introduction
1.1. Background
Dignity of the individual and the basic prerequisite to clean surroundings are amongst the cornerstones of bare human existence in a civilized modern society. For this reason, the Article 21 of the constitution of India provided for protection of life and personal liberty for all the people alike. This guarantee of protection of life and liberty seems severely unattended. As even after sixty nine years of formation of welfare state, millions of people still do not have a clean and safe place to relieve their call of nature i.e. Toilet. While there have been several movements in post independence India for reforms in social, political and economic systems concerning the people, the issue of clean surroundings and human dignity has only recently and gradually become a nationwide movement seeking to secure universal public participation. The entire country and more so the populace residing in rural hinterland have suffered irreparable losses due to this negligence of the state; and still a key reform of the village communities in India remains incomplete.
During the struggle for freedom, Father of the nation, Mahatma Gandhi observed, "Divorce between intelligence and labour has resulted in criminal negligence of the villages. And so, instead of having graceful hamlets dotting the land, we have dung-heaps. The approach to many villages is not a refreshing experience. Often one would like to shut one's eyes and stuff one's nose; such is the surrounding dirt and offending smell" (Gandhi). Calling upon the workers of his organization, he exhorted, "If the majority of Congressmen were derived from our villages, as they should be, they should be able to make our villages models of cleanliness in every sense of the word. But they have never considered it their duty to identify themselves with the villagers in their daily lives. A sense of national or social sanitation is not a virtue among US. We may take a kind of a bath, but we do not mind dirtying the well or the tank or the river by whose side or in which we perform ablutions. I regard this defect as a great vice which is responsible for the disgraceful state of our villages and the sacred banks of the sacred rivers and for the diseases that spring from insanitation."(ibid).
The above description of village surroundings and the menace of unclean ambiance still holds true for village communities and remains one of the biggest challenges facing rural communities. Due to insanitation and unhygienic environment, millions of lives are being lost each year in rural hinterland of the country. An initiative which enables, empowers and inspires in equal measures to get rid of this culture of insanitation is much needed in rural India.
The movement towards complete sanitation envisages mobilizing millions of rural masses to undertake and actively participate in the elimination of unsanitary practices. This requires a rigorous framework to plan, Implement and monitor the programme of rural sanitation. However, due to differences in requirements and other conditions, different approaches have been advanced by the experts, which have achieved success in a limited manner. The debate today ranges from the modalities of interventions for administration in the community to participation of Panchayats and groups of women and even role of children in the serious issues of sensitization and community vigilance. An examination of these factors from the perspective of the people and implementing agencies is thus both pertinent and desirable. It aims to provide insights on the implementation successes and difficulties encountered at the grassroots level with particular reference to the most marginalized rural and tribal communities.
The present study is undertaken in the Adhaura and Bhagwanpur Community Development Blocks of the district of Kaimur, located in the south west part of Bihar. Bounded by the hilly tracts of Kaimur wildlife sanctuary, it is one of the most poorly connected and poverty stricken region of the country facing problems of extremism, underdevelopment and infrastructural inadequacies. The area is predominantly inhabited by Scheduled Tribes and scheduled Castes which are the most marginalized sections of the society and face severe challenges to ensure secure access to sanitation facilities.
1.2. Rural Sanitation Policies In India
Early after the independence the policy makers realized the importance of sanitation and the government of India introduced rural sanitation programme in 1954 as part of the first five year plan. However, due to a range of different and more pressing public policy challenges the emphasis on rural sanitation was not as desired in terms of programmatisation and financing. At the international level also the United Nations through its resolution in the 55th plenary meeting on 10th November, 1980 declared the decade of 1981-90 as the International Decade for Drinking water and Sanitation and called upon the member states to commit to the improvement of sanitation coverage through appropriate policy responses. Emphasizing the scale of the challenge, decadal census of 1981 reflected only 1% of the sanitation coverage in the country. To address these challenges and improve the sanitation scenario, Government of India introduced Central Rural Sanitation Programme (CRSP) in 1986.
With the learnings of the CRSP and the challenges visualized during its implementation, the central government restructured CRSP and named the same as Total Sanitation Campaign (TSC) that came into being from 1st April 1999. The TSC focused on a demand driven approach with strong emphasis on Information, Education and Communication (IEC) and social marketing marking a shift from high subsidy to low subsidy regime. It also sought to provide a range of option for IHHL construction through facilitative delivery mechanisms such as Rural Sanitary Marts and mason training. It sought to improve levels of community awareness about sanitation through school sanitation, community sanitation and construction of drains and garbage pits.
In order to improve the service delivery and achieve sanitation of the entire village communities, the successor programme of the TSC i.e. Nirmal Bharat Abhiyan(NBA) was launched from 01.04.2012. It aimed at achieving community saturation with the application of the concept of Nirmal Gram. To generate awareness on sanitation, the Nirmal Gram Puraskars (NGP) were awarded to recognise the achievements and efforts made at the GP level in ensuring full sanitation coverage and achieving other indicators of open defecation free GPs. While the award gained popularity in bringing about a desire in the community for attaining Nirmal Status, there have been issues of sustainability in some awardee GPs. Under NBA, the Incentives for construction of Individual Household Latrines (IHHLs) were enhanced and further focussed support was obtained from MNREGA. However there were implementation difficulties in convergence of NBA with MNREGA as funding from different sources created delays.
All the above programmes have attained success in improving the sanitation and quality of life in rural India, however, still the sanitation coverage remained low and rural sanitation required a big push approach with an all encompassing and comprehensive policy and programme. To achieve universal sanitation coverage and fulfil the dream of Mahatma Gandhi of a clean India, the Government of India launched Swachh Bharat Mission on 2nd October, 2014; as a fitting tribute to the 150th Birth Anniversary of Mahatma Gandhi, aims to achieve Swachh Bharat by 2019 and bring about an improvement in the general quality of life in the rural areas, by promoting cleanliness, hygiene and eliminating open defecation. It aims to achieve the same with the help of Panchayati Raj Institutions and state governments by providing catalytic funding, technological and knowledge support.
The mission seeks to achieve the goal of swachh Bharat by adopting community led and community saturation approaches with greater focus on behaviour change and changed attitudes of communities translating in to clean villages, schools, anganwadi, place of public gathering etc. Unlike earlier schemes SBM adopts a systematic approach to achieve Open Defecation Free (ODF) communities through a three step model of planning, implementation and sustainability phases. Each phase requires achievement of some tangible outcomes with proper monitoring mechanisms. The important components of mission include ШС activities, capacity building, ШНЕ construction, establishment of rural sanitary marts (RSM), community sanitary complexes etc.
The unit of planning and implementation in the mission is envisaged at the district level with District Water and Sanitation Committee (DWSC) as the apex body for planning and implementation at the district level. Panchayati Raj Institutions and Self Help Groups (SHGs) have active and important role to play in the planning, execution and monitoring through appropriate forums such as Village Water and Sanitation Committee.
1.3. Current Scenario of Rural Sanitation
Abbildung in dieser leseprobe nicht enthalten
Source: sbm.gov.in ,accessed on 25.06.2017
Swachh Bharat Mission is in third year of its implementation and the goal of perfect sanitation in all communities is yet to be realised. In all more than two lakh villages have achieved Open Defecation Free status and the country has achieved more than 64% of IHHL coverage. A closer look at the current status reveals that states like kerala, Sikkim,Uttarakhand, Haryana, west Bengal and Arunachal Pradesh have performed well and either have achieved IHHL saturation or very close to achieve it. Another group of states including Assam, Chhattisgarh, Goa,Karnataka, Maharashtra, Punjab, Rajasthan and Tamilnadu have made significant progress and may achieve IHHL saturation by 2019. States like Bihar, Odisha, Uttar Pradesh and Jammu and Kashmir are amongst the low coverage states and seemingly require concerted efforts to achieve IHHL saturation within the time frame.
Tablei.2. District level Sanitation Coverage
Abbildung in dieser leseprobe nicht enthalten
The above table reflects the sanitation coverage at the household level in the district of Kaimur. It is observed from the data that only 14.81% of the household had access to toilets and a large majority of 85.19% of the household did not have a toilet during the baseline survey conducted in 2012-13. The table reflects that Adhaura has the least IHHL coverage along with other blocks such as Ramgarh, Mohania,Nuaon and Bhabhua.The blocks having more than 20%IHHL coverage include Bhagwanpur,Chainpur, chand and Durgawati. Overall the scenario is very reflects very poor in terms of sanitation coverage as far as the statistics of Baseline Survey, 2012 is concerned
Table: 1.3 Progress of IHHL Coverage in Kaimur district
Abbildung in dieser leseprobe nicht enthalten
Source: sbm.gov.in, accessed on 26.06.2017
The above table delves upon the progress made by the district in sanitation coverage during last three financial years i.e. after the implementation of the Swachh Bharat Mission -Grameen.lt shows significant progress of the IHHL coverage in all the blocks including Adhaura and Bhagwanpur. It is notable that more than forty thousand households have built their toilets since the inception of SBM-G in the district and overall IHHL coverage and improved to 24.26% from earlier below fifteen percent figure. However, still more than 75% of the households are yet to build their toilets and this apparently indicates to large scale practice of open defecation and poor hygiene standards in the district.
1.4. Statement of the Problem
The above information suggests that the country wide coverage of safe sanitation is steadily increasing and some states have made significant progress in completely eliminating open defecation. However, a number of states are lagging far behind in terms of household latrine coverage and Bihar is seemingly the sate with lowest coverage. Kaimur district has also very low IHHL coverage i.e.24.26 percent which is even lower than the state wide average of 29.65 percent. The reasons behind such low coverage and effect of the ongoing sanitation campaign on poor and vulnerable communities need to be understood. In addition, a careful examination of the factors and forces which facilitate and inhibit communities to change behavioural habits also needs to be explained.
1.5. Scope of the Study:
Sanitation is a basic necessity for dignified and sustainable existence of human beings. However, several socio-cultural, behavioural, attitudinal, economic and political factors inhibit rural societies to build accesses and maintain sanitary structures and practices. The losses to health, income and environment resulting from insanitation have empirically been stated in a range of previous studies across disciplines. Apart from being an academic and policy issue it is a practical social and cultural phenomenon juxtaposed in complex rural social structures of poverty, ignorance, tradition and caste related segregation of the society. In this milieu a re­examination of the factors that inhibit and facilitate the delivery of sanitation facilities to society and community led initiatives for achieving complete sanitation are of immense importance to evolve, enhance and enrich the existing knowledge pool on the subject matter. A comprehensive analysis of the factors contributing to the success as well as inhibitory aspects impeding the achievement of this imperative and ambitious public health programme is both necessary and desirable.
1.6. Research Questions
In the given background the present study seeks find answers to some of the problems and issues which are as follows:
1. What are the factors which inhibit communities and people from achieving complete sanitation?
2. How does the ШС activities impact behavioural change and changed attitude towards sanitation?
3. What roles PRI's and local institution of people have in the achievement of total sanitation?
4. How can SHG's affect the achievement of complete community sanitation?
5. Is the current operationalisation of schemes to achieve ODF communities sufficient enough?
1.7. Research Objectives
The above mentioned issues are central to achieving and maintaining complete sanitation and therefore provide the objectives of the Study which are as under:
1. To study the factors which deter individuals and communities to adopt sustainable sanitation practices.
2. To understand the effectiveness of IEC tools and activities in changing people's behaviour and attitude towards sanitation.
3. To understand the role of Panchayati Raj Institutions in achieving complete sanitation for the community.
4. To identify the ways in which women's organizations i.e. SHGs may affect achievement of complete community sanitation.
5. To identify the gaps in the implementation of SBM-G for achieving Open Defecation Free communities.
1.8. Limitations of the Study :
1. The study is limited to only two blocks i.e. Bhagwanpur and Adhaura of the district Kaimur.
2. Variables other than those included in the study may also affect the variables being studied.
3. The baseline survey of SBM-G was conducted in 2012 and the actual number of households with access to IHHL may vary in the current year .i e. 2017.
4. The biases of the respondents may affect the results of the study.
5. Being actively involved in the implementation of the sanitation programme my own unknown idiosyncrasies may affect the study.
1.9. Organization of the Dissertation
Introduction: The first chapter underlines the importance of sanitation as a basic necessity of dignified human life and explains the various issues affecting the domain of sanitation. It further provides rational of the study with research questions and identifies major objectives of the study. This chapter also tracks the chronological history of sanitation campaigns in India.
Review of Literature: This chapter attempts to highlight the previous studies in the area of sanitation. It highlights the findings of international agencies and organizations such as WHO, UNICEF, ADB etc. The chapter tracks studies relating to the impact of sanitation and lack of it on human health and the current sanitation scenario of rural India. The chapter further delves upon the factors affecting the achievement of complete sanitation such as class, caste, gender and poverty along with culture and socialization habits.
Research Methodology: This chapter outlines the selection of methodology employed to study the topic and explains the rationale behind the selection of particular methods for systematic study of the issue at hand. It explains the philosophy of different methods for conducting the research study and outlines the qualitative and quantitative methods that were applied to study the topic.
Socio-Economic Background of the Community: This chapter analyzes the findings of the study with particular reference to the social status, economic background of the study population and its linkage to the sanitation practices and coverage at the level of household
Findings and Analysis: This chapter analyzes the findings of the study and underlines the relevance/irrelevance of state campaign for open defecation free communities, availability of hardware materials for sanitation structures and role of Panchayati Raj Institutions and women Self Help Groups in promoting individual and community sanitation.
Conclusion and Recommendation: This chapter brings out the necessity of possible policy changes felt in the light of the findings of the study and felt experiences of the subject population. It also attempts to bring out a refined framework for improved implementation of state efforts and help communities achieve sustainable sanitation.
Chapter-2
Review of literature
Sanitation in common parlance is often regarded as the cleanliness of the surroundings of the human beings. World Health Organization describes sanitation generally as the provision of facilities and services for the safe disposal of human urine and faeces. It further underlines that inadequate sanitation is a major cause of disease world-wide and improving sanitation is known to have a significant beneficial impact on health both in households and across communities (WHO). In most basic terms WHO concentrates on safe disposal of faeces and urine as bare minimum requirements of sanitation and identifies the absence of the same as a major cause of several diseases.
Delving deeper in to the adverse health impacts of insanitation, it is observed that many diseases are caused by the food, water, and hands that are contaminated by disease causing organisms or pathogens that come from faeces. The diseases caused by these pathogens are called faecal-oral diseases because faecal material is ingested. These diseases which include dysentery, cholera, giardiasis, typhoid and intestinal worm infections are responsible for much sickness and many other diseases and deaths each year across the globe. Many of these illnesses and deaths occur unnecessarily, since the faecal-oral routes of disease transmission are among the most easily blocked (Howard, Bogh, & Pruss, 2002).
Insanitation is against the dignity of human being and has obvious repercussions on human health and well being. In several of the previous studies conducted worldwide people have chosen proper sanitation of their area as the basic civic issue and expect governments and their representatives in power to focus on the issue. The importance of having proper sanitation can not be overemphasized. Public sanitation was voted as the greatest medical breakthrough since 1840 in a medical poll carried out by the British Medical Journal in January 2007. (George, 2009). Back home in India as well, it is often observed that insanitation and filthy conditions of the vicinity are an important issue in local government elections everywhere right from Gram Panchayats to biggest municipalities such as BMC.
Globally as well approximately 2.6 billion people are without access to basic sanitation, the recognition of a human right to sanitation represents an important development in international human rights law. The right, derived from Article 11 (the right to an adequate living) of the International Covenant on Economic, Social and Cultural Rights, has been framed as the human right to safe drinking water and sanitation (Feris, 2015). The issue of adequate sanitation is as important as other basic entitlements required for dignified living conditions.
In a report titled as India's Sanitation for all Programme by Asian Development Bank, it is observed that, in rural areas, the scale of the problem is particularly daunting, as 74% of the rural population still defecates in the open. In these environments, cash income is very low and the idea of building a facility for defecation in or near the house may not seem natural. And where facilities exist, they are often inadequate. The sanitation landscape in India is still littered with 13 million unsanitary bucket latrines, which require scavengers to conduct house-to-house excreta collection. Over 700,000 Indians still make their living this way (ADB, 2009). This is against human dignity and reflects poorly on the infrastructure for sustainable sanitation in the country.
Rural India is faced with even greater challenge of insanitary conditions where roadside open defecation and urination is commonplace due to widespread poverty, ignorance, and cultural barriers and myriad of other factors. In a field study conducted by Clair and others, it is observed that the persistence of open defecation—defecating or urinating in public, whether in fields or on roadsides—especially in India, is on the rise despite well-meaning efforts by scientists, community activists and politicians (Clair, Rastogi, & Clawson, 2015).This indicates to the fact that Issues relating to sanitation have not been accorded the priority they deserve in our country. Determined and enduring efforts made by the state, political class and practitioners towards mainstreaming and securing a place for this issue are only gradually fructifying (George, 2009).
Inadequate sanitary facilities impede free functioning of the individuals in several other spheres of life and impose undesirable restrictions on the social status, mobility, political influence including economic losses. The reasons behind inadequate sanitation structures are complex and multifarious. These range from cultural barriers to convenience and from poverty to ignorance coupled with institutional barriers of caste, gender to more fundamental ones such as availability of land. Safe and adequate sanitation facilities are an important determinant of preventive human health. Where sanitation facilities are sorely lacking, adolescent girls face many deprivations (education, free time, privacy and independent mobility) and risks (sexual harassment and assault, health risks, etc.), and that this inadequacy can be a structural pathway for cyclical gender-based disempowerment and injustice. (Nalları, 2015).
In a general survey of the factors that affect the sanitation scenario in India, Assa Doron and Robin Jeffrey identified eleven features that play a part in determining people's acceptance of and access to controlled ways of dealing with human waste. These features while often interrelated and overlapping are: (1) Class, (2) Caste, (3) Sociability, (4) Urban Life, (5) Rural Life, (6) Diversity, (7) Topography, (8) Technology, (9) Gender, (10) Education, and (11) Crisis (Doron & Jeffrey, 2014).
Analyzing some of these aspects in general reveals a great deal about the complexity of the issue, the old system of class based rural society where landed aristocracy wielded a great influence over the landless masses still has its reminiscent sway over the social structure and decision making with regard to the places of defecation, construction of toilet and use and maintenance related functioning's. The rural elite seldom sees their political and economic interest in improving the sanitation infrastructure of the village communities and views any improvement over the status of erstwhile subordinated masses as an infringement over their sovereignty.
Sanitation is closely linked to the caste system prevailing for ages in rural India. The enduring power of the caste system relies on elaborate social and economic structures, stretching back generations, and is inscribed into village architecture and property rights. At their most extreme, in Kerala less than 100 years ago, the lowest castes were held to pollute the highest not merely on touch, but on sight. Such beliefs have withered, but they have not disappeared. Among the urban middle classes, they reveal themselves in marriage advertisements, whether online or in newspapers, and in attitudes towards the collection and disposal of waste of all kinds: people born into the lowest-status castes perform such tasks (Shinoda 2005).
Insanitation is seemingly a culturally acceptable practice in rural India. In a study of barriers to the community based water supply and sanitation Nitish Jha observes that Cultural and attitudinal barriers pose challenges to the adoption of modern sanitation practices, let alone to the operation and management of community-based schemes. In many parts of South Asia, open defecation is a longstanding and socially sanctioned practice. The implementation of community- based schemes is bound to suffer if the delivery of physical infrastructure is stressed without addressing the attitudes that are not conducive to its proper use. (Jha, 2009).
Insanitation also augments gender bias and poses difficulties to the womenfolk in a multitude of ways, women in rural India, as in most parts of the world, often suffer from lack of privacy, harassment and need to walk large distances to find a suitable place for defecation in the absence of household/appropriate neighbourhood toilet facilities. In several cases, they are known to wait till early morning or night before venturing out in the open causing health problems such as urinary tract infections. These also have significant implications for attendance and enrolment of girls in schools (GOI, 2006).
Inability to acquire, establish and maintain sanitary structure due paucity of financial resources is also a major constraint facing a large section of households. It is highlighted various studies that poverty is central to the insanitary conditions in many of the communities. Lack of water and sanitation infrastructure or poor hygiene is central to poverty, which highlights the role of service delivery as an essential aspect of poverty alleviation strategies. Improving sanitation facilities is also conducive to human development, dignity and privacy safety especially for women and children and will promote gender equality (Wang & Song, 2014).
Many studies have reported the effect of water supply; sanitation and hygiene (WASH) in improving health and ultimately alleviating poverty. Current coverage estimates show however that a large proportion of people in the world still do not have access to a simple pit latrine or a source of safe drinking water and this situation worsens in rural area (Garriga & Foguet, 2013). Any intervention which aims to impact on health effectively therefore needs to integrate water and sanitation hardware with hygiene promotion, as well as to deal with problems of most vulnerable segments of the population (Garriga & Foguet, 2013).
Culture coupled with geographical location affects the attitude of the people towards sanitation. As theoretical frameworks for understanding ideas of shit as taboo, Mary Douglas's definition of dirt as 'matter out of place' and her conceptualization of pollution and taboo as means by which different cultures create and augment social and environmental boundaries are especially valuable. Douglas's identification of cultural differences in 'natural' and 'unnatural' behaviour also enhances understandings of spatial and temporal variations in cultural attitudes towards excrement (Douglas, 1966).
Taboos surrounding human excreta are extremely widespread there are significant spatial and temporal variations in their nature. Very generally speaking, some (faecophilic) cultures tolerate the handling of shit, whereas other (faecophobic) cultures find it abhorrent or ritually polluting and even the words that describe it are deeply offensive to them. Studies also suggest that religious belief are an important determinant in promoting sanitation related behaviour, as Sarah Jewitt observes, "In India the handling of human waste is taboo for many Hindus and has been traditionally designated as a job for so-called 'Untouchable' or 'sweeper' communities that have responsibility, under India's caste system, for disposing of human excreta" (Jewitt, 2011)
Geography and seasonal cycle seemingly has a very active and pivotal role to affect defecation habit of the people in different regions of the world. In drier regions of India, faeces in the fields become troublesome during the monsoon when they can become rivulets flowing into villages. In summer, intense heat dries out and neutralizes faeces, and though flies might carry germs into kitchens and water containers, flies are seen as part of life and unconnected with disease. As long as the transmission of disease through faeces is poorly Understood, digging a toilet and controlling its contents will seem laborious and unnecessary (Doron & Jeffrey, 2014).
The above discussion describes the factors which affect sanitation practices of the people in general ways and have a bearing on the continuation of insanitary practices. However recent studies by several practitioners and academics have brought out a more specific set of factors about the sanitation choices of the people and determinants for achieving sustainable community sanitation.
Analyzing the impact of a large scale rural sanitation project in Indonesia, Lisa Cameron and others observe that the Sanitation behaviour is, in fact, the result of two decisions First is a household-level decision about whether or not to own a latrine. Second is a person-level decision about whether or not to use a latrine, among people who have access to one. Sometimes we combine these two household- level and person-level decisions when we write about "demand for latrine use" or "preference for open defecation". This does not mean that members of the same household always agree: indeed, coexistence of open defecation and latrine use within the same household is a central observation of their study. Yet, the two decisions are closely related, and choosing not to build a latrine is associated with the likelihood of using one (Cameron, Shah, & Olivia, 2013).
A study titled as the Toilet Tripod: Understanding successful sanitation in rural India, mentions that that successful toilet adoption, i.e. when members of a household use toilets habitually, depends on three factors:
(1) multi- scalar political will on the part of both govern- mental and nongovernmental organizations (NGOs).
(2) Proximate social pressure, i.e. person-to-person contact between rural inhabitants with their neighbours and with toilets.
(3) Political ecology, specifically, changing land use, assured access to water, and compatible soil type.
Each of these three analytical categories forms one leg of the toilet tripod of successful toilet adoption. The use of toilet tripod metaphor is to illustrate that toilet adoption is a complex, long­term process dependent on local environmental contexts, and also state, national, and international support (O'Reilly & Louis, 2014).
In recent years there has been a renewed emphasis on improving sanitation in rural India and various international agencies have supported the campaign for improvement in sanitary conditions in rural India. Government of India has also categorically responded to the imperative of improving sanitation and achieving clean and open defecation free communities. Swacch Bharat Mission and its overarching goal of achieving complete sanitation in the entire country by the year 2019 is being promoted by Union and state governments with all possible measures. The focus of the Strategy is to move towards a 'Swachh Bharat' by providing flexibility to State Governments, as Sanitation is a state subject, to decide on their implementation policy and mechanisms, taking into account State specific requirements.
This Mission aims to ensure that all rural families have access to toilets. Incentive as provided under the Mission for the construction of Individual Household Latrines (IHHL) shall be available for all Below Poverty Line (BPL) Households and Above Poverty Line (APL) households restricted to SCs/STs, small and marginal farmers, landless labourers with homestead, physically handicapped and women headed households. The Incentive amount provided under SBM (G) to Below Poverty Line (BPL) /identified APL households shall be up to R.S.12, 000 for construction of one unit of IHHL and provide for water availability, including for storing for hand-washing and cleaning of the toilet (GOI, 2014).
The above strategy of the government largely focuses on individual beneficiaries and seeks to provide an enabling environment mainly through the provision of monetary incentives for construction of IHHLs. However, the programme may not be successful in long term to the desired extent due to lack of inner motivation to sustainably use and maintain a toilet and abstain from open defecation. An alternative approach for universal community mobilization and achieving total sanitation has successfully emerged as Community-Led Total Sanitation (CLTS) which focuses on awareness and abstention from monetary incentives.
This component focuses on stopping open defecation. It aims to trigger the desire for an open- defecation-free (ODF) community. It does this by raising collective awareness of the open defecation problem. Facilitators are sent to communities to initiate analysis and discussions of the sanitation situation. These discussions are held in public places and are open to all. They involve a "walk of shame," during which the facilitator helps people analyze how faecal contamination spreads from the exposed excreta to their living environments and food and drinking water. A map of the village is drawn on the ground and villagers are asked to indicate where they live, where they defecate, and the routes they take there and back. It soon becomes apparent that everyone is ingesting small amounts of each other's faeces (to people's horror and embarrassment). This inevitably leads to personal and collective decisions to be free of the hazard by becoming an ODF community. The villagers must forge their own plan for making this happen with only limited follow-up support and monitoring from the program. ODF status is verified by local government agencies. Communities achieving ODF status receive recognition and commendation from local and provincial governments (Institute of Development Studies, 2011).
Both the approaches have been successful in reducing open defecation to a substantial effect, however, no one approach seems to have been successful in completely eradicating the open defecation behaviour in rural areas of the country. In some of the communities, it is observed that both the approaches may have a complementing role in ensuring access to and sustenance of sanitation practices. The role of local influencers has been recognized in both the approaches and thereby the effect of local institutions may be vital in the successful adoption of sanitation practices by the community.
Various institutions at Village level exist to perform and actively undertake to the task of sanitation, a closer look at the role and performance of the groups in necessary to understand their importance in ensuring complete sanitation. Water supply and sanitation is a State responsibility under the Constitution of India and following the 73rd and 74th Constitutional Amendments, the States may give the responsibility and powers to the Panchayati Raj institutions (PRIs) and Urban Local Bodies (ULBs).In the context of Bihar the Panchayati Raj Act of 2006 mentions the maintenance of sanitation conditions in the Gram Panchayat area as the functions of the Gram Panchayat and provides for the constitution of a standing committee on Committee on Public Health, Family Welfare and Rural Sanitation for performing functions relating to public health, family welfare and rural sanitation (Government of Bihar, 2006).
Typically local bodies are responsible for sanitation anywhere in the world, as part of their task of providing basic civic amenities. In rural India, these local bodies are elected village authorities (called Gram Panchayats) These responsibilities include a multiplicity of tasks, including the maintenance and cleaning of various public facilities (including roads, drains, water supply, waste disposal sites, burial and cremation grounds), and 'conservancy' (preventing unhealthy conditions by dealing with such matters as removing garbage, cutting back vegetation, and filling in areas where water accumulates). These tasks are necessarily performed at the local level because they require a high level of local knowledge and engagement. In India, local bodies have been given a clear mandate to provide these services. Moreover, funds are made available to these local bodies, such that it is not difficult to meet the modest costs of hiring someone for keeping roads and other public areas clean. Fund shortages are more of a problem for the capital­intensive tasks of paving roads and constructing drains (Ban, Dasgupta, & Rao, 2010).
[...]
Details
Pages

91

Year

2017

ISBN (eBook)

9783668811317

ISBN (Book)

9783668811324

Language

English

Catalog Number

v439088

Grade

2.1

Tags