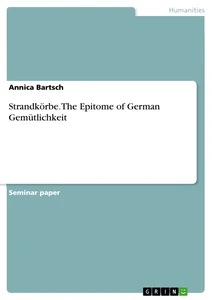 Strandkörbe. The Epitome of German Gemütlichkeit
Seminar Paper 2017 15 Pages
Excerpt
Table of Contents
1. Introduction
2. What is a Beach Basket?
Figure
Figure
3. The History of the Beach Basket
4. Production, Renting and Maintenance
Figure
5. Cultural Aspects
Figure
Figure
6. Beach Baskets in the United States
Figure
Figure
Figure
Figure
7. Conclusion
References
1. Introduction
In hindsight, a day spent at a beautiful beach might become one of the most wonderful memoriesof one's life. Endless stretches of white sand, turquoise water, a cloudless sky, a light breeze -all this in a resort overlooking a bay filled with colorful fish and the occasional dolphin, invitingthe beach visitors to go swimming, sailing and surfing. Sounds like a perfect day spent at aperfect place, for example at the American West coast, Hawaii, Florida, or simply heaven onearth.
Of course, the American East coast has beautiful places to offer as well. A trip to the beaches in Massachusetts, for example, might feel like visiting a faraway fairytale land, set against a bright blue ocean. And in New Jersey, one might find it useful to bring binoculars in order not to miss dolphins playing at the horizon.
But then again, there is one component powerful enough to ruin this perfect day at the beach. The weather. Especially at the East coast the weather conditions can be frustrating for even the most cheerful tourists. Thanks to harsh winters in New England, the Eastern United States have become synonymous with "snowmaggedon" or "snowpocalypse"1. But even during the summer the weather might wear one down sometimes, considering precipitation rates and high wind strength. Nevertheless, people are eager to spend their days at the beaches because even with challenging weather conditions, the beaches are just too beautiful to miss.
However, not just the people in the US feel that way. In Germany, they have found the perfect solution for such a dilemma. They have found a way to spend a day at the beach enjoying comfort, even though it might be windy or raining. They simply spend their day sitting in a nautical wicker furniture providing comfort and shelter in one, protecting them from wind and rain, offering water-repellent cushions to sit on.
And even if it is not raining or not particularly windy, the Germans find their way to this furniture as well, maybe to relax, to sit comfortably while enjoying the sun, to catch a breath after having gone for a swim in the sea.
"Strandkorb" (in English beach basket), is what the Germans call said furniture. Since it wasinvented more than a hundred years ago, it has become a highly popular epitome ofcomfortability (in German Gem ü tlichkeit). The question remains - could something that culturally specific become popular anywhere else than in Germany? Particularly in the United States? First of all, one needs to know why beach baskets are so popular in Germany. What makes them unique and what makes them worth being adopted by other countries.
2. What is a Beach Basket?
Before addressing this question, one should take a second to think about the term "beach basket". In German, the wicker furniture is called "Strandkorb" which literally translates into beach basket. Usually, literal translations are not considered to be reliable and have a reputation of sounding slightly off and of not always conveying the gist of a certain word.Nevertheless, this paper will stick to the term "beach basket".
In William Shakespeare's Romeo and Juliet, Juliet Capulet, just having fallen in love with Romeo Montague, who she is supposed to hate, simply judging from his name, asks herself"What's in a name?"2, saying that she loves the person who happens to be carrying the name Montague, and not the name itself. In this case, however, the term by which the main subjectof this paper is being called, has the power to determine certain associations and certain feelingsgoing along with it.
A beach basket is supposed to give people a feeling of German Gem ü tlichkeit and of relaxation. The term "beach basket" can do this much better than established, rather stiff-sounding English expressions like "beach chair", "wicker beach chair" or "roofed wicker beach chair". Although the literal translation might also create the image of a basket one can take with him or her to the beach to have a picnic, it nevertheless sounds pleasant and like something one would like to try, like something promising an enjoyable time.
Back to the initial question - what is a beach basket? It is a special hooded wicker seating furniture, particularly designed for the beach to provide its occupants with comfort and shelter from sun, wind,rain and sand gusts. It is constructed from woodpanels, canvas and wicker, normally seating up totwo people. Moreover, it offers several built-indetails, such as declining backrests, an adjustable sunawning, water-repellent textiles, side folding tables,extendable footrests and storage space3 (cf. figure 1).
Abbildung in dieser Leseprobe nicht enthalten
Figure 1
Given all these comforts, it is no surprise that this special furniture has been enjoying great popularity among beach visitors since its invention in 1882.
Beach baskets can be found at nearly every beach seafront resort of the Baltic Sea and the North Sea in Germany, for example in the federal German states Lower Saxony, Mecklenburg Vorpommern and Schleswig-Holstein, where sudden fluctuations in inconvenient weather conditions including strong wind can prevail.
From spring to autumn, the beach baskets can be rented in special rental offices at thecorresponding beach resorts. In exchange for a certain payment (normally about $8.00 or €7.00per day, and about $560.00 or €500.00 for a whole season) customers receive a key for a locketwrapped around a beach basket, and a number which is written on its backrest. Armed with thekey and the number, customers go to the beach looking for their beach basket. Once they foundit, they open the locket and are free to sit in the beach basket all day long. In the course of oneday, so-called beach-chair wardens (in German Strandkorbw ä rter) might come along to talk tothe people sitting in the beach baskets, checking whether they have legally rented them. Beach baskets are available in distinct colors, although the standard coloring including white and blue remains the most popular one as it easily evokes associations with anything nautical.Furthermore, two different shapes of beach baskets can be distinguished (cf. figure 2), namely the straight angular North Sea variety (in German Nordsee)and the round rolling Baltic Seavariety (in German Ostsee).
Abbildung in dieser Leseprobe nicht enthalten
Figure 2
3. The History of the Beach Basket
As it was already mentioned in the previous chapter, the beach basket was invented in 1882, namely by German basket maker Wilhelm Bartelmann (1845-1930). He came from a basket maker family in Lübeck in Northern Germany, and when he was 25 he opened his own basket weaving workshop in Rostock. There, he also became the court-appointed basket maker to the Grand Duke of Mecklenburg-Schwerin, a territory in Northern Germany that used to be a sovereign member state back in the 19th century4.
Originally, Bartelmann built the beach basket for his customer Elfriede Maltzahn who suffered from rheumatism. She had come to his shop, requesting a "seating accommodation for the beach that would provide shelter from the sun and wind." Back then, Bartelmann called his invention a "beach-chair", which only provided space for one person. As his invention caused a great sensation among beach visitors, he decided to build more of them, also including two-seater models. The two-seater beach basket soon became the standard model whose design and construction has changed only very little since about 1910.
[...]
---
1 Cf. https://www.tripadvisor.com/Vacation Rentals Blog/2015/07/22/vacation-rental-picks-10-east-coast-beaches-making-a-splash/
2 Cf. Shakespeare, 1597. Romeo and Juliet, II, 11, 1-2
3 Cf. https://en.wikipedia.org/wiki/Strandkorb
4 Cf. https://en.wikipedia.org/wiki/Strandkorb
Details
Pages

15

Year

2017

ISBN (eBook)

9783668747104

ISBN (Book)

9783668747111

File size

917 KB

Language

English

Catalog Number

v432477

Institution / College

University of Heidelberg – Institut für Übersetzen und Dolmetschen

Grade

1,3

Tags