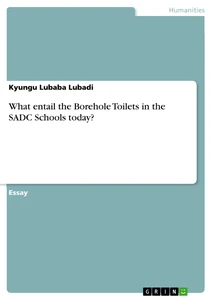 What entail the Borehole Toilets in the SADC Schools today?
Essay 2018 8 Pages
Summary
This paper wilI look at drawings and explanations school leaner's experiences two Southern African Development Countries' schools. Countries in this paper would be namely the Democratic Republic of Congo/DRC and its counterpart South Africa, RSA.The consensus view of learners present several challenges that they face as children and students at school.

Some of the challenges are systemic challenges such as lack of proper infrastructure like toilets and hygiene facilities for the girls' sexual and reproductive health/menstruation. Menstruation, in several African tradition and practices is considered as a taboo that should only be known by women. For example, in the Luba tradition no male even a father is allowed to talk about girls' menstruation.