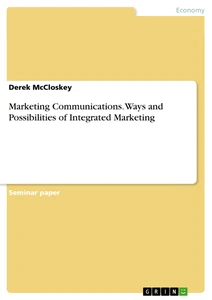 Marketing Communications. Ways and Possibilities of Integrated Marketing
Term Paper 2018 23 Pages
Excerpt
Contents
Introduction
What is Integrated Marketing?
Integrated Marketing Communications Mix in Retailing
Defining Above and Below the Line Marketing
What are ATL and BTL Activities
Communications Methods Used in Retail
Price
Assortment
Company Image
Traditional Methods of Marketing Communications
Television
Programme Sponsorship
Radio
Press and Magazines
Outdoor Advertising
Personal Selling and Live Advertising
Digital Marketing – New Media
Retailer Websites
Search Engine Optimization (SEO) and Paid Online Advertising Banners
Social Media Marketing (SMM)
Email Marketing
Mobile Marketing
Conclusion
References
Table of Figures
Figure 1 - The Tools of Marketing Communications Mix
Figure 3 - Screen Shoot of SV advert 2018 Showing a Family based Situation
Figure 4 - Spar's sponsorship of RTE's Fair City
Introduction
Integrated approach to marketing has been around since the 1980's, but as markets have developed and technologies have advanced so to have the breadth and depth of the communications.
This report seeks to firstly to understand integrated marketing communications and the mix used in retailing. Secondly, the report breaks down marketing communications methods into two sections, traditional methods and digital methods and seeks to understand how retailers use the individual elements.
Finally, the report will conclude that retailers need to be present in as many formats as possible and that the challenge for the future, is learning how to embrace new technologies to harness better communications with consumers.
What is Integrated Marketing?
Towards the end of the 1980's a number of market-place changes forced packaged goods marketers to adopt a more integrated approach to marketing communications. The American Association of Advertising Agencies (4A's), commissioned a task force to investigate integrated marketing communications (IMC), this resulted in the first published definition. This defined IMC as a concept of marketing communications planning that recognises the added value of a comprehensive plan that evaluates the strategic roles of a variety of communication disciplines, e.g. general advertising, direct response, sales promotion and public relations – and combine these disciplines to provide clarity, consistency and maximum communication impact. (Eagle, 2000)
Since the publication of this definition there has been much discussion amongst writers and academics who have provided many add-on's and variations, but for this report IMC will be defined as, the strategic approach to planned management of an organisation's communications. IMC requires that organisations co-ordinate their various strategies, resources and messages in order that it engage coherently and meaningfully with target audiences. The main purpose is to develop relationships with audiences that are of mutual value. (Fill, Simply Marketing Communications, 2006) The reason for choosing this definition is that it seeks to link IMC with business-level strategies and the importance of continuity within the organisation-wide use of resources and messages. Most organisations will have a dedicated person/department that will co-ordinate and provide synergy between the marketing mix. IMC strategy forces organisations to view the marketing mix and marketing communications from target audience's perspective. (Medcalf, 2004)
Integrated Marketing Communications Mix in Retailing
For a retailer, it is important to understand how to promote products and communicate with customers as this affects the overall success of the company. Retailers need to consider the range of communication tools that they can mix to communicate their marketing and branding messages. The marketing communication tools widely used in retail are advertising, sales promotion, digital marketing, public relations and personal selling. (See Figure 1) (Fill, Communications; Interactivity, communities and content, 2009) Retailers use a combination of the tools to target their customers with Davis (2001) suggesting there are over 2000 combinations of interlinked decisions to consider that could influence marketing communication (Davies, 2001)
Abbildung in dieser Leseprobe nicht enthalten
Figure 1 - The Tools of Marketing Communications Mix
(Fill, Simply Marketing Communications, 2006)
However, there have been major changes in the environment and in the way, organisations communicate with target audiences. New technology has given rise to a new range of media and organisations have developed fresh combinations of the communication mix to reach their audiences effectively. The internet and digital technologies have enabled new interactive forms of communication, where the user has more control for their part in the communication process. (Fill, Simply Marketing Communications, 2006) This personal control has been further reinforced in the recent enactment of General Data Protection Regulation (GDPR) which puts further restriction on the sharing of personal information between organisations, with an onus on making the use of personal data more transparent. (DPC, 2018)
What has happened therefore is that marketing communications mix has developed such that the original emphasis on heavyweight mass communication campaigns have given way to more direct and highly targeted communications activities using more direct marketing and more below the line marketing means. (Fill, Simply Marketing Communications, 2006)
Defining Above and Below the Line Marketing
Defining what constitutes the metaphoric 'Line', Baker and Hart (2011) noted the terms 'Above The Line' (ATL) and 'Below The Line' (BTL) came into existence in 1954, with the company Proctor and Gamble paying their advertising agencies a different rate and separately from the agencies who took on the other promotional activities. (Baker, 2011)
What are ATL and BTL Activities
ATL advertising is where mass media is used to promote brands and is a form of blanket advertising. This relates to conventional media as we know it, television and radio advertising, print as well as the internet. This is communication that is targeted to a wide audience and is not specific to individual consumers. ATL advertising tries to reach out to the masses in an attempt to capture as many consumers as possible. (Fill, Simply Marketing Communications, 2006) (Medcalf, 2004) (Baker, 2011)
BTL advertising is advertising that uses less conventional methods of advertising that may not be used by ATL advertising to promote products and services. BTL advertising is more one to one, and involves the distribution of pamphlets, handbills, promotional brochures in the place or point of sale, or through personal electronic means such as email, on the roads through banners and placards. Other BTL activities could include sampling new products in supermarkets or moving hoardings with the ad of the product. (Baker, 2011) (Manral, 2011)
Digital media has broken down the boundaries between both ATL and BTL, being able to address both at once and has led to more IMC. (Manral, 2011) This report will further look at the marketing communications methods employed by the Irish retail sector.
Communications Methods Used in Retail
To better understand and assess methods and trends utilised by the retail sector in Ireland this report will review under the headings of Traditional Media and Digital Media, in each case the report will identify which combination of the marketing mix that the discussed media is using relative to those earlier discussed. According to Ailawadi and Keller (2004) a retailer has three options when it comes to advertising: price, assortment, or the company image. (Aliwada, 2004)
Price
The recent recession has seen an increase in consumers' cost saving efforts; price increasingly drives the choice of stores and products and has seen consumer awareness as well as the use of coupons and bargain shopping at an all-time high. (FMI, 2009)
A lot of retailers highlight sales promotions across the media as a means of encouraging consumers to shop with them. They offer customers and incentive to buy a product or service sooner rather than later and is used therefore principally as a means of sales acceleration, of competition and promotes value perception of a brand. (Fill, Simply Marketing Communications, 2006) This price promotion in the media can have a significant impact on store switching traffic. (Aliwada, 2004)
Assortment
Consumers perception of the breadth of products and services offered by a retailer under one roof significantly influence store image in the eyes of the consumer. Benefits of having a wide assortment include, the greater the range the greater the recall by the consumer of know that they will get what they want if they shop in a certain retailer, broad assortment is becoming more important for today's time constrained consumers. (Keller, 2003)
Assortment can also be used as key selling point for retailers. For example, The Supervalu brand plays heavily on their fresh food credentials, and in much of their advertising and key promotional sales drivers are based around their fresh product assortments.
Company Image
The goal of the company image process of brand management is to build an independent brand identity. This is done through the medium of all characteristics of the brand identity and by establishing a common company image in the internal (employees) and external (customers) target audiences. Long-term solid and sustainable relations between brand and customers must be built up, with the main goal of maximizing the customer equity. (Miller, 2014)
Generally, television advertisements promote company image and have longer term strategies that's goal is to embed in the mind of the consumer the image a retailer wants to be perceived as. This will be discussed in more detail further on.
Traditional Methods of Marketing Communications
Advertising is one of the most important marketing-mix instruments. (Frison, 2014) Advertising is the non-personal communication of information usually paid for and usually persuasive in nature about products, services or ideas by identified sponsors through various media. (Bovee, 1992)
Total media advertising spends in Ireland in 2017 came in at just over €1 billion, the first time since 2007 and up 4.2% on the previous year. The increase in 2017 was driven entirely by the online sector up 24.6% on the previous year to €461 million, with traditional media experiencing a decline of 7.9% which is expected to continue into 2018. (Cox, 2018)
Traditional advertising refers to mass media that delivers commercial messages to mass audiences. Mass media is paid media and refers to television, radio, outdoor billboards and print media. Advertising's goal is to drive sales of products and services through persuasive communication tactics that influence human behaviour over the long term. Much of mass advertising in relation to retailers is focused across three elements of the marketing mix, advertising, sales promotions and public relations. Sales promotions share the advertising goal of driving sales, by using short-term incentives that stimulate immediate sales. The public relations aspect is more concerned about building the company image and brand. In every case across all platforms the retailers have a harmony, whether it be company branding or message relative to advertising campaign, which is one of the consistencies of IMC.
Television
Since late 2017 investment in TV advertising has been declining with in declining in total of 4% in 2017. Some of this can be attributed to digital media spending increase, but in an article published by Business Insider, it is claimed that negative sentiment towards declining TV ratings has marketers deciding that investing money in TV advertising isn't the smartest option, with more focus being put on exploring and encouraging the use of alternative media vehicles. (Sheilds, 2017) This said, Cox highlights that linear television (live TV plus playback within seven days) still accounts for 80% of all video consumption in the Rep. of Ireland and shouldn't be wrote off. (Cox, 2018)
The other 20% relates to video-on-demand players such as You Tube, Netflix, Amazon Prime, pay-per-view and so on. (Cox, 2018) The consumption of these platforms will continue to grow, and it is how advertisers will develop with these platforms that will dictate future expansion into these models. Some evidence of this is starting to come through on You Tube with adverts now being common place prior to the showing of many popular videos. There is however, still some concern amongst brands about control of where their adverts show up on the You Tube platform after a recent controversy in which adverts have appeared alongside exploitative and inappropriate content that wasn't consistent with a brands image. (Wilkinson, 2017)
Television (TV) marketing communications is generally very expensive and can be even more expensive depending on the time slots of the advertising during peak times. TV advertising also has a long lead time and isn't good for reactionary advertising. (Media Live.ie, 2018) Many of the retail brands that advertise on Irish television focus is on long-term consumer relationship building of the company image (PR) and sales promotion by promoting the latest offers available instore. Examples of this can be seen adverts for both Super Valu and Centra, which uses TV advertising to develop its personal relationship with the consumer. (Dunnes advert hook is about value, M+S is about premium all relative to company image) Most adverts feature family situations, community involvement, investment in Irish products and brands, building awareness around own label or focus on instore personal relationships. This advertising gives the brand a personality that everyday people can relate to in their own lives, and often cross links family situations with promoting products that are relative to that situation. For example the advert link in Figure 3 represents a family at breakfast time (family situation that is relative) with the purpose of the advert being to promotes own label products such as milk, poridge and corn flakes.
Abbildung in dieser Leseprobe nicht enthalten
Figure 2 - Screen Shoot of SV advert 2018 Showing a Family based Situation
Retrieved from https://www.youtube.com/watch?v=j7k J4-6v Nao
[...]
Details
Pages

23

Year

2018

ISBN (eBook)

9783668746336

ISBN (Book)

9783668746343

File size

1 MB

Language

English

Catalog Number

v428665

Institution / College

Dublin Institute of Technology

Grade

1.2

Tags