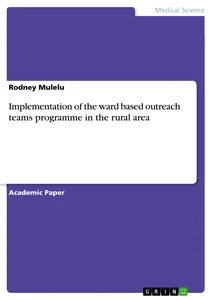 Implementation of the ward based outreach teams programme in the rural area
Academic Paper 2016 14 Pages
Excerpt
TABLE OF CONTENTS
1. INTRODUCTION
2. BACKGROUND TO THE PAPER
3. STATEMENT OF THE RESEARCH PROBLEM
4. RESEARCH METHODOLOGY
5. LITERATURE REVIEW
5.1. WARD BASED OUTREACH TEAMS (WBOT) PROGRAMME IN SOUTH AFRICA
5.2. KEY ASPECTS OF COMPREHENSIVE PHC IMPLEMENTATION
5.3. FACTORS THAT FACILITATE SUCCESS OF WBOT IMPLEMENTATION
6. LESSONS LEARNED FROM INTERNATIONAL EXPERIENCES
6.1. LESSONS LEARNED FROM CUBA
6.2. LESSONS LEARNED FROM BRAZIL
6.3. LESSON LEARNED FROM ZAMBIA
7. DISCUSSION OF THE FINDINGS
8. CONCLUSIONS FROM THE FINDINGS
9. RECOMMENDATIONS
10. CONCLUSION
REFERENCES
ABSTRACT
This paper investigates the implementation of ward Based Outreach Teams programme in the rural areas of the Kgetleng sub district, in the North West Province of South Africa. The Department of Health has set a long-term goal of establishing National Health Insurance in the country. This would provide equitable and universal coverage for a defined package of healthcare. One of the key pillars of National Health Insurance is the re-engineering of Primary Health Care, which has at its heart in the development of Ward-Based Outreach Teams who will take the responsibility for specific groups of households.
In this regard, the South African Department of Health has considered re-engineering of the Primary Health Care model in the country in making sure health resources; technology and quality services are available, accessible and affordable to all communities. The North West province Department of Health is currently piloting the Primary Health Care re-engineering programme, which include the Ward Based Outreach Teams programme in all four Districts. Bojanala, Ngaka Modiri Molema, Dr. Kenneth Kaunda and Dr Ruth Segomotsi Mompati. In Bojanala District, the pilot site is in ward five in Kgetleng sub district.
In this paper, the quantitative research design was used where self – administered questionnaires were provided to the Community Health Workers (CHW) and the Outreach team leaders (OTL) for data collection. The findings of the paper indicated that Ward Based Outreach Teams contribute towards a better understanding of local health care needs, inform service priorities, refer patients to different stakeholders, and build stronger relationships between service providers and users in the communities. The key elements to practice this service are person-centred comprehensive care, collaboration between people, practitioners, and continuity of health care in the community.
Key words: Ward Based Outreach Teams (WBOT), Primary Health Care (PHC), Community Health Workers (CHW), Outreach Team Leaders (OTL), District Management Team (DMT) and PHC re-engineering
1. INTRODUCTION
According to Bam, Marcus and Hugo[1] South Africa has established ward-based Community Health Workers (CHW) outreach teams, as part of a series of strategies to strengthen primary health care. The key elements to practice this service are person-centered comprehensive care, collaboration between people, practitioners, and continuity of health care. This will be community-orientated primary healthcare (COPC) on a massive scale, and it is estimated that 7 000 such teams all over the country (Community Health Workers and a nurse, supported by a doctor) need to be established. They would provide basic preventive care and health promotion, identify people at risk, support adherence in chronic care, offer home-based care and help integrate care at the community level (Mash and Blitz, [2].
WBOTs in the local areas are supported by a PHC clinic that is largely nurse-driven, with part-time support from a doctor. In overall support of these WBOTs and clinics, a family physician is required to ensure evidence-based best practice, integrate care, help evaluate and reflect on what is happening, as well as mentor and capacitate team members. This research will be an important contributor to achieving these goals (Beasley, Starfield, van Weel, Rosser and Haq [3]. The delivery of the health system in South Africa and other developing countries is an important measure that affects a country's health status (Marmot, Ryff, Bumpass, Shipley and Marks, [4]. The healthcare service delivery system is the mode to combine inputs and to allow the delivery of a series of interventions or serviced actions in order to improve the health condition of people (Bhattacharyya, McGahan, Dunne, Singer and Daar [5]. This study investigated the implementation of the Ward Based Outreach Teams (WBOT) in a rural area in the Kgetleng Sub-district, North West Province.
2. BACKGROUND TO THE PAPER
According to Motsieng [6], the MEC for the Department of Health in the North West Province has indicated that in the 2012/2013 financial year, the WBOT programme will make the financial year a defining moment in the history of the health service delivery in the North West Province. In addition, Outreach Teams (WBOT) will soon be on the ground visiting patients in their homes and providing the much needed health care services. "The WBOT approach will require all of us as health professionals, tribal authorities, the community, various families and patients themselves to work together to fight diseases from inside of our homes and out in broader communities", said Dr. Masike(Motsieng,[6].
However, in light of all discussed above, the health sector in the province, in South Africa and in developing countries are still faced with so many challenges. These challenges are the huge health status gap between urban and rural areas, low level of health awareness, cost of healthcare, scarcity of specialty care and under-resourced infrastructure (Schneider & Barron, [7]. In recent years, these health sector problems have become more serious and higher priority has been given to delivering health service and meeting the needs of the poor in rural areas in many countries (Reddy, Patel and Jha, [8].
It is recognized and indicated that strengthening health delivery system as a priority for countries and governments to be able to meet the basic health needs of their people, especially for poor and vulnerable populations (Marmot, Allen and Bell, [9]). Challenges in the province and developing countries, including South Africa, are to find ways which will enable to address this basic health needs more effectively (David, Sameh, Banafsheh, Katja and Marko, [10].
3. STATEMENT OF THE RESEARCH PROBLEM
The Kgetleng Sub-district is one of the pilot projects since the Ward Based Outreach Teams (WBOTs) programme was first established in the Bojanala District in North West Province in 2011. This is one of the three areas of the PHC re-engineering strategy being implemented in the Province of the North-West and the rest of the country.
Department of Health, [11] indicates that there are high rates of maternal death, defaulters and lost to follow-up of patients on HIV and TB medication. These are the challenges that face the Kgetleng sub-district in the optimal implementation of the WBOT programme in the district.
The problem the paper is focused on, therefore, was to gain insight into the understanding of the implementation of the Ward Based Outreach Teams (WBOT) programme in the rural areas of Kgetleng Sub-district, in the North-West Province.
4. RESEARCH METHODOLOGY
The research design that is applied in this paper is descriptive. A quantitative research method was used. Quantitative methodology is associated with analytical research and its purpose is to arrive at a universal statement. Leedy & Ormrod, [12] point out that a quantitative method begins with a series of predetermined categories, usually embodied in standardised measures and uses these data to make broad and general comparisons. The quantitative method was based primarily on confidentially structured questionnaires provided to 27 Community Health Workers.
The Kgetleng Sub-district has 41 CHWs (Department of Health, [11]. The target population for this paper was CHWs working at the WBOT in the rural area of the Kgetleng Sub-district. In this paper, the population consisted of Kgetleng Community Health Workers (24), Outreach Team Leaders (2), and Professional nurse (1) of the feeder clinic. Twenty seven (27) respondents make up the paper population. These respondents resided within the catchment area of the Kgetleng Sub-district.
Self-administered questionnaires have been used for the purpose of this paper. The development of a questionnaire was informed by reading and reviewing of the literature during proposal writing. A total number of twenty seven (27) questionnaires were distributed to the targeted respondents. The use of self-administered questionnaires in the data collection process is critical, since it makes large samples feasible and has an important strength with regard to measurement generally (Leedy and Ormrod,[13].
Leedy and Ormrod, [14] state that data analysis in a case paper involves the steps listed below:
- Organisation of detail about the case – the specific facts about the case is arranged in a logical order.
- Categorisations of data – categories are identified to help cluster the data into meaningful groups.
- Interpretation of patterns – specific documents, occurrences, and other bits of data are examined for the specific meaning that they might have in relation to the case.
- Identification of patterns – the data and their interpretations are scrutinized for underlying themes and other patterns that characterize the case more broadly than a single piece of information can reveal.
- Synthesis and generalization – conclusions are drawn that may have implication beyond the specific case that has been studied.
In this particular paper, data analysis followed a quantitative research analysis approach and steps mentioned above for data obtained through the questionnaires.
5. LITERATURE REVIEW
The Department of Health has embarked on a strategy for re-modelling the implementation of the primary health care system using community and clinical health care worker teams to improve support and to strengthen the districts health services. Primary Health Care re-engineering has three streams: Ward Based Outreach Teams (WBOT), District Clinical Specialist Teams (DCST) and the School Health Programme. The integration and collaboration across all three streams is important to ensure the improvement and success of the primary health care across the district and the Province of the North West and to improve maternal and child health outcomes (NDOH, [15].
5.1. WARD BASED OUTREACH TEAMS (WBOT) PROGRAMME IN SOUTH AFRICA
According to Sepulveda [16], observations from many developing countries suggest that provision of home and community based health services and their links with the fixed PHC facilities in particular are critical to good health outcomes, especially child health outcomes. The role of community health workers in many countries has contributed to better health outcomes (WHO, [17].
The South African Department of Health has suggested that this is the result of a multiplicity of factors related to community based health workers. The adverse factors include inadequate training, inadequate support and supervision, random distribution with poor coverage, no link between the communities based services and services offered by fixed health facilities, funding through NGOs with inadequate accountability, limited or no targets for either coverage or quality to be reached (NDOH, [18]. According to Friis-Hannsen and Cold-Ravnkilde, [19] the impact of HIV on key impact indicators has also contributed considerably to the relatively poor health indicators and is independent of interventions made by CHWs or other health workers and interventions.
Many of these factors could be corrected if CHWs were part of a team, were well trained, supported and supervised with a clear mandate both in terms of what they are expected to do and of the catchment population that they are responsible for. The ward based PHC outreach team is designed to correct these limitations in the way community based health services are currently provided in the country (Gemma, [20].
Given the key role that CHWs will play, they should, over time, be directly managed by the Department of Health (as opposed to NGOs). This move has already happened in all the provinces in the country. The strategies for direct management by the Department have already happened and all the districts in the country have done an audit on the number of CHWs, to be trained and employed by the Department of Health as CHWs. The PHC reengineering toolkit for implementation of the WBOT in provinces indicates that each team is linked to a PHC facility with a nurse in each facility, who is the team leader.
The team leader is responsible for ensuring that their work is targeted and linked to service delivery targets and that they are adequately supported and supervised – this approach has been adopted and provinces have been implementing this strategy as from 2011 (NDOH, 2011, Matsoso and Fryatt, [18]-[21]. The WBOT implementation tool kit also indicates that the re-engineered approach to providing PHC services proposes a population based approach for the delivery of services. In addition, the PHC outreach is a service to the uninsured population of South Africa.
It further indicates that the Department of Health in a sub-district or on local levels will deploy PHC outreach teams in rural areas, in informal urban settlements as well as townships. According to Matsoso and Fryatt, [21], the Ward Based PHC Outreach Teams (WBOT) which are one of the one streams of the re-engineered PHC model are the level of health service which provides services to communities, families and individuals at community –based institutions and at a household level in a ward.
Furthermore, the ward based PHC outreach team is the cornerstone of community based PHC services, which encompass activities in communities, households and educational institutions, and referral networks with community based providers. The researcher, however, will only concentrate on and conducts this research on the Ward Based Outreach Teams (WBOT) area of PHC reengineering.
The diagrammatic PHC Outreach Teams (WBOT) model is presented in figure 2.1 below.
Abbildung in dieser Leseprobe nicht enthalten
FIGURE 2.1: THE WARD BASED PRIMARY HEALTH CARE OUTREACH TEAM (WBOT) ADAPTED FROM NDOH (2011)
5.2. KEY ASPECTS OF COMPREHENSIVE PHC IMPLEMENTATION
The WHO, [22] indicates eight elements that form the basis of comprehensive PHC programme interventions in order to achieve the goal of health improvement. These elements include the following: "education on prevailing health problems and methods of preventing and controlling them; promotion of food supply and proper nutrition; an adequate supply of safe water and basic sanitation; maternal and child health care including family planning, immunization against major infectious diseases; appropriate treatment of common diseases and injuries; and the provision of essential drugs." (Lehmann and Sanders, [23].
Denhill, King and Swanepoel, [24] indicate that, overall, in any health care programme or strategy, the successful implementation of PHC must be guided by the following principles:
- Political will: The presence of progressive political will is central to the success of a health system.
- Integration of promotive, curative, preventive and rehabilitative health care services.
- Equity: Communities must have equal access to basic health care and social services without segregation of sub-groups and provision of care.
- Accessibility: Health services must reach all people in the country in terms of geographical, financial and functional accessibility.
- Affordability: The level of health care services must be in line with what the community and country can afford. Not being able to afford should not be a limiting factor to receiving health care.
- Availability: An adequate and appropriate health services to meet particular health needs of each community.
- Effectiveness: Health services provided must meet the objectives for which they were intended and should be justifiable in terms of funding.
- Efficiency: Objectives and goals accomplished should be balanced to resources used.
These principles mentioned above determine the success or failure of any WBOT and PHC programme worldwide.
5.3. FACTORS THAT FACILITATE SUCCESS OF WBOT IMPLEMENTATION
Most comprehensive PHC programmes that are successful come as a result of good government policies and legislature for equitable implementation of efficient and furthermore, cost-effective health care interventions emphasize the need for community and individual participation according to Lewin and Lehmann, [25].
- Government commitment and will
- Community participation by stakeholders
- Cost-effectiveness, efficiencies and equity
6. LESSONS LEARNED FROM INTERNATIONAL EXPERIENCES
6.1. LESSONS LEARNED FROM CUBA
According to Gorry and Keck, [26], Cuba is an example of the successful implementation of community participation. It involved the integration of the mass democratic movement into formal governance structures, including health. Institutional structures were developed to allow for the participation of communities in decision making and policy processes. Furthermore, public officials were elected to People Power Assemblies at the provincial and national level to represent community interests. In addition, all authority comes from the people and all accountability comes from the state to the people according to Birkland [27].
Oviedo, [28] state that, In Cuba, Each People Power Assembly at each level of government appoints the personnel of the administrative agencies assigned to it. Each health facility had an advisory committee consisting of representatives; management consults with the advisory committee on issues that affect or require participation from the community. Though rarely done, the community has the power to request the removal of health workers. In addition, Cuba developed a unique Family Doctor Programme that attaches a family doctor and a nurse to every 120-140 families. These health workers are responsible for all the health needs of that community (including health education, promotion and curative services). Furthermore, this has strengthened communities' understanding of health matters, and promoted the collective discussion and solution of health problems, thereby improving the families and communities' participatory skills. However, a criticism of this approach is that it fostered dependence on medical interventions of the communities.
6.2. LESSONS LEARNED FROM BRAZIL
According to Spink, [29], the example of the Unified Health System in Brazil has been the guiding vision behind the South African Re-engineering Policy. Furthermore, social participation in health is mandated by the constitution to be included in all levels of government (Health councils – 1 national, 27 state and 5500 municipal).
According to Crisp, [30] the health councils are permanent bodies in charge of formulating health strategies, controlling implementation of policies, and analysing health plans and management reports submitted by their respective level of government. Furthermore, strong interactions exist between councils, managers, and policy makers, forming a complex and innovative decision-making process. All councils are made up of health care users (50% of members), health workers (25%), and health managers and service providers (25%).
In addition, health conferences are held every four years at the three levels. The mandate of these conferences is to assess the health situation and propose directives for health policies, thus contributing to inclusion of themes in the public agenda. Among other democratic mechanisms, the participatory budget adopted by several states and municipalities is also innovative. A proportion of the health budget for a city (municipality) or state is defined on the basis of popular vote; the population of a given city can vote, for example, on whether a new intensive-care unit or more health posts should be built according to Crisp, [29].
[...]
Details
Pages

14

Year

2016

ISBN (eBook)

9783668726703

ISBN (Book)

9783668726710

File size

622 KB

Language

English

Catalog Number

v428453

Grade

MBA

Tags