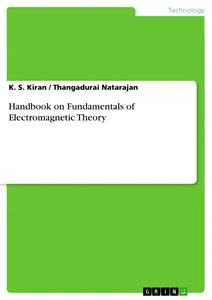 Handbook on Fundamentals of Electromagnetic Theory
Textbook 2018 140 Pages
Summary
Electromagnetic Theory plays an important role in modernizing human life and encompasses wide areas such as: generation, transmission, and distribution of electrical power, digital systems, satellite communications, signal processing, robotics, mechatronics, computer, control, artificial intelligence, and networks.

A four year engineering curriculum normally contains various modules of electromagnetic field theory. However, some curricula do not have enough slots to accommodate the two modules. This book, is designed for undergraduate students to provide fundamental knowledge of electromagnetic fields and waves in a structured manner. A comprehensive fundamental knowledge of electric and magnetic fields is required to understand the working principles of generators, motors, and transformers. This knowledge is also necessary to analyze transmission lines, substations, insulator flash over mechanism, transient phenomena, etc.

This book is written in a simple way so that the students will find it easy to understand the electromagnetic field theory and its applications. Several worked out examples are included to enhance the understanding of electromagnetic field theories. Each chapter also includes several practice problems with answers given at the end of the book, which would facilitate students' understanding.
Details
Pages

140

Year

2018

ISBN (eBook)

9783668711297

ISBN (Book)

9783668711303

File size

1.1 MB

Language

English

Catalog Number

v426561

Institution / College

Jain University

Grade

1

Tags