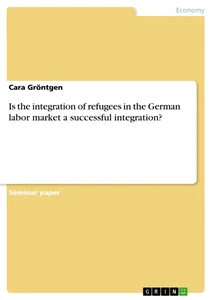 Is the integration of refugees in the German labor market a successful integration?
Term Paper 2018 20 Pages
Excerpt
Table of content
1. Introduction
2. Definitions
3. Chances of integration into the German labor market
3.1 Current labor market situation
3.2 Demographic Change
4. Access to German labor market
4.1 Legal framework
4.2 Legal requirements
5. The need for change
6. Conclusion
7. References
8. Table of figures
Abstract
The current issue of the high wave of refugees in Germany requires, among other things, the need for a successful integration of refugees into the German labor market, because therefore they should bring opportunities. One of Germany's main problems, the negative development of demographic change, can be covered by doing so. However, this process is slowed down by too restrictive and complicated admission procedures and gaps in the integration concepts for refugees. Ultimately, the potential of the refugees should be able to be fully used for the labor market. According to that, the urge for a change in the German refugee policy is required.
1. Introduction
"By the end of 2016, 65.6 million individuals were forcibly displaced worldwide as a result of persecution, conflict, violence, or human rights violations. That was an increase of 300,000 people over the previous year, and the world's forcibly displaced population remained at a record high."[1]
This headliner of the actual report "Global trends – forced displacement in 2016" by the Un Refugee Agency (UNHCR) clarifies the enormous extent of the current refugee crisis. To strengthen this headliner and confirm this huge amount, the number is divided into subcategories. Thus 10 million people were estimated as stateless or at risk of stateless in 2016. During the same year, also 10,3 million people were newly displaced by conflict or persecution.[2]
The federal agency of work titles this refugee migration as one of the main reasons for the increasing influence of migration on the German labor market. Due to numerous new migrations, the labor supply in Germany is increasing. On the one hand, this can lead to more employment, but strictly speaking, also to higher unemployment. Thus, Germany is, apart from social and cultural novelty, also facing a changing economy.[3] By taking the number of asylum claims into consideration, Germany was the world's largest recipient of new individual applications in 2016 with an amount of 722.400 initial claims. In addition, the refugee population in Germany increased considerably with 669.500 refugees in 2016, from which 375.100 refugees came from Syria.[4]
This big challenge has to be mastered. The resulting research question is: Is the integration of refugees in the German labor market a successful integration?
To answer this question, this research paper firstly differentiates the term "refugee" from those of migrants, emigrants and immigrants, since that understanding is essential for the clarification of the following chapters. Moreover, the process of the integration into the German labor market is taken into account, and additionally go hand in hand with demographic data, since especially the demographics show an interesting trend. Finally, the access to the German labor market including legal frameworks and requirements should give a clear understand of the legal basis. Afterwards, on the basis of the previous finding, the need for change will be clarified. All in all, a short conclusion should summarize the main finding of this papers on the one hand and serve for the future research on these developments on the other hand. Thus, the aim of this paper is to clarify, whether the integration of refugees on the German labor market can be seen as a successful potential.
2. Definitions
The following definition section is intended to clarify a fundamental misunderstanding in society. The terms "refugee" and "migrant" are often associated and tempted to be confused. In fact, it is very important to distinguish these components from each other, since they are fundamentally different. Likewise, the terms "immigrant" and "emigrant" invite for confusion. Therefore, it is of enormous importance for the understanding of this paper to distinguish all this from each other.
Refugee
In short, refugees are people who leave their state because of the fear of persecution due to the heterogeneity of race, religion or political beliefs. Also referred to as refugees are the people who leave their state due to political decisions. More specially and on legal basis of the Geneva Refugee Convention of 1951, a refugee is a person "born of events that occurred before January 1st, 1951, and because of the well-founded fear of persecution because of their race, religion, nationality or belonging to one certain social group or because of their political convictions, they are outside the country of which they are nationals and cannot claim the protection of the country or because of this fear they do not wish to avail themselves."[5]
In addition, most of the refugees in the German context nowadays are asylum seekers. The term "asylum" originally comes from the Greek word "asylon" and refers to the word accommodation. Generally, it can be said that persecuted persons have the right to personal protection.[6] This is on the one hand stipulated in Article 33 of the Geneva Refugee Convention, but can be also found in Article 16 of the Basic Law where it says: "Politically persecuted enjoy asylum". Important to mention is the fact, that this Article has been corrected and exacerbated in 1993 and says now: "whoever comes from a Member State of the European community or from a third State, which ensure the application of the Convention on the Status of refugees and the convention for the protection of human rights and fundamental freedoms".[7]
Migrants, Immigrants and Emigrants
Generally, it can be said that every refugee is also a migrant, immigrant or emigrant. He is to be subordinated as a person of this group of people. Migration therefore refers to the change of the home country beyond international borders.[8] In addition, migration is a voluntary shift from one state to another. The word "voluntary" plays therefore a very important role in this differentiation. Thus, migrants can be considered as general immigrants who follow family members to another state or immigrate as workers to other countries.[9] A Syrian refugee is then for example an immigrant in the Federal Republic, and an emigrant from the perspective of his homeland.
Integration
The concept of Integration has come to the fore in recent years in the minds of German society. Due to the ongoing refugee crisis, it is usually associated with this group of people.[10] Originally, the term "integration" comes from the Latin word "integration", which means nothing else than "incorporate something into a whole".[11] Moreover, integration can have many facets. Therefore, it has to be distinguished which groups need a certain degree of integration into society. Generally, it can be said that this degree can be defined between different groups of people. These groups of people therefore include, for example, people with disabilities or mental health problems, as well as migrants, or even refugees.[12] In this case, various components such as occupational activity or German language skills are chosen as factors to be examined.[13] Various aid organizations and associations then offer courses or consultations to enable holistic, successful integration.[14]
3. Chances of integration into the German labor market
Generally, it can be said that Germany uses the current refugee situation to avoid labor shortages or to use the resulting economic situation as a growth opportunity. In recent years, the German labor market has been changing constantly. According to economic crisis in EU countries such as Greek, one of the most popular examples of that time, or the expansion of the European trading space and the opening up of new borders, the employment development of Germany has been evolved and changed constantly.[15]
3.1 Current labor market situation
If you look at the current state of the economy in Germany, it is still growing. Reasons for that are the robust domestic demand and a stable economic situation, in which GDP has reached a preliminary value of + 1.9% compared to 2015. According to this, the upswing of recent years will continue.[16] An essential trigger for this positive growth is the labor market with the increase in employment activity by 0.9% in 2016. Thus, in the same year, the highest level was reached for the number of persons in employment since reunification. Equally noteworthy are the above-average growth in the number of employee's subject to social security contributions.[17] In contrast, unemployment and underemployment have decreased. If you take a closer look, you can see that the number of foreigner's subject to social insurance has increased by 10.4%. It can also be seen here that the registered unemployment rate fell by 3.7% in 2016.[18]
In the context of migration, it can be said that unemployment depends on how quickly immigrants find a job. There is also a supply and integration effect, based on the impact of migration and, in particular, the flow of refugees. The resulting increase in the number of immigrants leads to a higher labor supply. However, it should be noted that this is a very decisive factor. Each individual group of immigrants needs a different temporal period to fully integrate themselves into the workforce. Previous statistics have shown that most refugees need several years to complete this integration.[19]
To summarize these theoretical findings and connect them with practice related information, the Federal agency for work underlines these facts with the information on "Employees from non-European asylum-origin-countries".[20] Accordingly, the chart shows a significant increase in employees from asylum-producing countries. Accordingly, from January 2017 to January 2018 an increase of around 96,447 employees can be observed. The non-European countries of origin in this example include Afghanistan, Eritrea, Iraq, Iran, Nigeria, Pakistan, Somalia and Syria.[21]
3.2 Demographic Change
Aging and shrinking populations will sooner or later impact demographic change on the labour market. Accordingly, the employment structure will change constantly. By the year 2030, the so-called baby boomers, who represent a high proportion of the current working population, will be eliminated altogether. Based on these facts, the biggest fear of the future is to fail due to a shortage of young and highly qualified employees. Furthermore, a decline in the innovative power and productivity of companies is feared. In addition to this, there are rising social expenditures as a result of the aging population.[22]
In 1971, it happened for the last time that a birth surplus was entered in Germany. Since then, the number of deaths in each year exceeds the number of live births.[23] Equally frightening are the age structures. The age structure has changed significantly in the last 100 years. The relationship between young and old people in the population has changed drastically. While the proportion of under-20s was still 43% in 1871 and only 5% of the population was 65 years or older, today these figures are 18 years and 21%, respectively.[24]
In contrast to all that, the current number of asylum applications show a clear trend. The table shows the asylum applications by age group and gender in 2016.[25] In total, 722.370 asylum applications were submitted in 2016. Of these applicants, 73.8% were younger than 30. Also striking is the high number of infants under 4 years.[26] According to these figures it can be concluded, that mostly young families have fled to Germany. Therefore, the current described developments could solve the aging problem of the German society through continuous immigration. Moreover, the German labour market offers great potential for a large number of unemployed people who can be integrated with the help of the state.
4. Access to German labor market
Access to the German labour market for refugees is regulated by law. Accordingly, a variety of regulations and legal foundations can be found. Since 2015, German politicians have realized the potential of incoming refugees and made in the course of this some changes to the law. These changes should serve to integrate the refugees more quickly into the German labour market. The basis for the general understanding of these processes in the following chapter, therefore, are various statutes and legal components.
4.1 Legal framework
The accessibility and access conditions of a refugee for the German labour market depend on their current residence status. In general, one differentiates here between 3 different residence titles. More precisely, these titles are firstly "persons with a residence license", secondly "persons with a residence permit" and thirdly "persons with a tolerance". Furthermore, this section will clarify how the respective companies can measure or recognize the potential of a refugee for their company.[27]
Persons with a residence license
The asylum procedure generally distinguishes between four types of protection: asylum, refugee protection, subsidiary protection and the ban on deportation. Depending on the type of protection provided, these persons will be granted a residence license for a period of one to three years, with the possibility of renewal or the transfer to permanent residence. Thus, asylum seekers who have been recognized may work with a positive decision received by the Federal Office without restriction as employees and also pursue an independent activity. In the case of a ban on deportation, the immigration authorities decide on a case-by-case basis whether permission to work is granted.[28]
Persons with a residence permit
A residence permit is given to asylum seekers who are still in the asylum procedure. The asylum procedure is carried out by a personal hearing at the Federal Office. It is decided whether the respective refugee is granted asylum, or whether the asylum application must be rejected. Until this decision the residence permit entitles a refugee to live in Germany and to work under certain conditions.[29]
Persons with tolerance
Persons who have received a negative decision and are thus no longer in the asylum procedure, but where a deportation was suspended, receive from the foreigner's authority a "certificate for the suspension of deportation", which is also called toleration. With this so-called toleration, the respective persons have certain access conditions to the labour market. In addition, a permit for employment at the Immigration Office must first be obtained. Moreover, the local employment agency must approve this permit. Only after a four-year stay in Germany the approval of the Employment Agency is no longer necessary.[30]
Identify potential
People with a migration background still have a hard time on the German job market. Within the group of unemployed, people with a migration background represent more than a third. Of this group of people, two thirds do not have a recognized professional qualification in Germany. As already mentioned in the previous part, the number of economically active people will be forecasted to increase by 2.9 million until 2030. According to this, something has to change in the German structure, because a large part of formal and recognized qualifications for refugees are missing. The "Law on Improving the Establishment and Recognition of Professional Qualifications Acquired Abroad", established in 2012, has already initiated some important changes to improve the situation of migrants in the labour market. Accordingly, educational degrees obtained abroad or in the country of origin can be compared with a reference profession operating in Germany. In addition, the potential of people with a migrant background will be emphasized in order to check which acquired skills can be introduced to the labour market.[31]
4.2 Legal requirements
The following bills serve as a practical introduction to the possibilities for action of a company. Accordingly, it is decided on the basis of these defaults whether a refugee is eligible for hiring. These templates are versatile and require understanding in the context of answering the research question. On the basis of this, some statistics and surveys are included, which show the willingness of companies to receive and integrate refugees, as well as their fears by doing so.
Employment permit
To finally take a refugee with sufficient qualifications into a company requires a so-called employment permit. This permission is, so to speak, the ticket for every refugee in the workplace. Without this ticket, every refugee is prohibited from pursuing any legal form of employment. In order to obtain a so-called employment permit, it is of great importance to distinguish whether a refugee is currently an asylum seeker or already an asylum recognized. Overall, a distinction is made between various hindering components based on the above aspects. These components are, for example, the "waiting period" during which an asylum seeker is prohibited from pursuing employment. Generally, this period covers 3 months. This is referred to as "subordinate access" if the asylum seeker has been granted employment authorization at the end of the three months. Worth mentioning in this process is that after receipt of subordinated access, a labor market examination takes place. This examination examines whether the employment awarded cannot also be filled by a German citizen. Accordingly, the refugees in the queue are at the very back. In the end, in contrast to all this, we speak of "free access" if, after a four-year stay in Germany, no consent has to be obtained from any office.[32]
[...]
---
[1] Comp. UNHCR (2017) p. 2
[2] Comp. UNHCR (2017) p. 2f
[3] Comp. Bundesagentur für Arbeit (2018) p. 4
[4] Comp. UNHCR (2017) p. 15
[5] Comp. UNHCR (2015) p. 6
[6] Comp. Dreher, M. (2003) p. 339
[7] Comp. Deutscher Bundestag (2018) n.p
[8] Comp. Statistisches Bundesamt (2014) p. 5
[9] Comp. Berlin-Institut für Bevölkerung und Entwicklung (2017) p. 1
[10] Comp. Santel, B. (2007) p. 20
[11] Comp. Informations- und Dokumentationszentrum für Antirassismusarbeit e.V. (2016) p. 2
[12] Comp. Informations- und Dokumentationszentrum für Antirassismusarbeit e.V. (2016) p. 3
[13] Comp. Informations- und Dokumentationszentrum für Antirassismusarbeit e.V. (2016) p. 3
[14] Comp. Informations- und Dokumentationszentrum für Antirassismusarbeit e.V. (2016) p. 6
[15] Comp. Vogler-Ludwig, K., Düll, N., Kriechel, B. (2015) p. 17f
[16] Comp. Statistisches Bundesamt (2017) p. 29
[17] Comp. Statistisches Bundesamt (2017) p. 32
[18] Comp. Statistisches Bundesamt (2017) p.34
[19] Comp. Bundesagentur für Arbeit (2018) p. 5
[20] List of Figures 1: Employees from non-European asylum-origin-countries
[21] Comp. Bundesagentur für Arbeit (2018) p. 10
[22] Comp. Bundesinstitut für Bevölkerungsforschung (2016) p. 20
[23] Comp. Bundesinstitut für Bevölkerungsforschung (2016) p. 7
[24] Comp. Bundesinstitut für Bevölkerungsforschung (2016) p. 10
[25] List of Figures 2: Asylum applications by age group and gender in 2016
[26] Comp. Bundesamt für Migration und Flüchtlinge (2016) p. 7
[27] Comp. Bundesamt für Migration und Flüchtlinge (2018) n.p
[28] Comp. Bundesamt für Migration und Flüchtlinge (2018) n.p
[29] Comp. Bundesamt für Migration und Flüchtlinge (2018) n.p
[30] Comp. Bundesamt für Migration und Flüchtlinge (2018) n.p
[31] Bertelsmann Stiftung (2015) p. 8f.
[32] Comp. ESF Bundesprogramm (2015) p. 30f.
Details
Pages

20

Year

2018

ISBN (eBook)

9783668717947

ISBN (Book)

9783668717954

File size

704 KB

Language

English

Catalog Number

v419843

Institution / College

Rhine-Waal University of Applied Sciences

Grade

2,0

Tags