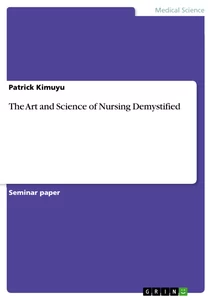 The Art and Science of Nursing Demystified
Seminar Paper 2018 8 Pages
Excerpt
Table of Contents
Introduction
Nursing as an Art
Caring
Compassion
Engagement and effective communication
Holistic care
Nursing as a Science
Nursing process
Critical thinking
Knowledge of disease
Evidence based research
Conclusion
References
Introduction
In retrospection, the practice of nursing has experienced remarkable development since its inception. It is explicit that nursing profession has become the backbone of the healthcare system. As the healthcare system undergoes transformation to meet the needs of patients, the practice of nursing experience advanced developments. According to Salmond and Echevarria (2017), healthcare transformation has led to a remarkable transformation of nursing as it is evidenced by the changing roles of nurses. This implies that traditional portrayal of nursing as an art has changed, giving contemporary nursing advanced dimensions. These new dimensions reflect the integration of science into the nursing practice. Therefore, it is explicit that science is what has been shaping the nursing practice. Ferreira (2011) acknowledges that modern nursing was founded as a profession that focuses on the art of caring. However, the adoption of science in nursing has transformed the profession into both art and science. Based on this understanding, this paper seeks to provide a focused discussion on how nursing practice is an art and science.
Nursing as an Art
From the conceptual description, nursing profession was founded as an art. This is evident in Florence Nightingale's perspective. However, it has taken more than a century to clarify the conceptual definition of the art of nursing. This new definition of the art of nursing has brought into light the fundamental roles of a nurse which justify it to be an art.
Caring
Caring for patients forms the principle objective of nursing. As such, nursing practice is informed by caring theories which are believed to have transformed nursing. In order conceptualize the value of caring as the core mission of the nursing practice; theorists have developed caring theories which place a nurse at a central point of care provision. An outstanding example caring theories which demonstrate the significance of caring is the Jean Watson's theory of nursing. This theory puts forward seven main assumptions. Foremost, it assumes that practicing caring occurs at an interpersonal level. It goes ahead to caring is underpinned by the existence of carative factors which lead to the satisfaction of particular human needs. On the other hand, this theory holds that caring environment plays integral roles in promoting health and growth of an individual. Overall, Watson depicts caring as the central practice of nursing (Gomes et al., 2013).
Compassion
Apart from caring for individuals, nurses express compassion to those whom they are caring for. As human beings, nurses empathize with their patients. In this way, they put themselves into the shoes of their patients (Bramley & Matiti, 2014). This gives them understanding about their patients' feelings. The agony patients go through as a result of sickness. Therefore, compassion emerges as an integral aspect of caring. From a critical lens, compassion has been found to hold benefits to patients. Evidence shows that compassionate caring improves patient outcomes (Blomberg et al., 2016).
Engagement and effective communication
Nursing involves engaging in approaches which improve the health of patients. For instance, nurses are engaged in treatment interventions with the main aim being helping the patient to gain good health. On the other hand, nurses adopt communication strategies to enhance the caring process. They pay attention to the concerns of their patients and provide appropriate responses through effective communication. To achieve this objective, nurses seek to build positive interactions with their patients, and this promotes nurse-patient relationship leading to patients' satisfaction, as well as improved quality of care (Kelley et al., 2014).
Holistic care
It is apparent that nursing focuses on caring for the whole person. This implies that nurses focus on addressing emotional, physical, spiritual, and mental needs of their patients. Additionally, nurses extend their care to the family. This is why nurses demonstrate a high degree of respect and dignity to both patients and their families during their caring duty (Klebanoff, 2013). As such, nurses need the ability to develop creative approaches to care provision.
[...]
Details
Pages

8

Year

2018

ISBN (eBook)

9783668683198

File size

503 KB

Language

English

Catalog Number

v419462

Institution / College

Egerton University

Grade

1

Tags