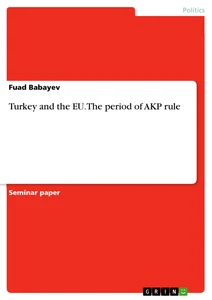 Excerpt
Content
Introduction
AKP rule in Turkey
Turkish economy and Europe
The impact of Kurdish issue to EU and Turkish relations
Conclusion
Refrences
Introduction
The political and economical relations between Turkey and European countries dateback to 11 century when Turks migrated from Asia to Anatolia and later conqueredConstantinople establishing Ottoman Empire. Since then Turks became familiar withEuropean culture and political, economical system of European countries. There were alwaysconflicts between Turkey and European countries because culture and religion divided themdeeply.1 After collapse of Ottoman Empire Turkey chose a different path for the future of thecountry under leadership of Mustafa Kamal Pasha Ataturk. It was European integrationwhich actually started on 31 July of 1959 when Turkey applied for associate membership inEuropean Community. In 1963 Ankara agreement was signed in this regard whichstrengthened Turkish and European relations.2 An important aspect that made EU and Turkeycloser during this period was threat of Soviet Union and collaboration within the frameworkof NATO.
Turkey started to reform its economy and conform it to European standards. During 70s Turkey faced economical difficulties which resulted with devaluation of lira. After taking some measures and support from world financial institutions the economy started to revive. On 14 April of 1987 Turkey applied for full membership in EC which was rejected later. Turkey had reached many goals like diversifying its economy, increase in exports however it was not ready yet to be accepted to EC. Turkey had to overcome four difficulties according to Commission: Structural disparities, Macro-Economic imbalances, industrial protectionism and low level of social protection. In 1999 Turkey was given candidacy status which can be regarded as a turn point in EU and Turkey relations.3
AKP rule in Turkey
In 2002 Justice and Development Party of Turkey (AKP) came to power. From firstdays of its ruling the elites of Turkey started to fear that the new government is a big threat tosecular state with its Islamic background. However these people having many suspicionsregarding the new government don't have arguments to prove their opinions. The party paysattention to democratic values and at the same time strives to preserve cultural traits. In theprogram of AKP there are no points referring to Islam.4 According to some experts the partypursue 2 dimensional policies: focusing on Islam and Islamic countries and integration toEurope. Political experts have different ideas on AKP policy ranging from pro Islam to proEuropean. Some experts claim that AKP sticks to Islamic traditions in order to restore itsinfluence in Arabic countries as it was during Ottoman Empire and at the same time developits economical relations with Europe in order to benefit from opportunities offered by EU.5
AKP has started to pursue neoliberal policy in regards to economy and committed toglobalization process. The resources were redistributed from bigger enterprises to smallerones. Different amendments were made in order to favour medium and small size enterprises.In 2008 AKP introduced general health insurance policy targeting 3 groups of society:worker, self-employed people and civil servants.6 The ruling party continued privatization ofstate enterprises and attracted more direct investment. The government opened protectedmarkets of tobacco, sugar, telecommunication and electricity to private markets. As a resultthe private sector increased up to 80%. As government opened different spheres of market toprivatization both foreign and internal investment increased. In 2006 turkey attractedUS$20.2 billion of dollars which can be regarded as the highest amount in its entire history.In regards to fiscal policy AKP committed to demands of IMF and demonstrated strictdiscipline. The strong commitment to IMF demands yielded its results and the budget deficitdeclined from 14.3% of GNP to 7.1%, inflation rate from 45% in 2002 to 10.6% in 2006.7
AKP also executed institutional reforms by strengthening the supervision and regulation of Turkish economy. The administration adopted different laws in regard to thisissue. As we see from policy of AKP, it strives for conforming Turkish economy to EUstandards. Fortunately there are obvious achievements which are covered in the reports ofEuropean Commission. However there are also some areas on which AKP has not achievedsuccess. This was obvious in reluctance of government to pass Public procurement Lawwhich was scheduled to go into effect in 2003. The aim of the law was to make transparentthe process of bidding and awarding of contracts. The construction projects in turkey count tobig amount of money and usually contracts are awarded to loyal constituencies ofgovernment which lead to corruption. The EU and IMF requirements in regards of Publicprocurement law were not met so enthusiastically by AKP and adoption of the law waspostponed.8
Turkish economy and Europe
Now I would like to discuss Turkish economy from European perspective, accession issue and its aspects like migration, budget, trade, internal market, employment, population and etc. Agreement regarding Customs Union with EU in 1995 (the Customs Union excludes agriculture, free movement of people and services) led to increase of trade. Due to Customs Union the EU is Turkey's largest trading partner, receiving over 45 percent of export andproviding 41 percent of imports in 2009.9 However despite the removal of trade barriers there are still bureaucratic and non-tariff obstacles which hinder the trade.10 Now Turkey is 6 major trade partner of EU with 3.7% (statistics of 2011).11
The population of Turkey grow constantly and relatively to Europe it has quite young population (30% of total population are under the age of 15 and 20% in the 15-24 age group). There is expected that in future the number of active population will even increase.
According to Turkish Statistical Institute the unemployment rate for December of 2012 is 10.1%.12 The majority of labour force are engaged in agriculture around one third of the totaland it is higher than emerging economies. Another problem regarding the employment is highmigration from rural areas to urban areas which increase the load of cities like Ankara andIstanbul. However bigger cities can not absorb instant flow of internal migrants and effectivepolicy should be executed in rural areas in order to increase productivity. Another obstacle inTurkish economy which worries EU is less engagement of females in education and work.
Migration is a sensitive issue in regards to Turkey's accession to EU is. It is difficult to say the exact impact of migration from Turkey to EU. The population in Europe is aging and as we know driving engine of economy are young labour force. The question is if EU is ready to receive huge flow of migrants from Turkey when it has internal financial problems? The future prognoses show that the number of population in turkey will increase and logically the migration flow to Europe will rise as well.13
In terms of budget we can say that Turkey is relatively poor country in compare ofEuropean Countries. This aspect poses a threat to overall European economy when it comesto accession of Turkey to Union. In 2011, the Turkish economy rose by 8.5%, a bit lowerthan 9.2% in 2010. Growth was mainly contributed by the private sector, with consumerexpenditures up 7.7% on the year and private sector investment up 22.8%. The strong internaldemand had an impact on trade balance so the imports increased by 10.6%, but the level ofexport volumes was 6.5% higher than in 2010, partly as a result of the depreciation of theTurkish lira (by 20% vis-à-vis the euro in 2011). The big slowdown was observed in the firsthalf of 2012, to 3.1% year-on-year. Private domestic consumption (residents households),which accounts for over 70% of GDP, was down by 0.2% year-on-year in the first six monthsof 2012, while fixed investment decreased by 3.2%, compared with a 18.3% increase in 2011.The only domestic demand component that posted above-average growth was governmentconsumption, which increased by 4.9%. In 2011, the per capita GDP of Turkey amounted to52% of the EU average. Overall, economic growth is decelerating, because of decreasingdomestic demand. The current account deficit increased from 6.6% of GDP in 2010 to 10%in 2011. In 2012, Turkey continued to run a large current account deficit, which makes Turkish currency vulnerable to investor confidence. Foreign direct investment remains low proportionally to the size of the current account deficit. The Central Bank's official reserves decreased from € 61 billion in 2010 to € 56 billion in 2011, but these losses have already been mitigated by mid-2012.14
Another important issue in accession process of Turkey to EU is CommonAgricultural Policy. As we mentioned above that agriculture plays an important role in theeconomy of Turkey and in the case of accession Turkey will enormously benefit from thispolicy. The big regional disparity in turkey raises the question of how CAP will affect bothsides. The application of CAP means advantages to consumers but also poses threat tofarmers and peasants. After liberalization of agriculture in turkey the prices of products willimmediately decrease and consumer will enjoy from low prices. However, farmers will be hitby low prices and they will be less competitive in compare of European producers. Ankararelies on EU money transfers to rural and poor areas in order to solve the problem. Ifaccepted to EU Turkey will be able to receive 4% of GDP around 11 billion Euros in earlyyears within the framework of CAP, Cohesion and other programs which is a big challenge.15
Another important aspect of Turkey's accession to union is the power distribution in EU organs. As a member of EU Turkey will have 74 members in Parliament, one commissar and 27 vote right in Council of Europe. Moreover Turkey will have around 1000-1500 representatives in Commission and other EU organs.16
So far I discussed negative economical impact of Turkey in case of accession but there are also some other positive factors which are important for EU:
- The country will be a bridge between western Christian and the Muslim world.
- Turkey plays a crucial role in providing security and stability in the Middle East.
- As a member of NATO Turkey can be a military asset to Europe.
Turkey plays an important role in the Middle East and this region is considered to besensitive area in terms of European security.
[...]
---
1 Bahanur Alisoglu "Turkey and Eu - What Does the Society Think?", page 6
2 Selen Sarisoy Guerin, Yannis A. Stivachtis "On the Road to Eu Membership?: The Economic Transformation of Turkey", page 17-18
3 Selen Sarisoy Guerin, Yannis A. Stivachtis "On the Road to Eu Membership?: The Economic Transformation of Turkey", page 24
4 Begum Burak, The Justice and Development Party as a Litmus Test for Turkish Democracy, page 1,2
5 Belgin Akçay, Bahri Yilmaz, "Turkey's Accession to the European Union: Political and Economic Challenges", page 232
6 Elise Massicard, Nicole F. Watts, "Negotiating Political Power in Turkey: Breaking Up the Party", page 49,50
7 Selen Sarisoy Guerin, Yannis A. Stivachtis "On the Road to EU Membership?: The Economic Transformation of Turkey", page 71,72
8 Selen Sarisoy Guerin, Yannis A. Stivachtis "On the Road to EU Membership?: The Economic Transformation of Turkey", page 74,75
9 Dorukhan Aras and Andrea Bonzanni , Turkey's New Role in the Geostrategic Landscape of Euro-Muslim Relations, page 3
10 Kirsty Hughes, Turkey and the European Union: just another enlargement? exploring the implications of Turkish accession, page 11
11 European commission official page, http://trade.ec.europa.eu/doclib/docs/2006/september/tradoc_113456.pdf
12 Turkish Statistical Institute, http://www.turkstat.gov.tr/Gosterge.do?metod=IlgiliGosterge&id=3536, 2012December
13 Kirsty Hughes, Turkey and the European Union: just another enlargement? exploring the implications of Turkish accession, page 16
14 EU Commission, Turkey Progress Report 2012, Brussels 10.10.12, page 38,39
15 Wolfgang Quaisser and Alexandra Reppegather, EU-Beitrittsreife der Türkei and Konsequenzen einer EUMitgliedschaft, Nr. 252 Januar 2004, page 15-16
16 Zentrum für Türkeistudien (Essen), "Türkei-Jahrbuch des Zentrums für Türkeistudien 2004/2005", page 10
Details
Pages

14

Year

2013

ISBN (eBook)

9783668644519

ISBN (Book)

9783668644526

File size

663 KB

Language

English

Catalog Number

v413446

Institution / College

University of Flensburg

Grade

2

Tags