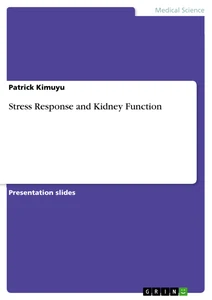 Stress Response and Kidney Function
Presentation slides 2018 6 Pages
Excerpt
INTRODUCTION
- Overall, the excretory system plays key physiological role in the body.
- Of great physiological significance are the kidneys.
- Therefore, the objective of this presentation is to present an overview of the impact of stress on kidney functions.
Kidney Structure
- The kidney is a bean-shaped structure, and it comprises of different regions which perform different functions.
The main parts of the kidney are:
- Renal capsule- protects the kidney by enclosing it.
- Renal cortex – this is the reddish-colored outer part of the kidney. It holds the functional structures; the glomeruli, Bowman's capsules, distal and proximal convoluted tubules, and blood vessels.
- Renal medulla – this is the interior portion of the kidney. It holds the renal pyramids.
- Renal pelvis – funnel-shaped cavity where urine drains from kidney nephrons (Fosbery 2004).
- Renal artery – supplies the kidney with oxygenated blood.
- Renal vein – carries deoxygenated blood from the kidney.
- Kidney nephron – kidney's functional unit. It is estimated that each kidney comprises of a million nephrons.
- Collecting duct – drains the nephron.
- Ureter – conveys urine to the urinary bladder. (Rieg & Kohan 2014)
Function of Kidneys
Therefore, kidneys, the principal excretory organs carry out an array of functions.
- They are involved in the maintenance of the body's homeostasis.
- Some of the main homeostatic functions that are performed by the kidneys include;-
- Regulates acid levels (acid-base balance)
- Regulates blood pressure (ions and water balance) (Bouby & Fernandes 2003)
- Maintains water balance
- Excretes wastes by filtering of toxins from blood
- Regulates red blood cells