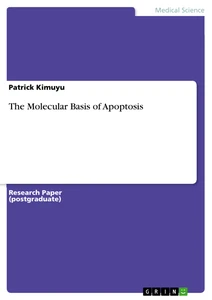 The Molecular Basis of Apoptosis
Research Paper (postgraduate) 2018 14 Pages
Summary
Apoptosis refers to a programmed cell death; a biological process in which the body of an organism destroys its cells for different reasons. In reality, apoptosis and necrosis involve different mechanisms, and this implies they are different. In addition, the changes that occur in the process of cell death are differing in terms of morphology and chemical composition.
Evidence indicates that there are various factors that make cells commit suicide. In most cases, cells commit suicide due to imbalances between positive and negative signals that determine cell survival. Cells can consider committing suicide upon the recipient of negative signals.

This research will provide a comprehensive overview of apoptosis. It will discuss mechanisms of apoptosis and the factors involved in the process. It will also explain the association between apoptosis.