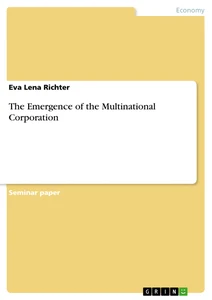 The Emergence of the Multinational Corporation
Term Paper 2014 22 Pages
Summary
Multinational corporations (MNCs) play a significant role in our economic world. Accounting for approximately one third of total world trade and including around 80 million people outside their home bases in complex supply and dependency networks, they seize seemingly endless economic power what has given way to strong opposition and causes fear amongst ordinary people who feel at the mercy of their power.

In my paper I will try to clarify the relationship between MNCs and nation states and therefore answer the question what kind of forces drive MNCs, which objectives they have and which measures they take to reach their individual aims.
The paper will start with the definition of MNCs (chapter 2) and their emergence. I will then refer theories of MNC evolution that are closely linked to Foreign Direct Investment (FDI) and patterns of labour division (chapter 3 and 4). The following chapter shall explore the power relationship between nation states and MNCs in general (chapter 5). The example of oil extraction through Royal Dutch Shell in the Nigeria's delta region will further illustrate the interdependencies especially many resource rich but underdeveloped or developing countries face and identify the sources of friction between government, state, peoples, NGOs and MNCs. The findings will be summarized and an outlook on possible future developments will be given in the last chapter (or Chapter 6).
Details
Pages

22

Year

2014

ISBN (eBook)

9783668618435

ISBN (Book)

9783668618442

File size

1.1 MB

Language

English

Catalog Number

v387936

Institution / College

University of Cologne – Wirtschaftsgeografie

Grade

1,3

Tags