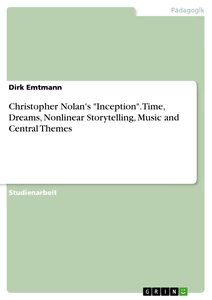 Christopher Nolan's "Inception". Time, Dreams, Nonlinear Storytelling, Music and Central Themes
Seminararbeit 2016 17 Seiten
Zusammenfassung
Christopher Nolan was born in London in 1970. He began making films as a young boy with his father's camera. With "Following", he conducted his first feature in the year 1998 and only two years later on, Nolan directed "Memento" in 2000 which can be seen as Christopher Nolan's breakthrough as a film director. Since then his films became evermore popular, and Nolan directed his perhaps most successful movie "Inception" in 2010.

"Inception" had its debut in London on July 8, 2010 and grossed over 800 million US-dollars worldwide. The film won four Oscars in 2011 for the best cinematography, the best sound editing and mixing and the best visual effects. On Rotten Tomatoes the film reached a score of 86%, and Richard Roeper posted out that it is "[One] of the most intoxicating, challenging and beautiful movies of the 21st century, deserving of multiple Oscar nominations." Because Christopher Nolan is one of renowned contemporary directors, his key to success is going to be revealed.

This work will focus on dreams and reality in the aforementioned film "Inception", Christopher Nolan's most lasting themes and particularities in his filmmaking. It will also explain different functions of the film's music, composed by Hans Zimmer, and point out similarities or relations to his other movies. Christopher Nolan supports his narrative through the use of dreams, nonlinear storytelling, music and time.
Details
Seiten

17

Jahr

2016

ISBN (eBook)

9783668618947

ISBN (Buch)

9783668618954

Dateigröße

724 KB

Sprache

Deutsch

Katalognummer

v387608

Note

1,2

Schlagworte