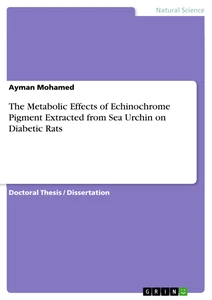 The Metabolic Effects of Echinochrome Pigment Extracted from Sea Urchin on Diabetic Rats
Doctoral Thesis / Dissertation 2018 243 Pages
Summary
Diabetes mellitus is one of the most public metabolic disorders. It is mainly classified into type 1 and type 2. Echinochrome (Ech) is a pigment from sea urchins that has antioxidant, anti-microbial, anti-inflammatory and chelating abilities. The present study aimed to investigate the anti-diabetic mechanisms of Ech pigment in
streptozotocin-induced diabetic rats. Thirty-six male Wistar albino rats were divided into two main groups (18 rats/group). Each group was divided into 3 subgroups (6 rats/subgroup); control, diabetic and Ech subgroups.

Diabetic models were induced by a single dose of streptozotocin (60 mg/kg, i.p) for type 1 diabetes and by a high fat diet for 4 weeks before the injection of streptozotocin (30 mg/kg, i.p) for type 2 diabetes. Diabetic groups were treated orally with Ech (1 mg/kg body weight in 10% DMSO) daily for 4 weeks. Ech groups showed a reduction in the concentrations of glucose, globulins, triglycerides (TG), total cholesterol (TC), low density lipoprotein cholesterol (LDL-C), creatinine, urea, uric acid, malondialdehyde (MDA) and the activities of
arginase, aspartate aminotransferase (AST), alanine aminotransferase (ALT), alkaline phosphatase (ALP) and gamma-glutamyltransferase (GGT).

While, it caused general increase in the levels of insulin, total bilirubin (TB), direct bilirubin (DB), indirect bilirubin (IB), total protein (TP), albumin, nitric oxide (NO) and the activities of glucose-6-phosphate dehydrogenase (G6PD), hexokinase, glutathione-S-transferase (GST), superoxide dismutase (SOD) and glutathione reduced (GSH). The histopathological investigation showed partial restoration of pancreatic islet cells and clear improvement in the hepatic and kidney architecture.

The results of this study clearly show that Ech has anti-diabetic potential in both types of diabetes. The possible anti-diabetic mechanisms of Ech involving improved glucose metabolism, restoration of β cells, improve insulin secretion, improve insulin signaling and antioxidant activity.