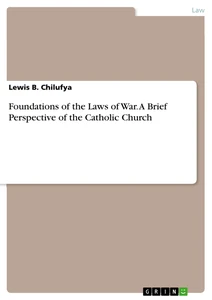 Foundations of the Laws of War. A Brief Perspective of the Catholic Church
Textbook 2005 105 Pages
Summary
This book illustrates that the international laws of war are founded on natural law as conceived in the Catholic Church's Moral Theology. In particular, it treats of the jus ad bellum strand of the international law as contained in the United Nations Charter. This aspect of international law spells out conditions for the legality of resort to interstate armed conflict or war.
The second strand of international law, which this book addresses, is the jus in bello which deals with the right conduct and method of war. With this background, the book then explicates the nature and constituents of natural law from the standpoint of Catholic Moral Theology.
The final part of the book then makes an analysis of the two forms of international law in the light of the understanding of natural law. In this way, it demonstrates that the source of the international regulations concerning recourse to use of armed force in interstate conflicts is actually the values contained in the natural law theory as understood by the Catholic Church.
Details
Pages

105

Year

2005

ISBN (eBook)

9783668621954

ISBN (Book)

9783668621961

File size

808 KB

Language

English

Catalog Number

v387178

Grade

Tags