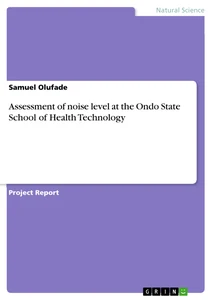 Assessment of noise level at the Ondo State School of Health Technology
Project Report 2016 44 Pages
Excerpt
Content
ABSRTACT
CHAPTER ONE
1.0 INTRODUCTION
1.1 BACKGROUND OF THE STUDY
1.2 STATEMENT OF THE PROBLEMS
1.3 SIGNIFICANCE OF THE STUDY
1.4 OBJECTIVES OF THE STUDY
1.5 RESEARCH QUESTIONS
1.6 DEFINITION OF TERMS
CHAPTER TWO
2.0 LITERATURE REVIEW
2.1 NOISE AND ITS IMPACT ON HEALTH
2.2 MAIN SOURCES OF NOISE
2.3 NOISE EFFECT ON PUBLIC HEALTH
2.4 PRINCIPLE OF NOISE POLLUTION
CHAPTER THREE
3.0 RESEARCH METHODOLOGY
3.1 DESCRIPTION OF THE STUDY AREA
3.2 STUDY DESIGN
3.3 SAMPLE SIZE AND SAMPLING PROCEDURE
3.4 INSTRUMENT FOR DATA COLLECTION
3.5 TESTS FOR VALIDITY AND RELIABILITY OF DATA COLLECTION
3.6 METHOD OF DATA COLLECTION
3.7 ANALYSIS OF DATA
CHAPTER FOUR
4.0 RESULT AND DATA ANALYSIS
CHAPTER FIVE
5.0 DISCUSSION OF FINDINGS, CONCLUSION, RECOMMENDATIONS.
5.1 DISCUSSION OF FINDINGS
5.2 CONCLUSION
5.3 RECOMMENDATION
REFERENCES
5.5 QUESTIONNAIRE ON THE LEVEL AND EFFECTS OF NOISE ON THE HEALTH OF THE MEMBERS OF ONDO STATE SCHOOL OF HEALTH TECHNOLOGY, AKURE COMMUNITY
ABSRTACT
This study was carried out in order to investigate the noise level at the Ondo State School of Health Technology, Akure.
Prospective study design was adopted for this study and noise level meter was used to collect data and simple random sampling technique was used. The school was divided into 4 sections which are Academic, commercial, administrative, and residential sections and a sample size of 100 was determined, the retrieved questionnaire were sorted and analyzed using tables and bar charts.
During the course of sampling with noise level meter, it was noted that noise coming from the commercial section was higher than any other section and ranged between 80dB and 89dB which is above the threshold limits man can be exposed to due to the operations carried out in the section. However, at night it was measured to be at lowest level of 49dB based on the close of commercial activities around 7pm daily. In the residential section it was noted that the level of noise produced between the hours of 10am and 1pm was the lowest but from the hour of 2pm upward the noise was at its peak based on the presence of the student in their various lodge ranging between 65dB to 79dB at the academic section the noise level range between 45dB to 60dB which means that the noise levels is low at the section. In the administrative section, the noise produced was between 45dB and 50dB which means that the noise level was at the lowest level for the entire school environment. In the questionnaire people′s knowledge and perception was measured, sorted and analyzed which shows that noise level is high at the ondo state school of Health Technology which should be minimized to enhance a good and conducive environment for learning/teaching.
CHAPTER ONE
1.0 INTRODUCTION
Noise is usually defined as unwanted or undesired sound. A school of thought described noise as sound without agreeable musical quality. More often than not, people use to say "one man's meat is another man's poison. In the same vein, we can say "one man's music is or can be another man′s noise". The human environment can be defined as the general surrounding of man and it consist of the physical, biological and social environment (Wikipedia, 2016).
The physical environment comprises the non-living part of the environment e.g. radiation, noise and atmospheric variations (heat, cold, air pressure) other physical surroundings of man include the air, water, food, light etc. Some of these physical factor are very vital for life for instance there will be no life without air, water, food, heat and light (Wikipedia, 2016). The biological consist of plant, insect, micro-organism (virus, bacteria, fungi e.g. plant, and animal. The existence depends to a large extent on the physical environment. The social environment or socio-cultural environment is that part of the environment which plays a prominent role in determining the mental health of man and includes all the conditions affecting man as a member of the society (Bhargawa, 2010).
ACCORDING TO WORLD HEALTH ORGANISATION (WHO) Health is a state of complete physical, mental and social well-being of an individual and not merely the absence of diseases or infirmities.
The extent of the environmental noise is very large in the united states over 40% of the population are exposed to transport noise levels exceeding 55dB(A) and the European country and Japan this percentages are ever higher (OEDC,1993). In contrast to many other environmental problems, noise pollution continues to grow, accompanied by an ever increasing number of complaints (WHO, 1999).
The national institute for occupational safety and health (NIOSN) estimates that 30 million workers in the United States are exposed to hazardous noise. Exposure to high level of noise may cause hearing loss, create physical and psychological stress, reduce productivity, interfere with communication, and contribute to accidents and injuries by making it difficult to hear warning signals. Sound can travel through any elastic medium e.g. air, water, wood, metal.
Sound according to a textbook definition is a rapid variation of atmospheric pressure caused by some disturbance of air. The basic quality of sound are wavelength, frequency, speed, decibels, sound pressure, sound fields sound power, filtering, octave bands, loudness and weighting networks.
The problem with noise is not only that it unwanted, but also that it negatively affects human health and well-being. Harmful effects of noise on human consist of auditory and non-auditory effects. Auditory effects are physical effects of noise like hearing loss, having impairment, threshold shift or tinnitus. Non –auditory effects of noise are psychological effects (startle and defense reaction leading to potential increase of blood pressure), interference with speech communication, sleep disturbance, psychological effects (headaches, fatigue and irritability), performance effects (task performance, distraction and productivity), annoyance (feeling of displeasure, where tolerance vary enormously and noise impulses are more annoying than a steady noise).
In children, the adverse effects of noise are similar to those with adults, but noise can negatively affect children's learning and language development, it can disturb children's motivation and concentration and can result in reduced memory and in reduced ability to carry out more or less complex tasks.
1.1 BACKGROUND OF THE STUDY
The increased spread of hearing loss from high frequencies through low frequencies with age and noise exposure is common for this population. Hearing loss of farmers is characteristics of a sensor neural bilateral sloping configuration resulting from both noise aging .when age group data were compared to the hearing sensitivity values of the U.S Occupational Safety and Health Administration (OSHA) all farmers population age 20 to 60 showed more dramatically hearing loss than the comparison group. This also was true when the data were compared to the international organization for standardization (ISO, 1990) data. According to (bond, 1996) physical ear discomfort to noise exposure starts from sound pressure level of 80-100 decibels (dB) A continuous noise level of 85 decibels can result in hearing damage as well as create other various negative effect on health(league for the aid of hearing 2002) Noise induced hearing loss occurs gradually and without pain. Noise is often recorded as decibels dB (A) to approximate how often the human ear response to noise
Road traffic, blaring of tapes, power engine (generators) hooting car horns by the drivers are the major sources of noise pollution at the Ondo State School of Health Technology, Akure.
Noise pollution is a displeasing ″human or machine created" sound that disrupts the activity or balance of human animal life.
Among pollution concerns of air, water and noise, noise pollution is the one that has the potential for the most damage to humans and wildlife. It is a hidden health hazard that impacts our physical, psychological, intellectual and behavioral well-being yet it has however received less attention.
There is so much noise around, but unlike our eyes, we cannot shut our ears, ears cannot be shut they are kept always opened and receptive to all kind of noise even while we are asleep.
Occupational safety and health ACT built upon earlier attempts in the United States to regulate noise hazards associated with occupational hearing loss in 1969, the waish- Healey public contract ACT added the occupational noise exposure standard as an amendment basing it on the American conference of Governmental industrial hygienists (ACGIH, 2012) noised threshold limit value (TLV) in effect at that time. This set an 8- hour TWA of 90dBA exchange rate for any company with a federal contract worth than $10,000. This effort to reduce occupational noise hazards was not far reaching but was first attempts to regulate noise hazards. Adoption into the OSH ACT in 1970, it served as the basis for OSHA'S noise standard. The same 8-hours TWA and exchange rate are still used by OSHA today.
1.2 STATEMENT OF THE PROBLEMS
The main problem that triggered this research is to identify the sources of noise and its effects on the health of the people within and around Ondo State School of Health Technology.it is noted that high level of noise in the school environment has being a great nuisance affecting the level of academic concentration, low academic assimilation, temporary deafness, disturbance in the communication from lecturer to student during lecture hour resulting to poor academic performance in the school.
1.3 SIGNIFICANCE OF THE STUDY
The significance of the study is not farfetched as is going to be beneficial to the inhabitants of the study area by identifying and evaluating the various sources of noise pollution and possibly health educate the resident on the impacts inherent from noise pollutions and how to minimize them. Also, the study will enable the members of the residence to stay healthy and prolong life expectancy.
1.4 OBJECTIVES OF THE STUDY
1. to determine the noise level in the school environment.
2. to identify the various sources of noise in the school environment.
3. to health educate and create awareness, where necessary, on the effect of noise among the student population.
4. to achieve a better environment for learning and teaching.
5. to know the attitude of the inhabitants towards the use of personal protective equipment(P:P:E)
1.5 RESEARCH QUESTIONS
1. Does the noise level exceed the established threshold levels (values) for an academic environment?
2. Are there various (multiple) sources of noise in the school environment?
3. Does noise pollution have any effect on the population?
4. Are there any existing steps and measures that can be put in place to achieve a better environment for teaching and learning?
5. Does the people make use of personal protective devices (PPEs)?
1.6 DEFINITION OF TERMS
1. HEALTH: Is a state of complete physical, mental and social well-being of man and not merely the absence of disease or infirmity
2. NOISE: A sound, especially one that is loud or unpleasant or that cause disturbance or harm human balance or animal life
3. POLLUTION: Is the introduction of contaminants into the natural environment that causes adverse changes. It can take form of chemical substances or energy such as heat, light.
4. NOISE POLLUTION: A form and level of environmental sound that is generally considered likely to annoy, distract or even harm other people.
5. LIFE EXPECTANCY: Is a statistical measure of how long an organism may live, based on the year of their birth, factors, including sex, environmental factors etc.
6. DECIBELS (dB): The unit of sound level and noise exposure measurement
7. SOUNDS: Is a vibration that propagates as a typically audible mechanical wave of pressure and displacement, through a medium such as air or water
8. THRESHOLD LIMIT VALUE (TLV): Of a chemical substance is a level to which it is believed workers can be exposed day after day for a working lifetime without adverse health effects.
9. SOUND LEVEL METER: This is an instrument that is used to measure the level of noise in geographical area or specific location where noise analysis is to be carried out
CHAPTER TWO
2.0 LITERATURE REVIEW
2.1 NOISE AND ITS IMPACT ON HEALTH
There has been less research in the past in the effects of noise on student in the lecture room, compared to environmental noise. However, research in this area is increasing, where several recent studies have been investigating the effects of internal noise on student's reading, numeracy and overall. It has been found that a significant drop in student's performance, particularly in learning to read, when the background noise level interfered with speech. Student performed better in word intelligibility tests in the acoustically treated rooms. The improvement being particularly marked when other pupils were talking in the classrooms. Similar results were obtained in a study of pre-school children who had been exposed to levels in the classroom of 75 dB (A). Following acoustic treatment to reduce the noise; the children's performance improved in letter, number and word recognition. In contrast, in a study of older children, aged 13 and 15, working in levels of 58 to 69 dB(A) there was poor correlation between sound level and quality of work; however, there was a significant relationship between annoyance and the effect of noise on schoolwork. During 1970's EPA-sponsored research on major noise sources led to regulation of the products that most affected the public, compressors ,garbage trucks, buses and motorcycles missing from the list was the aircraft which was considered the responsibility of the FAA( Federal Aviation Administration ).
In 2005, Nijland and Wee carried out their traffic noise which necessitates traffic noise data .Conveying information obtained during the planning stage and findings collected through investigations of specific or local traffic noise problems. Traffic noise ranked highest in term of the varieties of noise .Sources in many countries, traffic noise in the most diffused in nature with the most significant effect. Motorcycles constitute more than 40% of the total number of vehicles and are regarded as a major source of noise pollution in Malaysia.
(The Environmental Policy Act of 1969 remains the single most effective deterrent to noise pollution answer, 2010).
Olaosun and Ogundiran (2014), found different noise sources on the campus, such as electrical generators, pumps, vehicles horns, welding and lathe machines at the general workshop and ambient noise from bus stops. They measured the noise levels on the campus (at noisy outdoor locations near the main noise sources) of the University of Ibadan, Nigeria, and they found that noise levels exceeded 85 dB in most of these locations, especially near the electrical generator, where the highest reached 112 dB. Noise mapping is the best way to determine how outdoor noise levels differ with location (Peters et. al., 2011). Noise mapping depends basically on the determination and description of the area under study, including noise sources (road, rail, and air traffic, industrial and construction activities), the number of people exposed (receivers), topography, and meteorological conditions, measuring the equivalent continuous A-weighted sound pressure level and sound power level in dB (A) (ISO-2, 1996; DIN45682, 2002; WG-AEN, 2007). Noise mapping addresses large agglomeration areas such as countries, cities, and industrial plants. For this research, the goal is to draw a noise map for a small agglomeration area (college campus) where the number of people (staff and students) is approximately three thousand, by determining the noise sources and measuring and estimating the outdoor noise levels, to find the noise levels to which people are exposed during the working day. In addition, through noise mapping, the worst noise sources on the campus can be identified. Since the 1970s, organizations and agencies, such as the World Health Organization (WHO), National Institute for Occupational Safety and Health (NIOSH), and Occupational Safety and Health Administration (OSHA), have comprehended the dangers of noise on individuals themselves and their life, noted the adverse effects of noise (for example, annoyance, affects the learning and memory of students, sleep disturbance, physiological stress reactions and cardiovascular diseases, in addition to acoustic trauma, tinnitus, temporary and Permanent hearing loss) and raised the alarm regarding noise pollution (NIOSH, 1998); (Berglund et. al., 1999, OSHA). According to WHO, noise can be observed everywhere, indoors and outdoors, from road traffic, railways, aircraft, industries, construction and public work; accordingly, countries have been encouraged to assess and determine noise pollution in their territories by drawing noise maps (NIOSH,1998; Berglund et. al., 1999; OSHA; Stansfield &Matheson,2003; CCOHS,2011; Helmut et. al., 2012). In general, noise pollution research indicates the adverse effects of noise on activities such as communication and concentration, particularly, in educational institutions (schools, educational laboratories, colleges and universities); the campus is a place where many noise sources can be found, such as noise generated by leisure activities as well as noise emissions from laboratories, electrical generators, nearby road, rail and air traffic, and industry sites. Some of the researchers studying noise levels on different campuses have found the main noise sources to be road traffic. For example, Balila and Siddiqi (2009) found the noise levels in the campus of Faculty of Engineering, KSA, to be higher than the preferred noise criteria curves (PNC 55) due to the main roads around the campus.
[...]
Details
Pages

44

Year

2016

ISBN (eBook)

9783668609846

ISBN (Book)

9783668609853

File size

675 KB

Language

English

Catalog Number

v386150

Grade

3.56

Tags