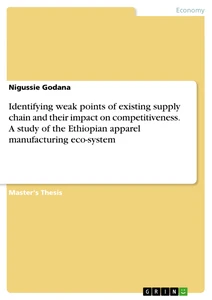 Identifying weak points of existing supply chain and their impact on competitiveness. A study of the Ethiopian apparel manufacturing eco-system
Master's Thesis 2016 151 Pages
Summary
This study focusses on reviewing apparel manufacturing eco-systems of Ethiopia, identifying missing inputs (weak points) of existing supply chain and assessing their impact on competitiveness of Ethiopian Apparel manufacturing firms.

Countries compete with each other to improve the standard of living and quality of life of their citizens, grow economically, attract foreign investments and tourists, maintain political stability and build their own brand image by using competitive advantage of their nations. Apart from favourable Macro environment (GDP, purchasing power, Economic freedom, easy of doing business, and political stability) low Production factors such as rawmaterials, related and supplying industries, electric cost and skilled and semiskilled manpower are the source of competitive advantage both to the countries and firms along the supply chain.

The textile and clothing industry have been one of the most dynamic and geographically mobile industries globally. The industry is made up of complex global production networks and due to the possibilities of minimizing the costs of production, many buying companies use suppliers located in developing countries and manufacturers of textile and clothing companies also relocate themselves in developing countries through foreign direct investment (FDI). Over recent years there has been an increasing amount of interest in Africa for investment as a continent with immense resources and potential. Ethiopia in particular has been singled out as a land of growth and investment opportunity.

Ethiopia grows some of the world's finest cotton and has a rich textile spinning and weaving history, yet its importance on a global scale remains insignificant. Having experienced average annual growth rate of 10.7% GDP growth consistently since 2006 and a stable political framework since 1995, it still remains largely, not yet used or taken advantage of it.

Although, favourable business environment is set by the government, there are ―missing inputs (weak points)‖ in existing supply chain which should be addressed. For example, in the case of garment manufacturing, trimming and accessories, packaging, certification bodies, spare part technology and machine maintenance companies and Ecommerce are missed along the supply chain.

Details
Pages

151

Year

2016

ISBN (eBook)

9783668618329

ISBN (Book)

9783668618336

File size

3.2 MB

Language

English

Catalog Number

v385920

Grade

A-10.0

Tags