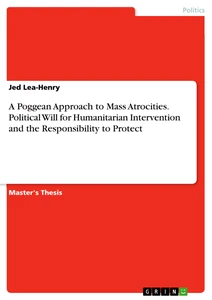 Summary
Humanitarian intervention and R2P, have been plagued in practice by a pervasive lack of political will to action. To overcome this situation and supply determinacy for international responses to global manifestations of mass atrocities, a two-stage approach is required.

Firstly increasing political will via the development of a new and encompassing moral edict, where humanitarian intervention and R2P are recognised as unavoidable obligations upon the international community. And secondly increasing political will via an achievable reform agenda that lowers political/material barriers, and diminishes the size and scope of future humanitarian challenges.

An approach that fundamentally represents the creation of restructured global paradigm, whereby the 'ethics vs. politics' decision-making equation is tilted to the point that future emergent humanitarian emergencies will predicably and consistently meet with timely and decisive intervention. Such an approach is achievable, predominantly through an adaption and expansion of the work of cosmopolitan philosopher Thomas Pogge.

Details
Pages

61

Year

2014

ISBN (Book)

9783668618107

File size

960 KB

Language

English

Catalog Number

v385829

Institution / College

Deakin University

Grade

Tags