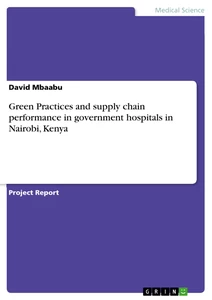 Green Practices and supply chain performance in government hospitals in Nairobi, Kenya
Project Report 2017 60 Pages
Summary
A research was done to establish Green practices and performance of government hospitals in Nairobi County. The study had three research objectives, namely: to answer to what extent Green supply chain management is practiced in Government Hospitals in Nairobi County; to determine the practices in Healthcare supply chain management that enhances performance in Nairobi County; and to establish the challenges faced in the implementing Green supply chain management practices in Government Hospitals in Nairobi County.

The research design used was a census survey, frequencies and percentages were used to analyse and represent objective one regression analysis was used to analyse the relationship between Green supply chain management practice and performance of Government Hospitals .the finding were represented in tables. It emerged that there is a significant relationship between green supply chain practice and performance. Data was collected using a questionnaire, that was administered through drop and pick later method. Percentages and frequencies were used to analyse the first objective, while objective two and three correlation and regression methods were utilized.

Findings from analysis of objective one indicated that most of the government hospitals in Nairobi had implemented a number of green supply chain management practices. The study focussed on Government Hospitals in Nairobi County, as given in the ministry of health website. The study confirmed that Green supply chain practices are relevant in the performance of supply chains.

The study recommends that hospitals should empower and educate their employees on the importance of efficient waste management and reverse logistics approaches to enhance green supply chain. A major limitation of the study was that, it only studied Government health facilities within Nairobi County. Another limitation of the study was that, it did not highlight the suppliers' willingness to participate in aspects of green supply chain management. Suggestions for further research would be to establish the impact of reverse logistics on efficient product consumption along the supply chain. Another area of future research will be to evaluate suppliers' willingness to conform to consumers' eco design, and its impact on performance.