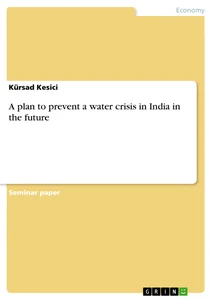 A plan to prevent a water crisis in India in the future
Seminar Paper 2012 15 Pages
Excerpt
Table of Contents
Table of Contents
Table of Figures
1 Introduction
1.1 Problem Description
1.2 Purpose
2 Conceptual Definition and Demarcation
2.1 The Global and Indian Water Situation
2.2 UN Water Development Report
2.3 Drivers of the Water Usage
2.3.1 The Agricultural Water Consumption of India
2.3.2 Industrialization and the Water Consumption of India
2.3.3 Poverty, Education, Culture and Values
2.4 India's Water Footprint
2.5 Public and Private Partnerships for Water
2.6 Water Policy of India
2.7 The Water Wars of India
3 The Comparison of Austrian and Indian's
4 Conclusion
4.1 Adjusting the Policies
4.2 Reengineering of the Irrigation Sector
4.3 Adapting Best Practices in Farming
4.4 Three Pillars of Sustainable Developing
Bibliography
Table of Figures
Figure 1: Expected areas of population growth and decline, 2000-2080
Figure 2: Irrigation demand and population in river basins in India
Figure 3: Increased agricultural income leading to increase the other drivers
Figure 4: India's water footprint and domestic consumption
Figure 5: Inter-relationship of water risks among business, government and society
Figure 6: resources that will impact the business
Figure 7: Amount of bags waste per week
Figure 8: Separated resources
Figure 9: Do you separate your waste?
1 Introduction
1.1 Problem Description
The UNDP's Human Development Report 2006 focuses on one of the most serious problems facing humanity today. Today more than a billion people have worldwide no access to safe drinking water and so nearly two million children die every year for want of clean water (cf Gupta 2008, S. 1). Besides, climate change is one of the most important global environmental challenges facing humanity with implications for food production, natural ecosystems, freshwater supply, health, etc. According to the latest scientific assessment, the earth's climate system has demonstrably changed on both global and regional scales since the preindustrial era. Further evidence shows that most of the warming (of 0.1°C per decade) observed over the last 50 years, is attributable to human activities. The Intergovernmental Panel on Climate Change (IPCC) projects that the global mean temperature may increase between 1.4 and 5.8 degrees Celsius (C) by 2100. This unprecedented increase is expected to have severe impacts on the global hydrological system, ecosystems, sea level, crop production and related processes. The impact would be particularly severe in the tropical areas, which mainly consist of developing countries, including India. The climate change issue is part of the larger challenge of sustainable development. As a result, climate policies can be more effective when consistently embedded within broader strategies designed to make national and regional development paths more sustainable. The impact of climate variability and change, climate policy responses, and associated socio-economic development will affect the ability of countries to achieve sustainable development goals. The pursuit of these goals will in turn affect the opportunities for, and success of, climate policies. In particular, the socio-economic and technological characteristics of different development paths will strongly affect emissions, the rate and magnitude of climate change, climate change impacts, the capability to adapt, and the capacity to mitigate (agricoop 2012, p. 2). In this case India's huge and growing population is putting a severe strain on the country's natural resources. The World Bank has repeatedly warned that India will face a water crisis in 20 years if the government doesn't change his way to handle this problem. The World Bank's report on India says that India has no proper water management system on place, its groundwater and the river bodies are turning into makeshift sewers (cf Gupta 2008, p. 1).
1.2 Purpose
This term paper analyzed the attitude of India on water resources and needs in relation to industrial countries including the current state of water resources in the world. The comparative point of views between Austrians and Indians, based on the conducted survey of February 2012, should be analyzed. Relationships and impacts of the water scarcity should be drawn. Necessary steps for preventing a water crisis in the next thirty years in India will be considered and presented.
2 Conceptual Definition and Demarcation
In the following chapters, the basics and a state of the art for the resource water will be reflected. A little view in the future will help to build conclusions for a possible way to avoid water stress in India
2.1 The Global and Indian Water Situation
Global freshwater reserves are rapidly depleting and this is expected to significantly impact many densely populated areas of the world. Low to middle income developing regions as well as highly developed countries will face water stress in the next future, unless water reserves are managed effectively. Developed countries have traditionally high per capita water consumption and need to focus on reducing their consumption through improved water management techniques and practices.
India has traditionally been well endowed with large freshwater reserves, but the fast increasing population and overexploitation of surface and groundwater over the past few decades has resulted in water scarcity in some regions. Also the growth of the India economy is driving increased water usage across sectors. Wastewater is increasing in the same scale and because the absence of proper measures for treatment, the existing freshwater reserves are being polluted. Increased urbanization is driving an increase in per capita water consumption in towns and cities which affects a change in consumption patterns and increased demand for water intensive agricultural crops and industrial products (cf Grail Research 2009, p. 3).
2.2 UN Water Development Report
The second edition of The United Nations World Water Development Report, Water A Shared Responsibility, released on March 22, 2006 notes that currently 1,1 billion people lack sufficient access to safe drinking water and 2,6 billion are deprived of basic sanitation. Clean water has almost become a preserve of the rich people. The Report lays down that mismanagement, corruption, lack of appropriate institutions, bureaucratic inertia and paucity of investments in human and physical resources mar water management today. "Water In A Changing World" released in the year 2009 notes that currently freshwater is a small fraction –about 2,5%- of the total water on earth. All enterprises requires water for food production, industry, drinking water, inland water transport systems, waste dilution and healthy ecosystems (cf UNESCO 2009, p. 166). The ten largest water users are India, China, the United States, Pakistan, Japan, Thailand, Indonesia, Bangladesh, Mexico and the Russian Federation (cf UNESCO 2009, p. 98). With rapid population growth water withdrawals have tripled over the last 50 years. This trend is explained by the rapid increase of irrigation development in the 70's and by the continued growth of agriculture-based economies. The expected trends over the next 50 years are the general agreement that population growth, economic growth urbanization, technological change and changing consumption patterns are the main factors (cf UNESCO 2009, p. 101).
While the development of sustainable and safe drinking water supplies is a global challenge, it is a matter acute in India for its high growing population. The China's Greater Western Water Diversion Project further aggravates India's worry about water. If this diverting 200 billion cubic meters of annual water project is finished, it will affect India's and Bangladesh's biggest source of water(cf Gupta 2008, p. 3).
2.3 Drivers of the Water Usage
Demographic processes such as population growth, age distribution, urbanization and migration create some of the greatest pressures on water resources quantity and quality (UNESCO 2009, p. 29) . The most urgent drivers of eater usage in India are the increasing population (see Figure 1), which is expected to 1.66Bn by 2050. This results in urbanization with an expected growth from 29.2% in 2007 to 55.2% by 2050. The increasing industrialization expected the per capita income from $468 to $17,336 by 2050. This industrialization and increasing of per capita income needs a production of water-intensive crops in India (cf Grail Research 2009, p. 13).In 2010, ESCAP noted that 'enhanced incomes facilitate investments in much- needed technological change, infrastructure and job creation; however, current economic growth patterns increase the stress on limited resources and competition for access to them (ESCAP 2010, p. 3).
Abbildung in dieser Leseprobe nicht enthalten
Figure 1: Expected areas of population growth and decline, 2000-2080
Source: (UNESCO 2009, p. 30)
Another part of the drivers of the water usage is the social influence. Changes in lifestyle are on of the principal drivers of change. They reflect human needs, desires and attitudes, which are influenced by such social drivers as culture and education by economic drivers and technological innovation.
2.3.1 The Agricultural Water Consumption of India
In chapter 2.3 mentioned the agricultural driver. India is one of the leading crop producers of the world. Over the years this has led to an increase in water consumption in the agricultural sector. India produces 12,8 per cent of the worldwide wheat, 21,9 per cent of rice and nearly 23 per cent sugarcane of the world. The irrigation for the production is very high, shown by a big water footprint. India has the highest water footprints among the top rice and wheat producing countries (China, US, Indonesia, etc.). This agricultural production growth is leading to greater water stress and over-exploitation of groundwater. In the states with the highest production of rice/wheat are expected to face groundwater depletion up to 75 per cent, by 2050. Another part are the agricultural based industries such as textiles, sugar and fertilizer are among the top producers of wastewater. The irrigation demand in the major river basins is expected to deplete groundwater levels by 2050. The Figure 2 shows the relationship between population and irrigation consumption for agricultural water in the five states with the highest production of rice, wheat and sugarcane (1 number of people per square kilometers). Subsidies on electricity in these states have led to excessive pumping of groundwater for agriculture (cf Grail Research 2009, p. 13 ff).
Abbildung in dieser Leseprobe nicht enthalten
Figure 2: Irrigation demand and population in river basins in India
Source: (Grail Research 2009, p. 16)
2.3.2 Industrialization and the Water Consumption of India
The industrialization and infrastructure growth is the other driver to the agricultural sight and are projected to drive water consumption and lead to increased discharge of untreated wastewater. Between 2005 and 2008 the FDI[1] equity inflow in the industrial sector has grown from $1,93Bn to $17,68Bn. The needed power plants generally comes from thermal power plants which are the most water-intensive industrial units (cf Grail Research 2009, p. 17).
Abbildung in dieser Leseprobe nicht enthalten
Figure 3: Increased agricultural income leading to increase the other drivers
Source: (Grail Research 2009, p. 22)
2.3.3 Poverty, Education, Culture and Values
Poverty leaves people with few choices because they must do what is necessary for their survival, whatever the environmental consequences. Slash-and-burn agricultural practices, overexploitation of inland fisheries and the proliferation on informal settlements around urban areas. A fact is that poor people pay the highest prices for water. In rural areas people spend hours each day fetching water (cf UNESCO 2009, p. 37). India hasn't an educated populace for a better understanding the needs for sustainable use of aquatic ecosystems and the important environmental goods and services they provide. Concerning the cultural role is that religious beliefs can also sometimes accelerate the degradation of these resources. One of the examples is the Hindu practice of cremating their deceased family members in funeral pyres and placing their ashes into the Ganges River, which is considered holy. However, incomplete cremation results in incompletely burned human, causing degraded water quality and increasing the potential for the transmission of waterborne diseases. So the custom is deeply rooted in religious beliefs, making it difficult to address with a strict rational approach (cf UNESCO 2009, p. 39). Another view, which is a positive, is the legend of the Bhagiratha who brought water – the river Ganga – to earth in a prayerful spirit. In the Indians tradition, rivers have been regarded as deities to be worshipped and not as horses to be harnessed and ridden. This tradition has hardly prevented the Indians from polluting their rivers (cf Gupta 2008, S. 58). But in an other example due religious beliefs, the remains from rituals and funeral pyres are thrown into the waters, a practice which is prevalent in almost all rivers and lakes across the country (cf Pangare et al. 2006, p. 211)
2.4 India's Water Footprint
The increased disposable income and urbanization is projected to change consumption patterns towards water intensive products and goods. India's water footprint (liters/Kg) for key domestic products is higher than the global average. Furthermore India's annual domestic per capita consumption of the products from figure 4 is increasing. While this demand will be met through imports, domestic production is also expected to increase.
Abbildung in dieser Leseprobe nicht enthalten
Figure 4: India's water footprint and domestic consumption
Source: (Grail Research 2009, p. 21)
[...]
---
[1] Foreign direct investment
Details
Pages

15

Year

2012

ISBN (eBook)

9783668578869

ISBN (Book)

9783668578876

File size

986 KB

Language

English

Catalog Number

v381284

Institution / College

University of Applied Sciences Vorarlberg

Grade

2

Tags