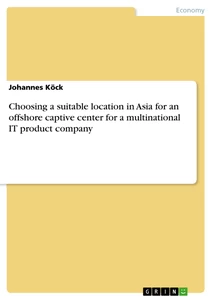 Choosing a suitable location in Asia for an offshore captive center for a multinational IT product company
Elaboration 2013 7 Pages
Excerpt
Written Assignment 1- IT-Industry in India
Johannes Köck
In the following sections I will be identifying a suitable city in Asia for setting up an offshore captive center for an IT product multinational company and I will justify my choice. Firstly, a differentiation between an IT product company and an IT service company will be conducted. Afterwards, the term "offshore captive center" will be defined. Thirdly, factors for establishing a captive center will be determined. Last but not least, one Asian city is supposed to be chosen for setting up an IT captive center.
1. IT service companies vs. IT product companies
In general, service companies develop software according to the customer's needs and requirements. The customer usually pays an hourly rate or a fixed price for the software (Tokeley). IT product companies, however, develop software and sell the finished software to a possible customer. Clients do impact features of the software, but in the end the software developer decides what the new software product will look like and which features will be included or will not be included (Tokeley). An example for an IT product company would be SAP.
2. Definition "offshore captive center"
Captive offshoring is the relocation of a business process to a location abroad. This change takes place within the company, e. g. to a subsidiary which is abroad. This approach is often applied by big companies in order to take advantage of low wages but at the same time not to lose know-how to an external company (Gadatsch, 2006, p. 49).
3. Choosing a suitable location
Nowadays, many jobs in the IT industry are relocated from Germany, the United States or Great Britain to countries with lower wages. These selected countries are countries with a low barrier of language, such as Ireland, India, Israel or Canada (Rutz Ben & Claus, 2005, pp. 34-39). Generally, India has the biggest supply of IT services (Deutsche Bank Research, 2006). After gaining its independence in 1947, India took a strong focus on education and established the worldwide famous Indian Institute of Technology (IIT). Before the mid-1990s well educated Indians had often gone abroad to look for a suitable job whereas after the mid-90s glass fiber made it possible for specialists to stay in India and to work for western countries via the internet (Dressler, 2007, S. 119). This might be one of the main reasons more and more companies are doing offshoring to India. India offers know how and good IT resources on the one hand and on the other hand low cost of labor. The consulting firm A.T. Kearney evaluated 50 countries with regard to their eligibility for offshoring in 2011 (table 1). The factors financial attractiveness, people's skills and availability and business environment have been weighted. According to these factors, India was ranked number one in the world as an offshoring country followed by China and Malaysia (appendix 1). In 2013, the same evaluation was executed. Again, India is number one in the world followed by China and Malaysia as an offshoring country, where offshoring is secure and pays off (Hackmann, 2013). Therefore, in the following sections, potential cities in India are going to be examined for setting up an offshore captive center.
Basically, the south of India can be seen as a good region for IT offshoring. Many well qualified people live in several southern states and cities as work for reasonable wages can be found. (Yuhiro, 2013). Subsequent, a classification of southern cities according to (Yuhiro, 2013) will be conducted:
- Tier 1 locations: Bangalore, Hyderabad, Mumbai, Chennai, etc.:
Pros: Huge cities with a big supply of talented and skilled people.
Cons: High employee turnover, higher cost of living than in tier 2 and tier 3 cities.
- Tier 2 locations: Coimbatore, Kochi, Trivandrum, Pune, etc.:
Pros: Lower wages and lower employee turnover compared to tier 1 cities.
Cons: The telecom infrastructure, which might be one of the most important factors, is not as good as in tier 1 cities. Furthermore, the physical infrastructure, such as power supply might not be on the level as on tier 1 cities as well.
- Tier 3 locations: Madurai, Nasik, Trichy, etc.:
Pros: Well educated population.
Cons: IT industry is currently beginning to develop in these countries. Consequently, there might not be as many IT firms as in tier 1 and tier 2 areas. Advantages big clusters of companies are entailing, such as many well-educated people due to good universities or many suppliers, might not apply that much in these areas.
However, the author proposes to choose a location in one of the tier 1 cities for setting up an offshore captive center. These cities are all clusters which might be essential for setting up a new subsidiary in India. As IT offshoring companies usually need a large number of people cluster might enable a good access to talented staff but also give the basis for networking with other companies working in the same area.
Nevertheless, there is not much literature which provides a clear recommendation for a certain big IT cluster in India. Netscribes, a market research company, conducted a research on the factors responsible why so many IT companies in India are concentrated in respective cluster areas. Manpower, real estate, telecom infrastructure and policy initiatives are the first four out of seven factors ranked by respondents of a survey (Netscribes, p. 5). A ranking between potential cluster cities is then provided by looking at leading factors for choosing a location, such as manpower, infrastructure and policy. Combining and weighing these elements make available the following chart (see figure 1).
[...]
Details
Pages

7

Year

2013

ISBN (eBook)

9783668557123

File size

630 KB

Language

English

Catalog Number

v378116

Institution / College

Friedrich-Alexander University Erlangen-Nuremberg

Grade

1,3

Tags