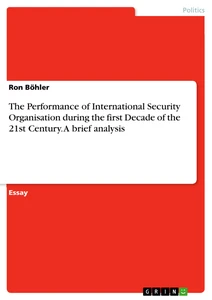 Summary
'Many international organizations [IO] have clearly succeeded in formulating, and sometimes implementing, policies that cannot be described as the simple product of interstate bargaining' (Reinalda and Verbeek 1998, p.5). A closer look at international relations (IR) theories will quickly give indication that this statement is at odds with both neorealism and neoliberalism. In fact, these theories have for a long time neglected IO policy-making as well as the potential that IOs take purposive action as autonomous actors. Barnett and Finnemore hold that view and suggest a sociological perspective to treat IOs first and foremost as bureaucracies with independent agency.

The International Criminal Police Organisation (ICPO), better known as INTERPOL, is such a case. In the aftermath of the September 11 attacks on the World Trade Centre in New York, so will be argued below, INTERPOL remarkably improved institutional structures and strengthened its political scope of duties towards international terrorism. Its counter-terrorism strategies comprised technological innovation and bureaucratic efficiency with the objective of accelerating efficient crime fighting, on the one hand, as well as tightened cooperation with other (inter)national partner organisations with the aim of fostering a world-spanning anti-terrorist network, on the other. Both means go for the overall idea- and knowledge-based realignment that INTERPOL underwent in recent years under Secretary General Ronald K. Noble since his inauguration in 2000.

The essay is structured as follows: Throughout the first section, the sociological institutionalist approach of Barnett and Finnemore will be presented in comparative perspective to major IR theories. The approach suggests a number of assumptions and implications to the behavioural study of international organizations that will be elaborated further. The shortcomings, which are inherent in neorealist and neoliberalist concepts, will be seen as the starting point for the theoretical and empirical gains that the international bureaucracy approach provide. Subsequently, the concept will be applied to INTERPOL as an important international security organization in the field of counter-terrorism. Structural, political and technological adaptations that the organisation deployed in the aftermath of the 9/11 events make it a remarkable example of the accuracy and applicability of Barnett´s and Finnemore´s approach.