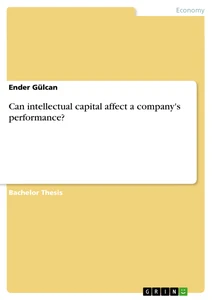 Summary
This thesis investigates the relationship between corporate intellectual ability and performance. The link between intellectual capital and corporate performance has been advocated for decades, however, empirical studies failed to fully acknowledge this relationship.

For the conduct of this thesis, data has been collected for 1780 business years from companies of all industries from 5 developed countries. The contribution of this thesis has been the analysis of data from not only one country or certain industries, but the analysis of an extensive dataset, without making separations of industries, in order to obtain general results.

During the last decades, our economy was undergoing a crucial change. This change affects the production of goods and services as well as the value of the goods and services. It is the change of the balance between the resources which are exploited by companies. It is the shift from material resources to knowledge, the shift from quantity to quality - the shift which manifests itself in the change of the way value is being created.

Caused by these environmental changes, research activities in the field of intellectual capital (IC) emerged. It was advocated, that the new environment now requires proper IC management in order to succeed in the market. Since the end of the 90's, the strategic importance and management of IC are well advocated. Several authors associated corporate performance with an efficient management of IC.
Details
Pages

96

Year

2017

ISBN (eBook)

9783668537576

ISBN (Book)

9783668537583

File size

1.9 MB

Language

English

Catalog Number

v376516

Institution / College

Northumbria University

Grade

1,0

Tags