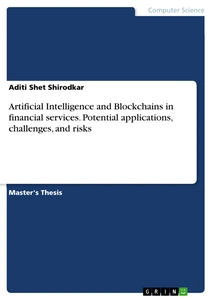 Artificial Intelligence and Blockchains in financial services. Potential applications, challenges, and risks
Master's Thesis 2017 51 Pages
Summary
The aim of this dissertation is to identify the use cases for AI and Blockchain technologies in the Financial Services. It will also provide the possible applications for these technologies in the future and identify the challenges and risks of using the same.

Artificial Intelligence (AI) and Blockchain technologies have been at the centre of research for the past couple of years. AI is more widely used and implemented by Tech companies and we come across it in some form or another in our daily lives. Bitcoin (the original Blockchain) is also gaining popularity. Financial Industry however have been slow in accepting these technologies due to several reasons such as need for higher security in financial firms, some shortfalls in the technologies, and lack of standardized regulations.

There are certain firms who have taken up the initiative to work in these fields and have come up with various Proof-Of-Concepts (POCs) specifically for the financial industry. There also firms that are working towards integrating the two. These technologies are individually effective, but integrating the two could provide better and faster solutions. Both these technologies, AI and Blockchain, will prove to be disruptive. AI would make our lives easier and more efficient while Blockchain would provide us with a secure and decentralized data system. Effective use of both these technologies would provide considerable cost benefits to financial institutions.
Details
Pages

51

Year

2017

ISBN (Book)

9783668537330

File size

878 KB

Language

English

Catalog Number

v376403

Grade

A- (94/100)

Tags