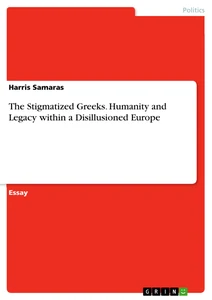 The Stigmatized Greeks. Humanity and Legacy within a Disillusioned Europe
Essay 2017 14 Pages
Summary
The paper sheds a critical light on current European Politics, mainly regarding German chancellor Merkel and Greece.

This essay pursues the attempt to analyse how it is primarily Greece's fault that triggered the economic distortions and the crisis in the EU, and how the inefficiently functioning EU is also to blame; not only because of its late to react and then hastily designed and imposed decisions but also because it is apparent that the decisions of the EU had been and still are influenced and orchestrated with intention and premeditation by the most powerful and their pack.

It also tries to underline how a disillusioned Greek society made the country fertile terrain for populism. How on one hand populists preying on people's fears secure a political advantage in a time of crisis, change and uncertainty, and how on the other they, the populists, do very little to help a society to navigate itself out of a painful and complex reality that requires long-term planning, and compromise – simply because most of the arguments (of the populists) are based on fiction.

Understanding this, the responsibilty lies with both sides, the european Union as well as Greece itself, to find new ways to manage the current crisis.