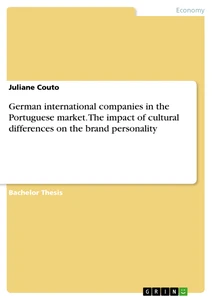 Summary
This study examines how cultural differences between Germany and Portugal affect the brand personality of German international companies.

"True cultural connection is the Holy Grail for brands if they want to create an
enduring emotional relationship with people."

The analysis of this thesis goes hand in hand with this quote by Adam Chmielowski,
Group Head at Flamingo. In order to find out if his statement concerning the importance of brand awareness in branding is true, a suitable research question will be introduced. The goal is to find out whether international companies are already aware of this fact and what consequences it has on the brand personality if a company tries to enter a new market in another country but expulses the cultural aspects.

A recognizable brand name can lead to an increase in sales, and could therefore be one of the most valuable assets of a company. Especially for companies who offer products or services which can easily be copied by others or where several substitutes are available in the market. An example for such an industry is the automotive industry, because they differentiate themselves through their brand personality.

The significant value of a brand name and personality is not only important due to high competition, but also because of the increase in emotional wants and needs of the customer, which need to be met in order to make profit. Potential customers might be more likely to buy a product from a known brand, that they might have positive associations or feelings with than from an unknown. Hence, it is important to attach a consumer to stay with the company and become a loyal customer for this brand, because unlike product attributes, the ideas of the consumer of this brand do not easily change. The setting up of a brand image is a marketing step and investment for beneficial in the long-term. In this context the term brand personality stands for profile of a brand with human characteristics.
Details
Pages

64

Year

2014

ISBN (eBook)

9783668533523

ISBN (Book)

9783668533530

File size

1 MB

Language

English

Catalog Number

v376079

Institution / College

Cologne Business School Köln

Grade

2,2

Tags