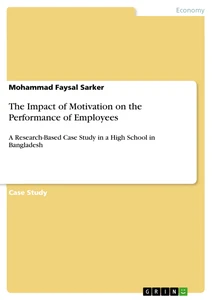 The Impact of Motivation on the Performance of Employees
A Research-Based Case Study in a High School in Bangladesh
Research Paper (postgraduate) 2016 110 Pages
Excerpt
Table of Content
1: Introduction:
1: Background
2: Statement of the problem
3: Rationale of the research
4: Research aims and objectives
5: Research questions
6: Significance of the study
7: Research structure
2: Literature review:
1: Introduction
2: Employee motivation
3: Employees' motivational factors
4: Motivational process
5: Employee performance
6: Theoretical Literature review
2.6.1: Mars model
2.6.2: Maslow's hierarchy of needs theory
2.6.3: ERG theory
2.6.4: Two factors theory of Herzberg
2.6.5: Theory X and Theory Y
2.6.6: Management implications of Theory Y
2.6.7: Theory of group formation
2.6.8: Equity theory
2.6.9: McClelland's Achievement - Affiliation - Power theory
2.7: Empirical literature review
2.8: Conceptual framework
3: Research methodology:
1: Introduction
2: Research Philosophy
3: Research approach
4: Research purpose
5: Data collection
6: Population and sampling
7: Analysis of data
8: Research ethics
9: Research validity and reliability
4: Data analysis and findings:
1: Introduction
2: Survey of questionnaire
4.2.1: Age group
4.2.2: Gender
4.2.3: Respondent's category
4.2.4: How long have the participants been on the current job?
4.2.5: Is human resource department of Ramchandrapur High School supportive? What is the opinion of the employees regarding this? 60
4.2.6: Is management interested in motivating employees of Ramchandrapur High school?
4.2.7: Are the employees satisfied with the financial and non-financial incentives?
4.2.8: How is employee communication within the institution?
4.2.9: What are the motivational factors that motivate respondents more? 70
4.2.10:What is the level of motivation of employees in Ramchandrapur High School?
4.2.11: Do incentives and other organisational benefits influence employees' overall performance?
4.2.12: "Workplace environment can change the performance of the employees" - Do you agree with this statement?
4.2.13: Does manager involve you in decision making related to increasing educational standard of the school?
4.2.14: Does Ramchandrapur High School deserve every little sacrifice of employees and are you prepared to give your best to guarantee its success?
4.2.15: Effect of motivation on employee performance
3: Revisit of research objectives
4: Revisit of research questions
5: Conclusion and Recommendation
1: Conclusion
2: Recommendation
6: References:
7: Appendix:
Appendix 1
Part 1: Questions regarding the respondents to survey
Part 2: Questions regarding the impact of motivation on employee performance of Ramchandrapur High School
Appendix 2: Participant's information sheet
Appendix 3: Participant's consent form
Appendix 4: Consent letter by the Head of the school
Appendix 5: Time-slot of research
Acknowledgement
I would be glad to acknowledge and show my profound and genuine gratitude to Ms Lankika Thalpawila, my honourable research supervisor of Research Methods for Human Resource Management project. The guidelines and instruction she provided me with was really progressive and helped me a lot complete this research work successfully. Whenever I tried to contact her, she responded to my query very promptly which was really appreciated. I would be happy to thank all the research participants who were a great support and part of this successful re-search work. I would specially thank the Head of the school where this research work was conducted. Finally, I would also like to show my kind gratitude to the academic staff of London School of Marketing and The University of Northampton who guided and inspired me very frequently to go through this laborious and ambitious research work.
ABSTRACT
For many years, motivation has been a key indicator of productive employee performance within an organisation, so it has been an area of major concern for the organisation and human resource managers. There are wide ranges of factors that are related to management, employees, organisation and the workplace which makes it complex and challenging job to motivate employees in an organisation. Therefore, different strategies and method should be used by the organisation and human resource manager to motivate employees. There are different needs and expectation for an employee to join any organisation. Monetary and non-monetary factors are used by human resource managers to achieve different employee and organisation related objectives.
The present research works look to know the impact of motivation on the performance of employees in Ramchandrapur High School. Descriptive method and questionnaires embedded with Likert scale was used as main instruments for collecting necessary data to carry out this research work. Data is collected from the sample size of 50 among which included faculty member, employee assistants, office helper, and employee in training and security personnel. The critical re-view of the literature and the quantitative analysis of the survey data pointed that both extrinsic and intrinsic motivation factor play an important role in motivating employees. The study revealed that salary is the greatest motivation factor among various extrinsic and intrinsic motivation factor like job security, advancement in career, the good relationship among co-worker, achievement sense, training and development and sense of recognition. The study further reveals that level of motivation among the employee of the Ramchandrapur High School is low as com-pared to the expectation of employees.
Although both extrinsic and intrinsic factor is responsible for motivating employees in an organisation this study revealed that employee of Ramchandrapur High School is motivated more by an extrinsic factor than an intrinsic one. Management of school should focus more towards satisfying the extrinsic need of employees to hold the employee for long which subsequently helps to increase the quality of output produced by it.
1 INTRODUCTION:
1.1 BACKGROUND:
Without any doubt education is the motor of development of each country and economy. The efficiency of any country's workforce drives the economic development of that country while workforce productivity depends on its educational system. Subsequently, all countries offer colossal importance to educate their citizens guaranteeing as many citizens as possible to have access to secondary education as a route to the higher education. The effect of education on society turns out to be better as the number of people increases having access to secondary education (Craig C. Pinder, 2008) It is because secondary education is a phase where students are prepared to contribute their shares to social and economic development of their society. The motivation of employees among few elements affecting secondary education stands tall.
It is inappropriate and not enough if we merely rely on the number of people engaged in providing service. Their ability and experience are also countable. The best positive result can be extracted out of an employee if she/he is properly motivated. The force which energises sustains and directs person's effort in achieving a goal is motivation. (Bateman & Snell, 1996). A highly motivated person having an adequate understanding of the job will work hard towards achieving the organisational goal.
Motivation is considered as one of the most imperative matters in all the organisations, no matters whether it is private or public sector (Baldoni, 2005b). "Motive" means wants, desire, and needs of an individual. Therefore, the employee motivation refers to a procedure where organisations inspire their employees with the shape of bonus, rewards, increment, etc. to achieve organisational goals. This research study (Creswell, J. 2012) concerning the impact of motivation on the performance of employees helps to understand motivation that affects employee performance in the organisation and motivational tools used by the organisation so as to motivate employees for the best performance (Aung, 2008).
Further, this research will make clear in what manner motivation creates an impact on the performance of employees. The study of similar literature shall assist towards understanding different variables applied in the research work (Creswell, J.W. 2015).
Various experimental studies have found that exposures and trainings to research work are considered as crucial factors to enhance the performance of the employees in a secondary school. In this manner, motivation is the real driver of the employee performance in any organisation (Amabile, T.M. 1997). The employee performance is positively correlated to motivation. This implies if employees are motivated; it certainly helps to raise their performance. The positive correlation between motivation and performance is moderated via level of education; training and prior research experience (Baldoni, 2005b). This factor will probably make an impact on performance and its association with motivation in this respect.
Ramchandrapur High School (R.R.K.H.S, 2016) in Comilla, Bangladesh has been chosen as an organisation for this case study within the research work. It's a secondary school with different categories of employees. Academic staff, employees-in-training, faculty members, student assistants, school staff are the employee categories under this research study. The research will highlight the motivation along with its impact on the performance of the employees in case of Ramchandrapur High School (R.R.K.H.S, 2016). The level of motivation has direct as well as the positive relationship with the performance of employees along with the organisational commitments (Vansteenkiste et al., 2006). The absence of motivation (Bateman, T.S. & Snell, S. 1996) within the organisation tends to disrupt productivity of an organisation, and at the end, the results cannot be generated up to the mark. Thus, the different aspects of impact on motivational cases along with employee performance situation (Becker, S., Bryman, A. & Ferguson, H. 2012) within Ramchandrapur High School (R.R.K.H.S, 2016) will be given emphasis throughout the research study.
1.2: STATEMENT OF THE PROBLEM:
Providing the employees with the right blend of direction, guidance, techniques, assets and compensation based on the goal of motivating them and making them quick to work through the way the manager wants them to do is the major aim of the motivation. Above all, the employees are the most important resource for any organisation. The growth of any employment depends on how motivated the employees are and how long they stay with the organisation (Vroom, 1985). Furthermore, the cost of recruitment and maintenance of employees are significantly reduced, and it can also help in the expansion of vocation if the system can hold the motivated employees for long in the organisation (Nyameh et al., 2013).
The motivation of employees is the most challenging and standout characteristics a manager (Bryman, A. 2015a) should possess. There is a growing number of cases that any organisation may face a tough time retaining employees because of the aggressive labour market of today and the restricted opportunities available. And there is no sign of improving either. The loss of employees is marked as a great loss of information, experience and aptitudes which lead to a significant financial effect and cost to an organisation including the impact on the need of the customers (Hackman & Oldham, 1976). Managers having strong motivational technique assist the organisation by enhancing employee retention.
This study will investigate the relationship between the promotions and rewards on the motivation of employees with the effects from the performance of employees, more specifically in the educational sector. It also will describe in what manner motivation impacts on the performance of employees along with the good strategies of motivation for achieving organisational success (Becker, L. 2014).
3. RATIONALE OF THE RESEARCH:
Motivation and performance are two significant factors regarding organisational success and achievement (Bryman, A. 2015b). In a dynamic environment, it is important for an organisation to embrace that change since it might propel to pick up an upper hand. For this, the primary concern they require is the competent and skilled representatives.
Motivation plays an imperative part in any organisation since it augments the productivity of employees and the objectives can be accomplished in a proficient way. The behaviour of employees can be altered through motivation in any organisation. From circumstances to circum-stances the level of motivation contrasts within an individual (Robbins; Judge & Sanghi, 2009). Motivation takes part in an imperative role for teachers because it accomplishes the objectives in a productive and efficient way. The motivation of employees is imperative since it enhances the abilities and learning of teachers and it specifically impacts the students' accomplishment (Wahyuni et al., 2014). If the teachers in schools don't have sufficient motivation, they are less able to meet the objectives which straightforwardly impact the students and the educational sys-tem.
Not many investigations had been directed in Bangladesh on employees in a secondary school. This research fundamentally emphasised on the performance of employees (Becker, L.M. 2014) of Ramchandrapur High School (R.R.K.H.S 2016) in the context of Bangladesh. The rationale of this research is that it might help to characterise and individualise the significance of motivation that has a solid effect on the profitability and performance of employees of Ramchandrapur High School (R.R.K.H.S 2016). This study may help to enhance the performance of the employees by motivational elements to improve the overall educational standard of the schools in secondary levels.
4: RESEARCH AIMS AND OBJECTIVES:
This research work was essentially carried out to analyse the impact of motivation on the performance of the employees in Ramchandrapur High School, Comilla, Bangladesh (R.R.K.H.S, 2016). To build up the research study (Creswell, J.W. 2014a) following objectives were recognised to support:
1. To critically review the theory of employee motivation as well as identify the significant issues which impact employee motivation in the educational sector focusing on Ramchandrapur High School.
2. To analyse the current employee performance of Ramchandrapur High School.
3. To examine the effect of motivation on employee performance based on Ramchandrapur High School.
4: To provide recommendations to Ramchandrapur High School based on the findings of the research.
5. RESEARCH QUESTIONS:
1. How does a secondary school like Ramchandrapur High School motivate their employees?
2. How does motivation affect the performance of employees of Ramchandrapur High School?
3. What are the relationships among motivation and performance of employees within a secondary school like Ramchandrapur High School?
6. SIGNIFICANCE OF THE STUDY:
Every organisation wants to overshadow its rivals providing quality service to its customers to sustain in the today's competitive market by its business sector or educational sector. To compete with the rest of the world, every educational institution needs to make out the best of their employees. For this, motivation is the key factor to inspire the employees to meet the objectives. It is not possible for any institution to achieve these objectives without motivating their employees. Motivation comes from the tasks they finish, the level of satisfaction, opportunities for the future progression, organisational environment and the colleagues (Kachalla, 2009). The aim is every segment in the educational system of Bangladesh would have a tremendous advantage from this study. The study concentrates more specifically on the performance of employees of Ramchandrapur High School through motivation.
7. RESEARCH STRUCTURE:
This research study is organised into seven different stages.
Chapter 1 – Introduction:
The impact of motivation on the performance of employees of Ramchandrapur High School is included in this chapter. This chapter also states the aims and objectives of the research study (Creswell, J.W. 2014b) along with research questions that are answered throughout the research. The significance of the study and rationale of the research are also included in this chapter.
Chapter 2 – Literature Review:
This chapter presents the findings of other research on the subject matter along with related definitions from a review of different kinds of literature (Creswell, J.W. & Clark, V.L.P. 2011). In this section past research work regarding the effect of motivation on employee performance is discussed.
Chapter 3 – Research Methodology:
This chapter of research study includes the use of different tools and technologies for undertaking an investigation (Dawson, D.C. 2013) on the subject matter. This chapter presents the methods used for collecting primary data and different techniques are used for analysing the data collected.
Chapter 4 - Data Analysis and Findings:
The presentation of data collected from different sources and its in-depth analysis of result obtained are studied in this chapter.
Chapter 5 - Conclusion:
The conclusion of the research is described in this chapter. This chapter highlights the actual results obtained by carrying out the research study.
Chapter 6 - Limitations of the Study:
This chapter includes different limitations of the research study. It highlights different causes that limit the scope of the research along with different factors that are responsible for the hindrance of the study.
Chapter 7 - Recommendations:
This final chapter intends in providing an appropriate solution that could help in enhancing the performance of employees.
2 REVIEW OF LITERATURE:
1: INTRODUCTION:
Related literature (Deci, E.L. 1972) by different researchers and analysts in regards to the diverse elements affecting the performance of employees in an organisation is reviewed in this chapter. The fundamental motivation behind literature is to be discovered including what has been done and the one that has been forgotten in this area of study. Various motivation and performance experts have focused on the key impact of motivation in any organisation and from this perspective of the specialists this literature was derived.
2: EMPLOYEE MOTIVATION:
Several types of research have been undertaken concerning this subject matter along with several theories. These were designed to illustrate their highly influential characteristics focusing on the motivational impact on the organisational behaviour. The lack of motivation within an organisation greatly affects the productivity (Skudiene & Auruskeviciene, 2012). An organisation needs to consider various forces like social, structural and personal forces when influencing their employees for the best output. The researchers show that the employees are highly satisfied when they are given challenging tasks. Therefore, when attempting towards enhancing employee motivation the satisfaction lies on gaining from the task itself (Devito et al., 2016). Nowadays when the boss gives certain optimistic appreciation to its subordinates, it is considered as a good sign for the whole team, and ultimately, they get motivated. Mostly, within an organisation people work as a family; so sometimes it may damage motivation as well as the morale of the employees. However, the employees are not always motivated by incentives, prizes, etc. along with other factors of extrinsic rewards (Mohamed Sherif & Prasetya, A. 2014).
Abbildung in dieser Leseprobe nicht enthalten
Figure: Employee Motivation Process (Nyameh et al., 2013)
The figure illustrates that any process commences due to tension within the needs of the employees. Then the research is carried out for satisfying his/her desires within groups, company and the individual himself.
To achieve the pre-determined goal of any organisation or institution by urging employees to work hard is called motivation (Baldoni, 2005a). The motive is the main impetus inside a person. Motivation is an urge to perform making individual act the way they need to do. Only motivated individuals are prepared to work hard; consequently, it increases their productivity and performance while meeting the organisational target. The employees should be motivated so that they take more interest as well as make significant efforts to carry out their duty productively (Devito et al., 2016). Like job security, training and salary, motivation is also a critical variable that can have a significant impact on the performance of employees and quality of service.
Motivation intends to encourage behavioural alteration. Motivation is used as an important force to empower an individual to meet specific objectives. Grant (2008), on his research on employee motivation, states that motivation helps to enhance profitability, execution, and constancy. Com-paring to highly motivated employees, less motivated employees are more arranged towards freedom and self-reliance along with more self-propelled impetus towards their job. Comparing to less motivated employees, employee responsibility towards their work also increases in case of highly motivated employees' (Guay et al., 2000).
The assortment of various models and theories relevant to motivation is more closely examined in the subject of organisational behaviour. According to Baldoni (2005), "Employee development creates a persuasive spark that explores the capacity of theirs". There is undeniable connectivity between employee motivation and their job satisfaction in addition to organisational responsibilities (Kachalla, 2009). Based on the nature of the organisation or business, motivation is the most important factor to achieve organisational goal and objectives.
3. EMPLOYEES' MOTIVATIONAL FACTORS:
While t alking about different factors enhancing employee motivation, money is considered as the strongest one as employees need to earn a respectable salary to live a quality and respectable life (Mumford, E. 1970). Financial rewards drive the individuals, who wish to fulfil their necessities to maintain a decent life and motivate themselves towards higher performance especially in the business related to the educational sector. But in the long run, good salary cannot help to increase productivity and money alone can't enhance efficiency (Aung, 2008). Focusing only on the satisfaction of monetary needs by organisational head might wane the employer's mentality in the long run as they seek only financial gain. So, it is important to think of another non-monetary component in the long run like rewards, performance feedbacks, praise, social acknowledgement and so on (Furnham & Argyle, 1998).
Several types of research have proved that rewards positively influence the employee performance leading to a job satisfaction. Among various tools used to motivate employees or group behaviour to improve organisational performance, motivation stands out the best.
As a tool to motivate employees and their performance most organisations today use to pay pro-motion, bonus, reward and another type of reward (Wahyuni et al., 2014). Salary is a great motivator, but if it is meant to be used as a motivator, the organisation or institution at first needs to develop a salary structure based on the significance, essentiality and productivity of the job, individual performance and special allowance.
Leadership can be used as another significant tool to motivate an employee, as leadership is about finishing the thing in a correct and progressive way. It is important to gain the trust of employees and make them follow their manager or instructor to meet the objectives. Moreover, if a leader wants to build his trust around the organisation and make the employees do their work appropriately, they need to be motivated (Baldoni, 2005b). There should be a reciprocal cooperation for each other between a leader and the employees to attain higher motivation and morality.
Trust is nothing but a perception of an individual about other individuals and his/her eagerness to coordinate based on a speech or to have firm belief with a decision. So, to succeed as an organization trust is another important factor as it helps to improve employees' motivation (Shanks, 2008).
No matter how technology has progressed in recent years, effectiveness of the staff is the key component to attain a high level of success. In this manner, development and implementation of employee training program is an essential strategy to motivate employees. Also, a great correspondence between the workforce and the manager can invigorate motivation as the number of uncertainty decreases (Graves et al., 2013).
4. MOTIVATIONAL PROCESS:
Acknowledgement of the unfinished needs is the beginning of motivation. Goals which satisfy these needs are then recognised and the most appropriate behavioural way is selected to fulfil these goals. Motivation process is diagrammatically presented below:
Abbildung in dieser Leseprobe nicht enthalten
Figure: Motivation Process (Vroom, 1985)
Motivation is separated into two categories. These are extrinsic and intrinsic. Amabile (1997) explains intrinsic and extrinsic motivation as follows:
1. Intrinsically motivated individuals look for pleasure, interest, fulfilment of interest, personal challenges to the work, etc.
2. Extrinsically motivated individuals took part in the work to attain definite goals, and the goals are separated from themselves.
Intrinsic motivation is mediated inside the individual whereas extrinsic motivation is mediated outside the individual in the form of money, verbal support and other elements (Deci1, 1972). Even if there is no evident reward, individuals are naturally motivated to perform any given task aside from the feelings which result from the action. Individuals can be either extrinsically or intrinsically motivated or both (Amabile, 1997).
The application of extrinsic and intrinsic motivator varies from person to person. Some people focus on intrinsic outcomes whereas other entered on extrinsic outcomes (Vroom, 1985). Intrinsically motivated individuals appear to incline towards exciting reasoning task and can direct themselves towards the practices deliberately hence offering rewards or setting external goals is a futile attempt unless they are similarly high on external motivation. Stress should be given preference as the appealing nature of the task and the reinforcement of self-set objectives and dead-lines for the workers having high intrinsic motivation. The similarity in work causes individual differences among the employees; they separate employees based on high and low need and growth power (Hackman & Oldham, 1976).
High skilled manpower is motivated by a job with high skill variety, the level of task, task identity and feedback. Less skilled individual are unaware of these factors as indicated by them. Furnham & Argyle (1998) bolstered this theory by pointing that those introverts are extrinsically motivated when extroverts are more intrinsically motivated. Even if it appears that individuals are diversely motivated, extrinsic and intrinsic motivation has a mutual influence on each other.
Relationship between extrinsic and intrinsic motivation:
The researcher argues that both extrinsic and intrinsic motivation affect each other in spite of the fact that distinction between extrinsic and intrinsic motivation is clear.
Deci1 (1972) claims that intrinsic motivation negatively affects extrinsic motivation i.e. extrinsic motivation diminishes intrinsic motivation. He further contends that if fiscal measures are not regulated contingently, intrinsic motivation diminishes. But if money is non-contingently disseminated, it won't happen. While responding to this discourse, Amabile (1997) expresses that al-though extrinsic and intrinsic motivation work divergently, on the contrary, it can have a supporting impact: "intrinsic motivation can prompt raised amount of satisfaction and performance once the scaffolding of extrinsic motivation is dealt with progressively." In her work, she additionally states that both extrinsic and intrinsic motivation excites the employees to do their job, but they have altogether distinct consequences on the employees.
Abbildung in dieser Leseprobe nicht enthalten
Figure: Relationship between Intrinsic and Extrinsic Motivation (Guay et al., 2000)
Employees can be both extrinsically and intrinsically motivated to perform a specific task (Amabile, 1997). Both motivation concepts strengthen each other, but sometimes intrinsic motivation is diminished by extrinsic motivator (Deci1, 1972). Besides, all individuals are not similarly motivated; few are motivated extrinsically, and other are motivated intrinsically (Furnham & Argyle, 1998).
2.5: EMPLOYEE PERFORMANCE:
There are specific goals for any organisation to achieve. Resources like machines, man, material and money are used to meet the objectives. Manpower is one of the essential ones out of these resources for any organisation (Aung, 2008). To meet organisational objectives, it can play a vital role. The way to utilise these resources efficiently and effectively by manpower is the pertinent question that arises during the organisational activity. The whole human resource management environment is evolving significantly. Variables relating to ecology are uncontainable. These ecological variables are beyond the control of the organisational capabilities (Lincoln, A. 2009). To achieve success, one needs to adjust with the external influences in the market. The natural component of culture, society, legality, politics, competition and technology often change quickly. If knowledge is inadequate, the plan fizzles out. It is the most difficult job to anticipate about anything in the current circumstances which makes it hard to predict the event that is going to happen tomorrow. To obtain the best result, the need for exceptionally talented and devoted manpower is felt. Human resource management in the educational sector these days are exceptionally aggressive, and there is ferocious rivalry amongst them these days. It is extremely tough to begin, survive, settle down and exceed calculated expectation for any organisation these days. The organisations having highly capable and skilled employees have a significant advantage over their rivals and can augment the productivity and richness better (Shanks, 2008). The committed manpower is the critical and vital elements for any organisation to excel. Close coordination between the employee performance and various jobs is required for overall success of the organisation (Lunenburg, 2011).
Abbildung in dieser Leseprobe nicht enthalten
Figure: Employee Performance
(Skudiene & Auruskeviciene, 2012)
The skills and abilities need to be effectively understood for the completion as well as of an up-to-date clarification of the productivity and longevity of the employment. The process of performance review normally takes place on an annual basis. However, it can be scheduled in further frequent manner. It highly depends upon the classification of the stuff by professional staff and contract labour. Some of the organisations attempt to judge analytically the performance of employees for increasing productivity (Stewart & Roth, 2007).
The performance of an employee is defined as what an employee can do through his ability and skills and what he can't do. The various factors are included in an employee performance like quality and amount of yield, closeness to work, healthy and accommodative nature, opportunities of yield, etc. There are mainly three classes for measuring the productivity of employees within an organisation. These are:
- Personnel Data.
- Production Counts.
- Judgmental methods.
There are certain limitations on the performance of employee which are mentioned below:
- Lack of proper skills and equipment.
- Inadequate working environment.
- Non-attendance of the core human resources.
- Ambivalent performance standards or objectives.
- Inadequate statement in an organisation.
Organisational performance is an indication of the ability of an organisation to efficiently attain independent objectives (Venkatraman & Ramanujam, 1996). The level of efficiency through the performance of employees is one of the major components that is assessable. There is so much research work carried out to propose different techniques to measure organisational performance. All these work focus especially on integrating the quantity, quality, creativity and individual knowledge towards the accomplished task which are confirms the role of responsibility during a precise period.
Review of Related Studies:
Shahzadi et al. (2014) in her research "Impact of Motivation on Employee Performance" in government and private schools of Pakistan uses regression analysis to find the impact of motivation on the performance of employees. They included four variables in their study: Employee motivation, employee performance, intrinsic rewards and employee perceived training effectiveness.
Abbildung in dieser Leseprobe nicht enthalten
Table: Regression result of the study. (Shahzadi et al., 2014)
The result of this research shows that it is very significant to have positive relationship between employee performance and motivation. From the above table it is clear that the effect of intrinsic reward on employee motivation and employee performance is positive and significant. This study further concludes that employee perceived training has a negative relationship with employee motivation. It is explicitly proved from this research work the teachers are provided training, but this training was not routinely implemented in their teaching hence the trainings provided are not found effective as confirmed from the regression result. There is a negative relationship between employee's perceived training and employee motivation with (Beta=-0.003) and (p<0.01). Training effectiveness contributes more than three per cent of employee motivation according to this study and H4 is not validated by the result. This research study also identifies other variables which are excluded in this study for future research such as personal and demo-graphic characteristics, goal achievement needs and abilities to study employee motivation.
IJAME (2012) in the study, "Effect of Motivation on Employee performance In Public Middle-Level Technical Training Institution in Kenya" tried to establish the relationship between the effect of motivation and performance of employees in the Public Middle-Level Technical Training Institutions in Kenya. They use descriptive design to conduct the research study and take a sample size of three hundred and fifteen administrators of the institutions including the head of the department, teaching and non-teaching staff. They use Likert scale (Wuensch, 2005) questions to collect the data from the respondents, but they followed interview strategy to collect data from the administrators and the head of the department. To study what motivates employees they used two content theories and to study the concern regarding the psychological and behavioural process in motivating individuals they used process theories.
Abbildung in dieser Leseprobe nicht enthalten
Table: Correlation between motivation (independent variable) and employee performance (dependent variable) (IJAME, 2012)
They used correlation analysis to know the impact of motivation on employee performance. As shown in the table above, there is a weak positive correlation between employee performance and motivation which was statistically significant r (285) =0205, p<0.05. It shows that when motivation increases, employee performance increases.
Abbildung in dieser Leseprobe nicht enthalten
Table: ANOVA Results (IJAME, 2012)
The result from ANOVA analysis (ANOVA 2016) regarding the motivation of employees identifies that there is no significant difference in motivational factors as the calculated value F (3, 283) =3.007 is less than the tabulated value 0.31.
In conclusion, their study found that employees today are not satisfied with their workplace environment and the salary pay they are provided with. Since this work was conducted in just one country, the result identified from here can't be generalised else.
Richard (2014) in his study "The Effect of Motivation On Employees' Performance: Empirical Evidence From The Brong Ahafo Education Directorate" tried to determine the effect of motivation on employees, to determine the employees' performance, to assess the effect of motivation on employees and to identify the factors affecting motivation of employees in Asunafo North Municipal Education Directorate.
He tried to use mixed approach for this study. He used both questionnaire and interviews method for the collection of the data and for content analysis they used qualitative aspect. The major motivational factors found by them are the promotion and prospect for further advancement in their careers.
This study further revealed that their motivational level is low in the area of wages, bonuses and salaries. Out of all the industries in Ghana, educational sector turns out to be the worst regarding providing sufficient salaries and wages.
He concluded that work appreciation, advancement in work, handsome salary, promotion and other various factors are the mainstay responsible for increasing their motivation (Shanks, 2008). This is mainly due to the number of young and energetic employees in the job than the old employees who near the retirement age and doesn't seek any motivational factor. From his study, it was also concluded that not only opportunity for advancement, promotion and good relations among co-workers lead to the satisfaction of their needs but also the amount of salary they receive, working conditions, relationship with superiors, etc. can lead to a major dissatisfaction for them (Srivastava, 2008). He also concluded that qualification, experience, compensation package, sense of job security, etc. when to combine with favourable motivational factors could significantly affect their work performance and vice versa. It is concluded that there is a relationship between performance and motivation, and motivation seriously impacts the employees' performance within an organisation.
2.6: THEORETICAL LITERATURE REVIEW:
2.6.1: MARS MODEL:
Singular behaviour is an outcome of any interior and exterior elements, and it is clarified by MARS model (Devito et al., 2016 ) There are four central points affecting the performance of the employees in an organisation, and the acronym of those points used to build the name of the model namely Motivation, Abilities, Role Discernment and Situational Factors (MARS) (Devito et al., 2016). The factors like individual values, identity, recognition, states of mind and stretch shape a premise where the elements are associated.
Abbildung in dieser Leseprobe nicht enthalten
Figure: MARS model of individual behaviour (Lăzăroiu, 2015)
In any organisation, these factors are exceptionally interrelated. The behaviour of the employees will be influenced and affected unless the majority of the needs pointed out by MARS model (Devito et al., 2016) is not fulfilled. For example, in the absence of satisfactory and adequate as-sets, even the highly energetic and highly motivated employee who is highly skilled and can comprehend the employment obligation well, won't have the capacity to perform their job well (Hackman & Oldham, 1976).
2.6.2: MASLOW'S HIERARCHY OF NEEDS THEORY:
Inside each person, there are five needs in the pecking order and before any individual seeks the next larger level of needs there exists a pecking order of five needs to be fulfilled inside each person (Maslow, 2001). The five exclusive needs which motivate an individual as pointed out by Maslow (Maslow, 2001) are as follows:
Physiological Needs:
These are related to basic needs of a person. It comprises the driving force. This need causes a physiological tension that is shown by any behaviour of the body. Maslow stated that when an individual fulfils physiological needs, it moves up towards next level (Maslow, 2001).
Safety Needs:
These are the needs for protection and shelter. Here, an individual needs focus on stability, de-pendency, and security. This need is also known as security needs. Nowadays, the organization provides a plan of health and safety, emergency fund, as well as benefits of accident cover.
Belonging Needs:
It is also called social needs. It encompasses belongings and love. Such needs could be fulfilled through interaction with colleagues and co-workers to illustrate, friendship, feelings, caring of relative and family, etc.
Esteem Needs:
It is called as egoistic needs. Here, a person needs self-respect. An individual needs prestige, reputation, fame, status, glory, etc. The needs of esteem are hard to satisfy in a certain organisation.
Self-actualisation Needs:
This is regarded as the highest need. An individual wants a state of self-development along with self-realisation, and he/she also desires to be capable of doing something individually. Fact acceptance, creativity, morality, lack of prejudice, spontaneity, etc. are examples of the self-actualisation needs.
[...]
Details
Pages

110

Year

2016

ISBN (eBook)

9783668540880

File size

2.3 MB

Language

English

Catalog Number

v376007

Grade

Merit

Tags