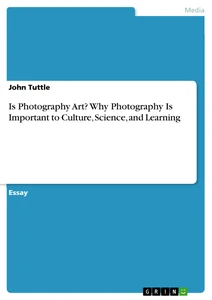 Is Photography Art? Why Photography Is Important to Culture, Science, and Learning
Essay 2017 7 Pages
Summary
Photography itself is by no means a new technology. One of the earliest forms of a successful photographic camera was first used in 1816. Since then, the art and science of photography have evolved and matured. The invention of photography allowed detailed pictures of anything to be produced quickly for the first time, and the revolutionary invention would lead to the development of movies. The rise of the digital age has given birth to dozens of new types of photography, such as thermal, infrared, HDR, and 360 degree panoramic.

Today there is a greater need for portraits, cityscapes, and travel shots. Photos of all genres are daily put to use the world over in businesses, presentations, marketing, Google maps, and nearly every kind of visual media. Professional photographers still sometimes use analog cameras in addition to or in the place of digital devices. Nowadays, however, almost everyone in America is an amateur photographer on a daily basis. Anyone is capable of taking a picture or a video via his or her lightweight mobile phone. This fact and the overuse of photos in the media and especially on the Internet has led to controversy over the distinguished true art of photography.

The question if photography is to be considered "art" is one that has since long kept the art world busy. This essay covers a number of reasons why modern photography, as well as photography from the past, is an art, a science, a skill, a hobby, and a job all at once. It discusses why photography is vital in so many scientific fields and why it is crucial in our culture and in teaching future generations.

A closer look is taken at different aspects throughout the history and in the modern use and perception of photography, arguing for the importance of photograogy as an art and science form.
Details
Pages

7

Year

2017

ISBN (eBook)

9783668528307

ISBN (Book)

9783668528314

File size

377 KB

Language

English

Catalog Number

v375889

Grade

1.2

Tags