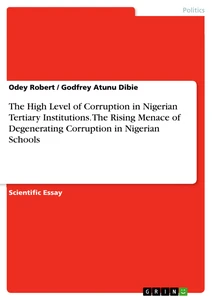 The High Level of Corruption in Nigerian Tertiary Institutions. The Rising Menace of Degenerating Corruption in Nigerian Schools
Scientific Essay 2017 18 Pages
Summary
Corruption permeates all facets of the Nigerian society. It degenerates and permeates every sector in Nigeria, because those who are in the right place to help get rid of it are themselves the most corrupt. They are politicians, elites and the bourgeoisie, who have institutionalised corruption.

This study appraises the level of corruption that obtains in Nigerian tertiary institutions, which continuously degenerates across times, as it seems to have defied practical solutions. That is, it aims to ascertain the level of corruption in these institutions. It relates the corruption obtained in tertiary institutions to that of the Nigerian polity, from where it sprang to the institutions. It conceptualises corruption, along with the conceptions of several other scholars. It makes distinction between elitist (institutionalised/formalised) corruption and that of the common masses, a derivation and minor/micro-phase of the former. The study thus interrogates the inefficacy of the various anti-corruption crusades and programmes of the various Nigerian governments, both military regime and civilian dispensation alike. The effects of corruption on Nigeria and Nigerians also constitute its scope. It attempts a trace of corruption, which it asserts to have risen during the colonial era. It also tells why corruption permeates Nigerian tertiary institutions, and why it degenerates in the institutions as well as other sectors of the country.

Being a position paper, it involves text-content analysis, qualitative approach, intuition and the non-participant observation. Its offered recommendations include ensuring of good leadership; the evolving and imbibing of the multi-dimensional syndromes of ethics; strong and operational legislations and penalties against all categories of offenders without sparing any sacred cows; and attitudinal change by both government and the citizenry are the panacea.
Details
Pages

18

Year

2017

ISBN (eBook)

9783668534766

ISBN (Book)

9783668534773

File size

550 KB

Language

English

Catalog Number

v375879

Grade

A1

Tags