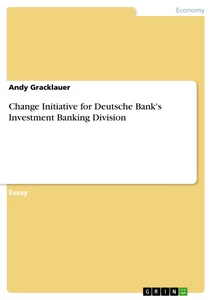 Summary
This essay focuses on the investment banking division of Deutsche Bank as a case study, whereby two of HBR's highly esteemed models for change management are applied to the real-world banking scenario.

With the appearance of fintech companies and startups, the investment banking sectors of all major banks face significant change. In order to cope with this challenge, the urgent need is to implement new and innovative change initiatives by the respective bank.

The following initiative deals with the real live case study of a change initiative planned for the investment banking division of Deutsche Bank. The change programme is based on Kotter's eight steps model to transforming an organisation as well as Beer and Nohria's theory that focusses on cracking the code of change. Both approaches are aiming to find a suitable solution towards the urgent need of implementing change in the given business sector.

As technology and artificial intelligence is on the rise in an already developed 'new economy' a major change within the banking sector has already begun. One has to realise that the upcoming technological achievements, especially sophisticated algorithms for trading programs, might unlock the potential to overthrow the whole banking industry. Therefore, Deutsche Bank has to be prepared for the changes to come and the disturbing challenges those changes potentially bring for the employees of affected divisions. The task field of investment banking recently faced new ideas like 'crowdfunding' and 'marketing automation' to appear on the market and became dangerous competitors whose impact cannot yet be fully assessed. This means that Deutsche Bank has to dramatically overhaul its investment banking business while implementing a number of change initiatives to stay competitive in a global environment that is characterised as volatile, uncertain, complex, and ambiguous. In such a world, steady and drastic change is seen as a normality in which every person and especially industries are under the pressure to adapt in order to succeed. In order to implement change most efficiently at Deutsche Bank's investment banking division, the two selected change management frameworks and theories help to understand the circumstances in which the whole process is imbedded.
Details
Pages

10

Year

2017

ISBN (eBook)

9783668534605

ISBN (Book)

9783668534612

File size

427 KB

Language

English

Catalog Number

v375811

Institution / College

University of Aberdeen

Grade

A

Tags