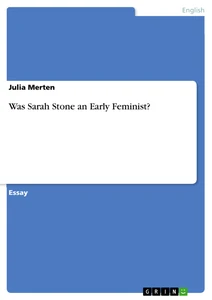 Was Sarah Stone an Early Feminist?
Essay 2016 6 Pages
Summary
This essay is an explanation on why the British midwife Sarah Stone from the 18th century can be considered as an early feminist. Sarah Stone was a midwife in the eighteenth century England.

By being married to an apothecary she had access to several works of medicine, which enabled her education by reading. She was trained in the practice of midwifery by her mother Mrs. Holmes who taught her in Somerset the exercise for six years.

Furthermore - unusually for a woman at that time - she was given the opportunity to study anatomy and be present at autopsies. Stone started practicing midwifery actively in 1701 in the town of Bridgewater. She then moved to Taunton in 1703 and practiced there for 16 years before moving to Bristol in 1719 and finally to London in 1737, the same year her work A Complete Practice of Midwifery was published. By that time she has been a midwife for 36 years.