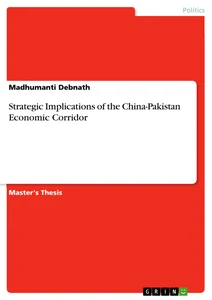 Strategic Implications of the China-Pakistan Economic Corridor
Master's Thesis 2016 119 Pages
Excerpt
Table of Contents
Title Page
Declaration
Abstract
Introduction
Chapter
Research Methodology
Literature Review
Chapter
One Belt One Road: The Significance and the Scope of the Initiative
Topographical Framework of the Belt Road Initiative
Immediate Benefits of the One Belt One Road Initiative
Chapter
The Concept of Economic Corridor
China-Pakistan Economic Corridor – Taking Stock of the Range of Projects under the Initiative and the Scope of the Undertaking
Chapter
Analysis of the Strategic Implications of and Challenges to the CPEC, in the Context of the OBOR
The Reactions of Regional and International Actors
Discussion - Why is the CPEC indispensable for OBOR's Success?
Conclusion
Bibliography
Appendix
Abstract/ Zusammenfassung
In recent times Chinese foreign policy has transformed considerably and it is apparent that China now aims to reinvent its global image and also step-up its clout and impact at the international level. It also aims to give rise to an economic order that serves Chinese interests, something that China cannot expect from the largely Western-dominated institutions. The establishment of the Asian Infrastructure Investment Bank (AIIB) was a decisive step in this direction. In a broader sense, this can be related to China's ambitious "One Belt One Road" (OBOR) initiative which envisages the revival of the erstwhile Silk Road through two major projects- A Silk Road Economic Belt and a 21st Century Maritime Silk Road. In April 2015, President Xi Jinping announced 46-billion-dollar investment plans in Pakistan in the shape of the China-Pakistan Economic Corridor (CPEC) which will connect the Chinese city of Kashgar to the strategically located Gwadar Port in Pakistan. This was conceived as a part of the OBOR initiative. Though a daunting undertaking, the successful completion of this project would result in unparalleled economic and strategic gains for both the parties involved. Also, the increased cooperation between these two neighbors engenders major ramifications for the foreign relations of both the countries. This thesis attempts to take a closer look at the CPEC and expound the strategic implications of the project for both China and Pakistan.
In der letzten Zeit hat die chinesische Außenpolitik erheblich verändert und es ist offensichtlich, dass China will nun auch sein globales Bild neu zu erfinden und auch ihren Einfluss und Auswirkungen auf internationaler Ebene Step-up. Ziel ist es, auch zu einer Wirtschaftsordnung zu geben, die chinesischen Interessen dient, etwas, das China nicht von den weitgehend westlich dominierten Institutionen erwarten. Die Gründung der Asian Infrastructure Investment Bank (AIIB) war ein entscheidender Schritt in diese Richtung. Im weiteren Sinne kann dies zu Chinas ehrgeizige "One Belt One Road" (OBOR) Initiative, die die Wiederbelebung der ehemaligen Seidenstraße durch zwei große Projekten- A Silk Road Economic Belt und des 21. Jahrhunderts Maritime Silk Road sieht in Beziehung gesetzt werden. Im April 2015 kündigte Präsident Xi Jinping 46-Milliarden-Dollar-Investitionspläne in Pakistan in der Form des China-Pakistan Economic Corridor (CPEC), die die chinesische Stadt Kashgar zum strategisch Gwadar Hafen in Pakistan verbinden wird. Dies wurde als Teil des OBOR Initiative konzipiert. Obwohl eine gewaltige Verpflichtung, den erfolgreichen Abschluss dieses Projekts würde in beispiellos wirtschaftlichen und strategischen Vorteile für beide Beteiligten. Auch erzeugt die verstärkte Zusammenarbeit zwischen diesen beiden Nachbarn erhebliche Auswirkungen für die auswärtigen Beziehungen der beiden Länder. Diese These versucht, einen genaueren Blick auf die CPEC zu nehmen und die strategischen Auswirkungen des Projekts für China und Pakistan auslegen.
Thesis Overview
This thesis has been divided into 4 separate chapters. A brief introduction is followed by the first chapter which delineates the research methodology adopted and then provides an extensive literature review. The second chapter examines the significance and scope of the OBOR. Chapter 3 takes an in-depth look at the CPEC project and provides a detailed description of the various projects being implemented. Chapter 4 analyzes the implications and challenges associated with the CPEC and also the OBOR, ending with the discussion section. Then the thesis ends with a brief conclusion section leading to the bibliography.
Introduction
The President of the People's Republic of China (PRC), Xi Jinping, reiterated the oft-repeated expression to describe the China-Pakistan friendship - "higher than mountains, deeper than oceans and sweeter than honey", before visiting Pakistan to deliver the compelling speech titled "Building a China-Pakistan Community of Shared Destiny to Pursue Closer Win-Win Cooperation", which ultimately lay the foundation of enhanced collaboration between the two countries described by Xi as an "all-weather strategic cooperative partnership" ("President Xi Jinping," 2015; Boone, 2015). China plans on investing $46billion to develop a network of railways, roadways and pipelines running between Gwadar in Pakistan and the Xinjiang province of China, known as the China-Pakistan Economic Corridor (CPEC), a segment of the broader One Belt One Road (OBOR) initiative, which might very well transform Pakistan into a key economic node in the region and enable China to regulate maritime trade routes and connect more effectively with Central Asia, thereby giving rise to the win-win cooperation that Xi's foreign policy envisaged for the two countries (M. llyas Khan, 2015).
The aim of this thesis is to study the changing relationship between China and Pakistan, in light of the CPEC and to analyze the strategic significance of the project both, in terms of the two countries involved in the initiative, as well as in terms of the other actors in the region, as also internationally, who have a stake in the OBOR or will be directly or indirectly affected by the success or failure of the CPEC and OBOR.
There are many challenges which might obstruct the successful completion of this ambitious project, ranging from security issues in the areas which the corridor will encompass to logistical and infrastructural difficulties stemming from the often rough and inaccessible terrains in the stretch where the corridor is supposed to operate. The international community has expressed concerns over the geo-strategic implications of the initiative, arguing that the OBOR appears to be a forceful attempt by China to establish its global ascendency while the CPEC is an instrument for enabling Pakistan to act as a counter-balance to the growing preponderance of India in South Asia. Against this background, it will be very interesting to examine the details of the project and to trace its progress thus far to predict the future trajectory of the relationship between the two neighbors and the relative benefits that they stand to gain from the success of the project.
CHAPTER 1 Research Methodology
The general purpose of this thesis is to investigate the details of the CPEC project as available through various sources to assess the impact of the project on the major actors involved and also to track the policy imperatives which drove the two countries to pursue such heightened levels of cooperation. The impact being referred to here is manifold – economic, security-related, geo-political, geo-strategic, and so on. Keeping that in mind, the qualitative methodology was deemed as the most appropriate research approach to address the aim of this thesis, which could help to comprehensively assemble, describe and analyze the processes, various new developments and the ever-changing scenario in terms of the CPEC.
According to Silverman (2013), many of the techniques used in quantitative methodology may not be appropriate for understanding certain types of social manifestations and in such cases, a qualitative approach is often more helpful for providing a more detailed and extensive interpretation. The most significant difference between the quantitative and qualitative methods is the flexibility factor – qualitative methodology allows a considerable amount of flexibility during research as it permits the researcher to accommodate various shifts in terms of data collection and the research questions, in light of new information, which is not possible with quantitative analysis (Mack, Woodsong, Macqueen, Guest, & Namey, 2005). Since the phenomenon being researched in this particular case is a developing project which has not yet attained fruition, the flexibility factor emerged as a major advantage while conducting research.
The analytical approach used for research is inductive, rather than deductive, aiming to answer specific research questions as opposed to proving a hypothesis. According to Saunders, Lewis, & Thornhill (2009), the inductive approach is usually suitable if the research being conducted pertains to an "exploratory project" which generates ideas relevant to the specific setting and circumstances of the current research and can be consequently utilized for further work in the field.
To be more specific, the research process used in this thesis may be characterized as descriptive-analytical whereby both, primary and secondary sources have been used to - first, elucidate the theoretical underpinnings to explain the origin of the project, describe the details of the project, trace the framework or outline being followed and the portion of work that has already been completed. Second, a detailed analysis has been presented in an attempt to make a critical evaluation of the information already collected, to answer the research questions. The sources used include interviews of researchers and academics with considerable knowledge about the topic, articles in newspapers or magazines, books, articles from scholarly journals, blog posts and other types of online resources. In terms of tertiary sources, information from online encyclopedia have been used to define certain concepts.
A major limitation in the research process has been the lack of primary sources and an overwhelming reliance on newspaper articles, though the very nature of the topic engendered this problem, an issue which was anticipated even before the beginning of research. Sorting through the information gathered from newspapers or magazines while trying to maintain an unbiased and objective outlook was very challenging, throughout the research process.
Literature Review
Beyond a certain level, Sino-Pak relations appeared to be rather limited in terms of trade and economic ties, but, a few years back, the process of achieving enhanced cooperation was accelerated and the CPEC can be seen as the culmination of this gradually growing association. While the nature of this relationship will be discussed at a later stage, it is very important to discern the specific international atmosphere which prompted China to design the OBOR scheme and designate such a significant role to Pakistan in terms of the entire strategy. Therefore, it is pertinent to trace those elements in China's foreign policy which might, directly or indirectly, guide this enquiry and shed some light on China's motivations for embarking upon this path. Keeping in mind that the initiation of the CPEC is largely a fallout of PRC's larger foreign and domestic policy requisites, the literature review will focus on PRC's policy imperatives which compelled them to initiate the monolithic OBOR project and so, any theoretical enquiry into the foreign policy imperatives of Pakistan is beyond the scope of this literature review. The international opinion about China's foreign policy is widely variegated and contradictory. A brief look at China's Independent Foreign Policy of Peace (2003), may lead to the assumption that it is a straightforward matter. But, in a constantly evolving world-order, nothing is as simple as it seems, a fact that the following review will certainly establish. The strategy which essentially emulates the Five Principles of Peaceful Co-Existence viz., "mutual respect for territorial integrity and sovereignty, mutual non-aggression, non-interference in each other's internal affairs, equality and mutual benefit, and peaceful coexistence" ("China's Independent Foreign Policy of Peace," 2003, para. 6), aims at safeguarding China's "independence, state sovereignty and territorial integrity, to create a favorable international environment for the reform and opening to the outside world and for the modernization drive, to maintain world peace and promote common development" ("China's Independent Foreign Policy of Peace," 2003, para. 1).
This review will be divided into three parts. The first part will look at some contesting theories of international relations which can, at varying degrees, be utilized to understand how China's past and present foreign policies have taken shape. The second part will shed some light on China's regionalization policy and the third section will examine certain relevant geo-strategic/geo-political theories which can be applied for adequately understanding the strategic foundation of OBOR.
An Enquiry into the Theoretical Foundation of China's Foreign Policy
This section of the literature review will assess three distinct theoretical paradigms in an effort to understand the compulsions which drive Chinese actions in the international arena, starting with the realist perspective.
Morgenthau's "Politics among Nations, the struggle for Power and Peace" is usually seen as the guide book for classical realist theory and even though many of the assumptions of classical realism can provide some sort of direction to the following discussion, it will majorly focus on the neo-realist theory as elucidated by Kenneth Waltz. Neo realism, as a system level approach to the study of international politics, was first conceptualized by Kenneth Waltz. Two very important neo realist concepts of relevance to this review are structure and anarchy. According to Waltz (1979), the structure of a system can provide some kind of a justification for certain behaviors and outcomes. He then proceeds to delineate two important connotations of the term "structure" – first, as most political scientists see it, structure denotes a leveling machine which produces largely invariable results in spite of receiving varying inputs. Waltz considers them to be agents or agency rather than actual structures. In the second sense, structure means a "set of constraining conditions" (Waltz, 1979, p. 73). So, in this sense, structures do not act like agents, instead they influence the actions performed by agents and agencies. Therefore, structure does not directly have an impact on behaviors and outcomes, but they do it in two other noteworthy ways, according to Waltz (1979), "through socialization of the actors and through competition among them" (p.74). However, even though international politics appears to be marked by a distinct absence of "order" and "organization" and the terms structure and anarchy seem to be at odds with each other, Waltz (1979) claims that the organizing principle of the international system is anarchy whereby the term anarchy does not have a negative connotation, instead it just indicates the absence of any over-arching global governing body, conversely, the domestic systems are described as "centralized" and "hierarchical". Thus, Waltz (1979) believes that sovereign states, as primary international actors, constitute the integral units which taken together form the international system because they have legitimate authorities which have the capability to use force, as opposed to other non-state actors. Unlike the individual states, since there is no legitimate authority governing and monitoring the international system, this space is usually marked by ceaseless distress and uncertainty (Waltz, 1979, pp. 88-93). Waltz calls it a realm of self-help where the absence of an enforcer leaves the states open to attacks and they are generally left to their own devices to deal with such eventualities and survive (Kleiser, 2003). Another aspect that must be mentioned here is the point of capabilities. Waltz says that capabilities are disseminated among states as ordained by the system and that the system is not always competitive and those who have acquired more capabilities and emerged as major players determine the conditions by which all the others must abide (Kleiser, 2003). According to Roy (1998), under such circumstances, the states, to ensure their survival, will not be willing to cooperate with one another in case their rivals achieve a relative gain from such collaboration. When it comes to the specific case of China, it apparently seems to fit in very accurately into the realist world view of Waltz whereby it historically appears to have been operating solely based on self-serving motives which express a fierce need to protect its sovereignty. Morals and ethics mostly seem to take a back-seat in its relentless pursuit of self-interest. It appears that on the one hand they want to "take over from the United States as the world's greatest military power" (Callahan, 2013, p. 26), a point most explicitly illustrated by the extensive military expansion undertaken by them. While alternatively, they want to counter the US efforts under Obama to 'rebalance to Asia'[1] by extending their sphere of influence through the undertaking of the ambitious OBOR, of which the CPEC is a significant part (Zhu, 2015). In terms of military expansion, an important strain of neo-realism, offensive-realism by John Mearsheimer, can best explain China's motivations. Offensive-realism differs from Waltz's brand of realism because it focuses more on the power-maximizing behavior of international actors to warrant security, rather than accepting Waltz's claim that states are security-maximizers and they do this by trying to establish a sort of balance-of-power (Steinsson, 2014). So, according to this theory, it is not really easy to discern if China wishes to use its military capability for defensive purposes alone and the same applies to the other potential hegemon – USA and so China is trying to maximize its power to compete with USA and establish itself as a hegemon in the region (Mearsheimer, 2001). According to the Stockholm International Peace Research Institute (SIPRI), China has seen a remarkable escalation in military expenditure during the period 2003–2012 when it increased by 175 per cent (as cited in Hudda, 2015, p.1). In fact, SIPRI also found that "military expenditure in Asia and Oceania rose by 5 per cent in 2014, reaching $439billion. The rise can primarily be explained by a 9.7% increase by China, which spent an estimated $216billion" ("SIPRI," 2015). Additionally, according to appraisals published by The Economist in 2012, if the current situation persists, China's military spending could surpass USA's after 2035 (as cited in Hudda, 2015, p. 2). Even though the latest reports suggest that the rise in China's armed forces budget is the lowest in six years, but even then the 7.6% increase is greater than China's economic growth objective between 6.5% and 7%, which implies the preeminence of military spending for the country. The military expenditure would be 954.4 billion yuan ($146.3billion), according to a budget report released on 2nd March, 2016, which also mentioned that the government's overall spending would increase by 7% (Page, 2016). One of the major catalysts that encourages China to put so much emphasis on its military expansion is the Taiwan issue. China's approach was fundamentally born out of the fear of cross-Strait armed conflict in which they would have to not only face off against Taiwan, but also deal with a perceived threat of American intervention, the 2005 Taiwan Anti-Secession law is another indication of China's anxiety regarding this issue (Jiechi, 2012). Thus, it appears that a neo-realist understanding of China's policy in this case would claim that it has gained considerable amount of clout vis-a-vis its global competitors and neighbors, allowing it to follow a more ruthless and demanding course of action, as opposed to the 1980s, when it was compelled to make serval compromises to be a part of international regimes, to fit in with the world public opinion and to accommodate super power pressures (Roy, 1998, p.230). Now, coming to the OBOR initiative and its financial support system – the Asian Infrastructure Investment Bank (AIIB) – The AIIB will commence with an approved capital of $50billion, which will gradually go up to as much as $100billion with a scheme of $1.4trillion further investment towards the OBOR, also, the AIIB and OBOR will not only facilitate economic exchanges in the region, but they will substantially expedite the movement of goods, services, and people across borders (Zhu, 2015). Even though the Chinese leadership wants to project their image as a 'responsible global power' through the undertaking of such a 'non-military and non-coercive' policy (Zhu, 2015, para. 2), from the realist perspective, China's expanding influence may be seen as the emergence of a revisionist stance to pose a challenge to the US hegemony. In fact, "the expectation is that an economically more powerful China will succumb to the structural realities of the system and seek to change the balance of power in its favor" (Currier & Dorraj, 2009, p. 165).
Since neo-realism can only provide a limited understanding of the Chinese policy, it is important to consider some other theories of international relations. In this case, one paradigm that can be very useful is the whole range of theories which together constitute liberalism and more specifically, neoliberal-institutionalism. Liberalism lets us understand the modernization of Chinese foreign policy and the resultant ability of China to discard its traditional approach towards balance of power and sovereignty. Gradually, China has established global and regional economic linkages by following a largely neoliberal-institutionalist model to augment its growth, by being a part of several international institutions like the World Trade Organization and the Association of Southeast Asian Nations (ASEAN)+3 forum, while alleviating the security issues in the region (Goldingay, 2016). However, before any in-depth review in this direction, there is a need to briefly consider the significant changes originating at the policy-making level of the PRC which finally led towards a revival of China's economy and a complete transformation of its global image. One important event in this regard involved the social and economic reforms brought about by the so called 'second revolution' under the leadership of Deng Xiaoping at the Third Plenary Session of the 11 t h Central Committee of the CPC held in late 1978, which helped breathe back life into the dying economy of the country by opening it up to the world. According to Hays (2008), Deng asserted that these reforms were not inspired by capitalist market principles but, instead, they could be seen as the advent of 'Socialism with Chinese characteristics' (para. 1). This strategy was initially popular as the household responsibility system and it resulted in the persistent growth of the Chinese economy over an extensive period (Hays, 2008). This can be seen as the beginning of the shift in Chinese foreign policy from a realist orientation towards a more liberal leaning. According to Roy (1998), the Liberal theory of international trade suggests that states want to cooperate with each other to achieve their developmental goals and this leads to economic interdependence which makes it difficult for states to indulge in conflict situations as they do not want to jeopardize this balance. Therefore, they become more mindful of international rules and laws. Thus, the reforms of 1979 which aimed at attracting foreign investment, enhance exports, and the acquisition of high technology products, brought China one step closer towards integration with the international system, thereby making it a responsible part of that system ("China Overview of economy," n.d.).
Robert Keohane (1989) has illustrated an encouraging scenario in his brand of neoliberal-institutionalism which is driven by the key idea that the conduct of states is greatly impacted by the divergences in the prevalent institutional provisions at the global level. Neoliberal-institutionalists agree with the realists about the state of the international system being a state of anarchy and that the states, as key actors in the international arena, operate on the basis of self-interest, but Keohane is of the opinion that unlike realists, they put a great amount of emphasis on the formal and informal rules and laws (Keohane, 1989). Thus, Keohane (1989) believes that it is possible to moderate and regulate the behavior of states and minimize the likelihood of any kind of resort to conflict by developing a web of interlinked rules and regulations at the global level. International regimes fortify reciprocity between states and therefore make it easier to hold the renegades accountable (Hempson-jones, 2005). Roy (1998) opines that we can increasingly observe such a liberal and neoliberal-institutionalist disposition in China's foreign policy, especially if we take a closer look at its attempts to placate the global community when it came under fire facing allegations of gross human rights violations and its lack of success in preserving intellectual copyrights. To further boost its favorable image in the eyes of the international community, China has assumed a stricter stance towards many states, while simultaneously pursuing a durable economic relationship with them. Currier & Dorraj (2009) observed this tendency in China's support for actions like sterner sanctions against Iran due to its burgeoning nuclear program or its endeavor to control its level of engagement with Saudi Arabia to avoid enraging USA. Also, in a move which is very antithetical to the realist stance, China has endeavored to demonstrate its solidarity and good-intentions towards the world community by considerably increasing its contributions towards UN Peacekeeping missions. Till 2000, China contributed lesser than 100 peacekeepers, but since 2000, there has been a sudden and phenomenal 20-fold rise in its deployments (Bates & Huang, 2009). As of December 31st 2015, China is the 8th largest contributor to UN Peacekeeping missions when it comes to Police, UN Military Experts on Mission and Troops ("UN Peacekeeping," 2015). Approximately three-quarters of China's assistance is focused in Africa, and China plans on intensifying its deployment efforts in such conflict ridden areas like the Democratic Republic of the Congo, Haiti, Liberia and Sudan (Bates & Huang, 2009). Not only that, China is also an effective member in a variety of international and regional organizations like the G20, The Asia Pacific Economic Cooperation (APEC), The United Nations Security Council, the Shanghai Cooperative Organization (SCO)and The BRICS (Brazil, Russia, India, China and South Africa) mechanism (Hudda, 2015). However, no matter how convincing these liberal rationalizations may sound, there is need to exercise considerable caution regarding China's ambitions since they can just as easily adopt a more aggressive stance if they feel like they are being cornered. Case in point being the dispute between China and the Philippines over the South China Sea which compelled the Philippines to seek international arbitration which was not accepted by China. According to a report by China's state-run news agency Xinhua (" South China Sea," 2016), the Philippines was encouraged to do so due to "outside instigation" by which they obviously meant the US. It also unequivocally states that China has sovereign rights over the South China Sea area and that the action of the Philippines "run counter to bilateral commitments, the Declaration on the Conduct of Parties in the South China Sea and international practices" ("South China Sea," 2016, para. 6).
The previous section makes it clear that neo-liberalism is incapable of providing a comprehensive framework to assess China's foreign policy, but, before the next theory is introduced, it is important to settle the dispute as to whether China is a revisionist state or a status quo state. To bring this debate into the perspective of the present topic, it is important to determine the parameters of both these terms and to grasp their exact meaning. According to Johnston (2003) there is a lot of scholarly ambiguity regarding the definition of these terms. Johnston refers to Gilpin's analysis of the necessary criteria for being considered as either revisionist or status-quo as a suitable measure whereby he prescribes three conditions - the distribution of power, the hierarchy of prestige, and specific rules and rights which direct the relations among states. Gilpin posits that revisionist states strive to essentially change these three criteria and if a state does not do so, it is almost certainly a status-quo state (as cited in Johnston, 2003, p.10). Currier & Dorraj (2009) opine that even though China's pursuit of increasing military capability and their efforts to bolster their presence and influence in those areas where the US has traditionally exerted considerable influence, like the oil-rich countries of the Middle East, may appear to be revisionist in nature, in real terms, it is not that easy to make absolute assumptions like that. Currier & Dorraj (2009) refer to the fact that the PRC has increasingly tried to accommodate the ever-changing international environment within the scheme of its own national interest and, in the process, it has been socialized by the international system to a point where China seems to have internalized international rules and processes. China is also socializing the regional states by indulging in economic cooperation with them and acting as a counter to the Western domination in the region in a non-aggressive and peaceful way (Currier & Dorraj, 2009). A very good example of this approach by China can be found in the CPEC project, because though Pakistan has traditionally been seen as an ally of the US in the region, now, with the avowed $46bn investment, China has reasserted its position as a more trustworthy and less intrusive provider of military equipment than the US, and is therefore being viewed as a strong partner to counter any threats from its biggest adversary – India ("Is China-Pakistan 'silk road' a game-changer?", 2015). Against this background, it appears that the theory of constructivism is probably one of the best theoretical perspectives for analyzing the foreign policy related actions of China. But, before any further enquiry towards this line of thought, there is a need to identify the basic theoretical premise of constructivism and what it may or may not entail. Established sometime around the late 1980s and early 1990s, constructivism stresses the social construction of international relations rather than accepting the neorealist assumption that highlights the materiality of international structures by asserting that international politics is shaped by the self-interested behavior of narcissistic actors who are only interested in securing their existence and further strengthening their power (Behravesh, 2011). Constructivism is essentially based on two assumptions: "(1) the environment in which agents/states take action is social as well as material; and (2) this setting can provide agents/states with understandings of their interests" (Checkel, 1998, p.325). Constructivists argue that our reality is socially constructed as opposed to being naturally created. The constructivist acceptance that social notions and interests are in effect constructed leads to the assumption that identities and interests are born out of sharing a common understanding and are created by the different actors through their interactions and are essentially transitional (Wendt, 1992). The central position of the state is reiterated in constructivism, just as seen in the neorealist tradition, even though there is some disjuncture within the school on this topic. Wendt (1999) espouses the concept of "state-centrism" despite the increasing significance of non-state actors, since he opines that in due course, the transformation of the system will occur because of the actions of the state. Constructivism does not conform to the pessimistic realist viewpoint regarding the anarchical nature of the international regime, instead they consider that interests and identities of states are not pre-determined but rather they are formed through inter-state communications (Wendt, 1992). According to Wendt (1999), the conceptualization of the idea of 'the self' depends on the idea of 'the other' and then he elucidated ideal types of interactions among states which can take three different approaches - the state is seen as an enemy if they act violently towards the self.
The state becomes a rival when they act on the basis of apathy or self-seeking rivalry under which they collaborate; Or the state comes across as a friend and they are able to establish pleasant and amicable relations. Therefore, the idea of the self is perceived according to the state's impression of the other based on one of the above mentioned criteria (Wendt, 1999). The constant change in the ideas and interests of the states via an intersubjective process based on the collective knowledge gained from interactions in the international sphere ultimately changes the entire system (Macdonald, 2015; Wendt, 1992).
When it comes to China, constructivism can provide an appropriate argument for explaining the global rise of China, especially in terms of its regionalization policy, of which the OBOR initiative is an important part. Regarding the discourse on constructivism within China, Wang and Blyth (2013) refer to Quin Yaqing who first introduced constructivism to China. Heavily influenced by Wendt, Yaqing argues that China's international personality has experienced three momentous transformations since 1949: China was essentially a revisionist state before the 1970s that sought after a dramatic change in the prevailing world order. During the 1970s, China followed an isolationist policy. But after the drastic policy changes effective since the 1980s, China conducted itself like a status quo state, providing support to the existing system and at the same time becoming gradually further incorporated into that order, which climaxed in China's accession to the WTO (Wang & Blyth, 2013). Yaqing also stresses that China saw it beneficial to integrate with the existing international system since it was vital for the achievement of its long-term goal of economic development and because of this intensified cooperation with other states, China has become socialized into the international order and has eagerly obeyed the rules and customs of the system and subsequently emerged as a key player in the international sphere (as cited in Wang & Blyth, 2013, p. 1284). Following David Kang, it can be postulated that the regionalization process of China has been met with success because many of these states with whom China is actively engaging through the OBOR have shared identities and principles, like sovereignty and non-interference ( as cited in Liu, 2010, p. 87). The constructivist argument basically postulates that despite several variances and possible areas of conflict, there are some common norms and ideas which can make these divergent states agree with the Chinese vision. According to Wang & Blyth (2013), Kang contends that Wendt's theory of internalizing norms is far more preferable to alternate theories developed by constructivists like Martha Finnemore and Jeffrey Checkel. Kang is of the opinion that the states' internalization of norms is a consequence of a mixture of material interests and non-material interests and that China's internalization of international standards is the result of its search for a new model of economic development and its aspirations towards achieving international acknowledgement and admiration (as cited in Wang & Blyth, 2013, p. 1287). Another constructivist, Meng Honghua argues that China's foreign policy deviations can be better explained by means of China's idiosyncratic view of international organizations and it is this mutual perception of China and the international bodies on the basis of their past interactions which ultimately determines the role it plays in the international regimes rather than just China's material interests (as cited in Wang & Blyth, 2013, p. 1288)[2]. It is very hard to confidently declare that the constructivist theory has provided an accurate context to analyze China's present and future behavior, especially because constructivism does not make any predictions and instead provides a framework that looks at both the external factors guiding the internal actions of states and also at their interactions at the global level. This approach encourages us to look beyond the conventional material facet and investigate the bigger social picture.
Overall, while it will not be prudent to completely dismiss the realist/neorealist aspects of Chinese foreign policy, especially for explaining the evolution of China's relations with the rest of the world, it is clear that these theories are not adequate to examine and understand some major aspects of the Chinese strategy. The liberal theories can account for China's sudden policy change in pursuit of economic development by the opening up of their economy while the neoliberal-institutional approach can satisfactorily explain China's bid for integrating into the world economy through incorporation into the international regimes thereby demonstrating China's acceptance of the fact that economic development can only be sustained by means of cooperation for safeguarding stability and peace. Constructivism focuses on how China has used the method of socialization, especially in its regionalization policy, to keep pursuing its strategic goals while at the same time mollifying the international community by demonstrating a high level of internalization with respect to international norms. Therefore, it is clear that all these three theoretical paradigms touch upon some very important aspects and they must be studied together to give rise to any meaningful discourse regarding China's rise in the international sphere and the evolution of its foreign policy which accommodated such rise.
China's Regionalization Policy
While examining the merits of the constructivist arguments in the previous section, there was some mention of China's regionalization policy. This section will take a closer look at China's regionalization strategy which has been increasingly focused on multilateralism, a point evident from the swift rise in China's participation in several regional multilateral platforms. According to Wuthnow, Li, & Qi (2012), China's participation in global or regional bodies is usually characterized by apathy in the beginning and then there is active participation as it achieves the skills and conviction that it can effectively use the apparatus of the organization to achieve its objectives. According to Aris (2009), this tendency could first be discerned by China's participation in the ASEAN Regional Forum (ARF) and the ASEAN+3 mechanism as a way of penetrating into South-East Asia. The strategic benefits of a flourishing China-ASEAN partnership clearly becomes manifest in the establishment of a mutually favorable neighborhood and the success of Chinese efforts to get a solid foothold in the region, whereas in terms of economic benefits, enhanced relations with ASEAN will greatly assist China in further expanding its industrial capacity (Papatheologou, Naseer, & Amin, 2014). According to Aris (2009), a further extension of this regionalization strategy is evident from China's efforts to engage the Central Asian Republics through the mechanism of the SCO. In the year 2001, the SCO was established by China, Russia, and four Central Asian states (Kazakhstan, Kyrgyzstan, Tajikistan, and Uzbekistan) for the purpose of jointly dealing with "regional security challenges, such as terrorism and narcotics trafficking" (Wuthnow et al., 2012, p. 281). Through this mechanism, China essentially aimed at reaffirming its commitment vis-a-vis its neighbors and upholding its enthusiasm towards the establishment of regional instruments for safeguarding and further promoting its interests (Wuthnow et al., 2012). According to Wu and Lansdowne (2007) the SCO was particularly significant because it was enabling China to endorse its "good neighbor policy" by virtue of which it endeavored to establish positive relations with all its peripheral states (as cited in Aris, 2009, p.154). Wuthnow et al., (2012) suggest that there is a perceptible revisionist sweep in China's efforts to project the SCO as a means of instituting an alternative group of norms and principles to ensure collective security. In fact, as opposed to the existing mechanisms like UN Peacekeeping, which mainly use methods like "humanitarian intervention" and "preventive engagement", the SCO is more concerned about the security needs of the member states and deals more narrowly with issues like terrorism or religious extremism in the region (Wuthnow et al., 2012, p. 282). China was also eager to use the SCO mechanism for further extending economic relations with the Central Asian states. China saw the great potential of this region for the purpose of creating a market for its products, labor and capital and with that in mind they proposed various projects like the setting up of a free trade zone or the creation of the SCO Development Bank, which, however, were rejected by the member states (Serikkaliyeva, 2016). Nevertheless, once China brought the OBOR proposal to the table, the image of cooperation in the region was drastically altered and now the Eurasian Economic Union (EEU), which was originally conceptualized as a counter to the overarching economic sway held by China in the region, is mostly acting as a liaison between China and its member states (Serikkaliyeva, 2016). Having said that, the problem which seems to have emerged in this context is that, somewhere down the line the SCO is in danger of losing its rationale, especially if the assumption is that China was primarily pursuing the mechanism due to the possible economic gains it could garner from the region through the organization and the security aspect was never that important in China's agenda, or at least, it came only second to securing its own economic interests. According to Alexander Gabuev, head of Russia in the Asia-Pacific Region program of the Carnegie Moscow Center, the SCO has become a "symbolic organization" and by introducing the OBOR strategy, "China is following a pragmatic route by creating domestic institutions underpinned by own financial resources, which all countries are now lining up to tap, including Russia, which is blocking the economic track of the SCO" (as cited in Ibragimova, 2015, para. 6 ). At the 15th SCO summit in Ufa, Russia, the SCO leaders passed a resolution to implement the measures necessary for admitting India and Pakistan as full members into the organization (Ibragimova, 2015). For Pakistan this means increased access to resources and enhanced energy import prospects. The Federal Commerce Minister Khurram Dastgir Khan, said "Pakistan's trade strategy focused on developing linkages with neighbors, leveraging the country's geographical location and capitalizing on regional connectivity initiatives" (as cited in Bhutta, 2016, para. 10). Also, at a meeting of SCO commerce ministers held in China, he indicated Pakistan's willingness to let them use Pakistan's ports to access trade routes through the Arabian Sea after the completion of the CPEC (Bhutta, 2016). Pakistan's SCO membership not only strengthens Sino-Pak partnership but, Pakistan's presence in the organization also strengthens China's leading position within the SCO, especially after the admittance of India, despite Chinese reservations, a move strongly endorsed by Russia as it expects the presence of India to act as a counter to China's preeminence within the SCO (Serikkaliyeva, 2016). One discernible fact regarding China's regionalization drive that can be gauged from the preceding discussion is that China's policy of regionalization has taken different trajectories in different regions. To fully understand this point, it is important to look at China's strategy in South Asia, especially with respect to the South Asian Association for Regional Cooperation (SAARC). According to Papatheologou et al. (2014), the Chinese strategy towards South Asia essentially consists of involvement at two different levels. "Firstly, China attempts to institutionalize the China–South Asia network; secondly it makes efforts to strengthen bilateral ties with the individual countries of SAARC" (p. 287). However, India is still skeptical of China's so called win-win policy in the region despite agreeing in principle with the fundamental tenets of peaceful co-existence which apparently form the basis for such a policy (Bhadrakumar, 2015). India seems to realize that there might be some areas where cooperation with China will prove to be beneficial, especially from the economic perspective, but it is still wary of Chinese ambitions in the region, particularly in light of the enhanced cooperation between Pakistan and China, as evinced by the CPEC. That is why India has remained resolute on the point of denying China full membership status within SAARC (Roy Chaudhury, 2014). Thus, it is evident that the difference in Chinese strategy is, to a large extent, due to the divergent relationship between China and the different member states who are part of these different regional mechanisms. Though China's declared objective in pursuing these multilateral arrangements is clear, it is not always clear as to what means it might employ to achieve these objectives and to what extent is it willing to go to get what it wants. The only way to reasonably settle this argument is to accept that no matter which theoretical paradigm is applied to the case of China, the narrative of Chinese foreign policy is very dynamic and constantly evolving. Keeping that in mind, the next section of the literature review will take a look at some pioneering geo-strategic theories in an effort to understand the geo-political significance of the Chinese OBOR strategy.
An Examination of Some Important Geo-Political Theories and their Relevance in the
Context of OBOR
To provide some direction and clarity in this section of the literature review, it is important to begin with a dismissal of any geo-strategic approach that is insufficient and incapable of offering a satisfactory context to the thesis topic. The scope of China's OBOR policy is unprecedented. Not only does it connect China with Eurasia, but, many countries in Europe have also expressed their eagerness to be a part of this initiative. The massive reach of the program has prompted some to label it as China's Marshall Plan (Tiezzi, 2014b). However, the OBOR is vastly different from the Marshall Plan in terms of its scope, projected goals and possible outcomes. The Marshall Plan, formally known as the European Recovery Program, (April 1948–December 1951), was a U.S.-backed strategy which aimed at the rehabilitation of the war-torn western and southern European economies which would ultimately pave the way for the establishment of democratic institutions and act as a counter to the threat of communism ("Marshall Plan," n.d.). Certainly, there are some apparent collations between OBOR and the Marshall Plan, like how both the strategies are based on the transfer of capital, technology, and capacity to those areas where the plans have been implemented (D. Chen, 2014). However, as Dingli (2015), points out, the Marshall Plan was a short-term initiative with a limited set of goals, but, the OBOR, with its ambitious vision of achieving Eurasian infrastructural integration through a complex network of roads and highways, railways, pipelines or ports, necessitates multilateral partnerships spanning several countries and requiring infrastructural and capital support from all its stakeholders. Besides, the complexity of the project is further heightened by the inter-regional socio-political and cultural differences in Eurasia and the domestic instabilities faced by many of the states involved in the project, indicating that the completion of OBOR will probably span decades (Dingli, 2015). Also, according to Chen (2004), China has declared that its target is to achieve a win-win cooperation in the region by means of the OBOR and it has encouraged all the states to become a part of it, so that the initiative can help them achieve economic development. Thus, China's motivations mainly appear to be the promotion of economic cooperation and integration in the region, rather than a bid to establish its hegemony (D. Chen, 2014). Having said that, there is definitely some merit in the cautious approach adopted by countries like USA, Japan or India towards Chinese ambitions, especially because China does stand to gain substantial political clout with the increasing economic interdependence in the region prompted by the China-led OBOR policy.
There are many geo-politicians who have identified the strategic centrality of Eurasia. So, any enquiry into the strategic implications of the OBOR necessitates a closer look at some of these theories to discern the tactical imperatives which have prompted China to construct such a colossal project centered on Eurasia.
[...]
---
[1] This policy was first elucidated by then Secretary of State, Hillary Clinton and it envisages a strategic shift of USA towards the Asia-Pacific by means of enhanced cooperation with the emerging powers through trade and investment and bilateral and multilateral instruments (Berteau, Green, & Cooper, 2014).
[2] The Chinese theorists mentioned here, like Yaqing and Honghua haven't done much work in English and so they have been indirectly cited here.
Details
Pages

119

Year

2016

ISBN (eBook)

9783668557208

ISBN (Book)

9783668557215

File size

2 MB

Language

English

Catalog Number

v375337

Institution / College

University of Erfurt – Willy Brandt School

Grade

1.65

Tags