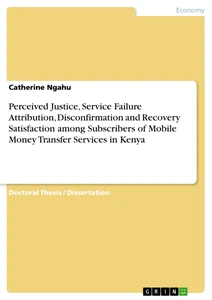 Perceived Justice, Service Failure Attribution, Disconfirmation and Recovery Satisfaction among Subscribers of Mobile Money Transfer Services in Kenya
Doctoral Thesis / Dissertation 2016 204 Pages
Summary
The study seeks to assess the influence of perceived justice, service failure attribution, and recovery disconfirmation on recovery satisfaction among subscribers of mobile money transfer services in Kenya. The specific objectives of the study are to determine the influence of perceived justice on recovery satisfaction; assess the mediating effect of recovery disconfirmation on the relationship between perceived justice and recovery satisfaction; establish the moderating influence of service failure attribution and to determine the joint effect of the three variables on recovery satisfaction.

Customer satisfaction is crucial in maintaining a mutually beneficial relationship between service providers and their customers. While service organizations make great efforts to ensure customer satisfaction, unique features of services such as variability and intangibility make service failure inevitable. Service failure comprises any real or perceived problem that occurs during a customer's interaction with the service provider. It may include unavailability, poor delivery, inconsistent outcomes or any incident where a service fails to meet customer expectations.
The negative disconfirmation following a service failure leads to dissatisfaction with the likely consequence of increased customer complaints, negative word-of-mouth and erosion of patronage of the service provider. Organizations strive to develop and implement service recovery strategies in order to restore satisfaction. Customers evaluate service recovery from a perspective fairness of process, interaction and outcome in line with the dimensions of perceived justice.

The population of the study comprised mobile money transfer service subscribers in Kenya. A descriptive cross-sectional survey is used. Primary data is collected using semi-structured questionnaires and a final sample of 803 respondents was realized. Reliability and validity tests are conducted using data from a pilot study. Data is analysed using descriptive statistics, factor analysis, correlation, and regression analysis. The study is relevant for regulators in setting policy for service providers with regard to service recovery standards and redress systems. The results will serve as a point of reference for service providers and managers in assessing recovery satisfaction for effective strategic marketing decision-making.
Details
Pages

204

Year

2016

ISBN (Book)

9783668526693

File size

1.4 MB

Language

English

Catalog Number

v375025

Institution / College

University of Nairobi – School of Business

Grade

A

Tags