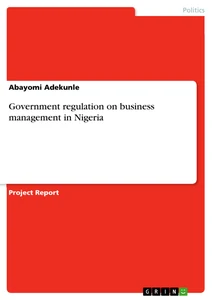 Government regulation on business management in Nigeria
Project Report 2017 50 Pages
Summary
There are various aims behind the course of this study. The first objective is to highlight the reasons for government regulation on business management in Nigeria. Then, the study examines the role of government regulation in the development of business management in Nigeria and it analyzes the strategies used by government in regulating business management in Nigeria. The last objective is to examine the effects of government regulation on business management in Nigeria.

A government formulates many rules and regulations that guide businesses. Businesses will normally change the way they operate according to the influence these rules and regulations have on the competitiveness and profitability of businesses. Business owners must comply with the regulations established by Federal, State and Local Government. Small business is facing many challenges nowadays, none of which are more forbidding than a burden. Federal government regulations and mandates threaten investment and stifle job growths. When the government imposes regulations on small businesses that drive up the cost of doing business, it's like imposing a tax. A tax is a compulsory contribution to the state revenue which the government determines according to the workers' income and business profit and which is also added to the cost of some goods, services and transactions.

A government can implement a policy that can change the social behavior in the business environment. For instance, the existence of the Nigeria Breweries Plc operation under the company law regulating the activities of business enterprises is due to the fact that the following itemized law acts have been regulating the activities of this company with the motive of enhancing the social, political and economic growth and development of the country. Some of the agencies responsible for business regulations are the Standard Organization of Nigeria (SON), the Anti-Counterfeiting Collaboration (ACC), the Music Regulation of Nigeria (MRN) etc.

Therefore, it is clear that the role of a government is to protect and represent the interest of the society and the citizenry in which business operates. It can be further said that a government through regulations protects consumers from abuse and ensures efficiency in the use of resources and promotes equitable distribution of income.
Details
Pages

50

Year

2017

ISBN (eBook)

9783668528987

ISBN (Book)

9783668528994

File size

677 KB

Language

English

Catalog Number

v374849

Grade

Tags