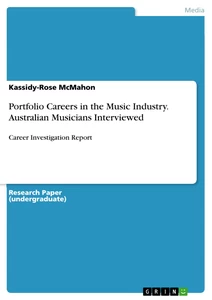 Portfolio Careers in the Music Industry. Australian Musicians Interviewed
Career Investigation Report
Research Paper (undergraduate) 2017 5 Pages
Excerpt
Contents
Career Investigation Report
Reflection
Reference List
Career Investigation Report
The three musicians interviewed each follow a portfolio career, which combines performing, accompanying, teaching, lecturing, composing and working in ensembles. The Director of Music for the Australia Council for the Arts, Paul Mason, defines a successful musician as someone who can "put themselves in new circumstances and new partnerships" (Tolmie, 2017). Jeff Usher is Jazz pianist (Nu Orleans Bar and Restaurant), University lecturer (Queensland Conservatorium Griffith University), composer and teacher. Victoria Bilogan is a concert pianist, accompanist (University of Melbourne, teacher, chamber music tutor (Scotch College) and is a member of a duo (Morbius Duo) and a trio (Mobius Trio). Daniel Allen is a secondary relief teacher (Padua College), performer (Little Black Dots Music), Music Coordinator (St Agatha Parish), Band Sergeant (Brisbane Excelsior Band) and Client Services Officer (Ladbrokes Australia) (LinkedIn, 2017). This report examines these musicians' careers to prove the validity of a portfolio career in the twenty-first century by exploring the advantages and disadvantages of this pathway.
All interviewees agreed their tertiary training set them up for their careers and taught them a multitude of invaluable skills. All completed a Bachelor of Music; Daniel completed a Postgraduate Diploma of Education, Victoria completed a Masters of Music, and Jeff completed both a Masters and Doctorate of Music. Jeff emphasised:
Learn as much as you can… about everything. Learn about music. Learn about technology. Learn as much as you can possibly absorb. Keen on learning. The thing that will keep your mind active throughout your life is if you continue to find new things to learn (J. Usher, personal communication, 18 May, 2017).
Victoria highlighted the importance of being multi-skilled and undertaking cross-disciplinary studies to promote versatility and enhanced employability. In particular, she suggested commencing pedagogy training, acquiring improvisational capabilities and accompanying. Daniel stressed the need to engage in professional development to keep up with what's happening in the fast-paced, ever-changing world. From these results, it is evident that ongoing quality training is essential to the development of crucial musical skills needed to survive in the music industry.
Each musician had their own personal career highlights but generally speaking, successful performances seemed to be the most rewarding experiences. While the interviews admitted to their live being dominated by unpredictability and chaos, they exhibited incontestable passion and love for their work. Hallam and Gaunt (2012) address this in Chapter nine ofPreparing for Successby explaining:
Portfolio careers have lots of benefits; they offer variety and flexibility to devise and direct projects; they can help to develop news skills and may well be exciting and fast-paced. On the other hand, a portfolio career can have downsides: for example, it can feel as if the overall workload is overwhelming or that it is only possible to engage in each project superficially (p. 175).
All interviewees commented on the detrimental impact of their music engagement on their personal health and lifestyle. Irregular sleep hours, playing-related injury and burnout syndrome were reported as side-effects to being overworked. Victoria elaborated:
I gave more than I could but I nearly lost my health in that path. I have been overworked and underpaid. That probably is the downside to my whole musical career. This is because of the way it is organised, the way it is valued and the way it is paid (V. Bilogan, personal communication, 23 May, 2017).
These external factors have a significant impact on musician's health, which is why time management skills, planning skills and prioritisation is crucial (D. Allen, personal communication, 24 May, 2017).
In order to financially and artistically sustain a career in such a competitive and demanding field, it is vital to have a dependable support system. Hallam and Gaunt (2012) confirms this, "Having a strong set relationships of this kind will speed up your learning, open doors and provide important knowledge and skills, and psychological support" (p. 5). For Jeff, his high school theory teacher was his motivator, as well as his friends and family who encouraged him to pursue music as a career. Daniel discussed how his network of teachers helped him in beginning his career as a secondary relief teacher. He advised:
Get to know teachers. Even if it's your old music teacher or something like that. Reach out and have a chat. A lot of the time, they're more than happy to help you as a pre-service teacher to get into the industry and work out what you need to know, how you need to know it and where to get the information (D. Allen, personal communication, 24 May, 2017).
While the music industry is extremely competitive, it is important to build a network and support system of other musicians, including those within the same institution. Victoria advocated this idea:
My best advice is to collaborate, to support each other and not to see it as a place to compete". She advised, "By yourself you may go that far but together you can go further and actually make your whole life better (V. Bilogan, personal communication, 23 May, 2017).
The wisdom of these music professionals verifies the importance of support systems and networks in launching a musical career and being able to sustain it through financial and artistic obstacles.
A running theme throughout the interviews was the usefulness of technology in a musical career. This is a result of technology being an "increasingly central part of professional practice in music" (Hallam & Gaunt, 2012) (p. 6). Victoria revealed some of the resources she utilises including the Petrucci library, Ross Hamilton website and Australian Music Teacher's Register. Daniel also commented on the positive impact of technology on collaboration, performance and teaching. Victoria also discussed one of the threats of technology on her career and the future of music education. This threat was the introduction of CD accompaniment in Australian Music Examinations Board (AMEB) practical exams. She argued the cheaper version of live accompaniment removes the opportunity for students to learn how to work one-to-one with an accompanist. Victoria was uncertain whether accompanists would survive due to the progression of technology. Both musicians agreed technology has a massive impact on music. Daniel reflects, "If you look back at the past ten years, you can see how technology has influenced the music industry. It's just going to continue changing in the next ten years in the same very fast-paced fashion" (D. Allen, personal communication, 24 May, 2017). Therefore, technology is a useful strategy to financially sustain a musical career in contemporary society.
In conclusion, a portfolio music career is extremely demanding and taxing on the human body, but it can prove to be very rewarding. Victoria sums this up by stating, "It's a tough business" (V. Bilogan, personal communication, 23 May, 2017). To benefit from the portfolio career pathway, it is necessary to undertake specialised training, build a support system, develop a broad network and incorporate technology where possible. Hallam and Gaunt (2012) attest, "Essential for any musician is having an overview of the music industry and what being a professional musician may entail" (p. 7). Therefore, it is critical for aspiring portfolio musicians to seek the relevant information and guidance from existing music professionals.
Reflection
This task gave me a realistic insight into the music industry, particularly the prospects of a portfolio music career. My long-term goals established in Learning Support Activity 1 (LSA) have remained the same but the skills I anticipated I would need have changed as a result of this task. I now realise I will also need a support system, network and understanding of technology to be successful (K. McMahon, Learning support activity 1, 2017). My five-year plan has been altered to incorporate suggestions from my interviewees including creating a profile on the Australian Music Teachers Register (marketing/financial), joining a jazz ensemble to develop improvisational skills (core skills/QCGU), accompanying more (core skills/financial) and taking a business elective (core skills) (K. McMahon, Five-year plan, 2017). The lecture content, readings and interviews all suggest that a portfolio career has its pros and cons but is definitely a viable option. I have chosen to continue with this career pathway because, in my opinion, the positives outweigh the negatives. I will, however, need to ensure I am considerate of my health by maintaining a work-life balance, monitoring my workload and seeking assistance/guidance when necessary. This task increased my network by connecting me with professionals who are currently active in the industry. From here, I can continue learning, networking and growing as a musician.
Reference List
Allen, D. (2017, 24 May). Skype interview.
Bilogan, V. (2017, 23 May). Skype interview.
Hallam, S., & Gaunt, H. (2012).Preparing for success. London, UK: Institute of Education Press.
LinkedIn. (2017).Daniel Allen. Retrieved from https://www.linkedin.com/in/danielallen026/
LinkedIn. (2017).Jeff Usher. Retrieved from https://www.linkedin.com/in/jeff-usher-60b79024/
LinkedIn. (2017).Victoria Bilogan.Retrieved from https://www.linkedin.com/in/victoria-bilogan-a17a6940/
McMahon, K. (2017). Learning support activity 1.
McMahon, K. (2017). Five-year plan.
Tolmie, D. (2017). Lecture 2: A career in music – what does it take? [PowerPoint slides]. Retrieved from Griffith University. Blackboard: https://bblearn.griffith.edu.au/webapps/blackboard/content/listContent.jsp?course_id=_56163_1&content_id=_2863530_1
Usher, J. (2017, May 18). Personal Interview.
[...]